Apr 22, 2016 — by Eric Brown 1,808 views
Boardcon's "EM3288" SBC runs Android on a "MINI3288" COM, based on a Rockchip RK3288 SoC, with 2GB RAM and 8GB eMMC, plus optional WiFi, BT, 3G, and GPS.

Boardcon Embedded Design, an ODM in Shenzhen, China, has previously shipped single-board computers with quad-core ARM SoCs including the Samsung Exynos4412 (EM4412) and Allwinner A31 (Compact A31S). For the MINI3288 computer-on-module that powers its new sandwich-style EM3288 SBC, Boardcon has opted for the Rockchip RK3288, which offers four Cortex-A17 cores clocked at 1.8GHz, plus a high-end Mali-T764 GPU capable of 4Kx2K@60Hz video.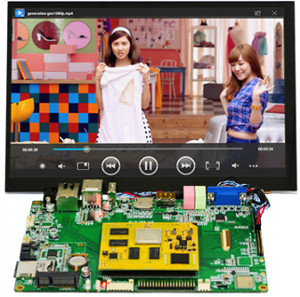 EM3288 with MINI3288 module and optional 10.1-inch display
The Rockchip RK3288 SoC can be found in numerous Android media players, such as the Tronsmart Orion R28, as well as SBCs including the
Firefly-RK3288 and Reload
boards and the
Radxa Rock 2 Square
. Unlike these hacker SBCs, the EM4412 does not provide an open source hardware design, but Boardcon is aiming the board at both OEMs and DIYers, and offers fairly extensive documentation.

MINI3288 COM
The separately available MINI3288 computer-on-module with the Rockchip RK3288 SoC measures 70 x 58mm. The 5V, 8-layer module connects to the EM3288 board via dual 100-pin connectors. Boardcon offers separate Android builds for 4.4.4 and 5.1.


MINI3288 module, front (left) and back
(click image to enlarge)

The MINI3288 is equipped with 2GB DDR3 RAM and 8GB eMMC, Supported interfaces include USB host and OTG, VGA, TTL LCD, HDMI, LVDS, audio, GbE, UART, SD/MMC/SDIO, SPI, I2C, I2S, ADC, and MIPI-CSI and -DSI. There's no onboard microSD slot or wireless radios on the COM — all those features are instead found on the SBC carrier board.
Boardcon's MINI3066 module can also use the EM3288 as a development board. However, Boardcon does not appear to be promoting this combo as an SBC product.


MINI3066 module, front (left) and back
(click image to enlarge)

The MINI3066 has the same size, power, and pin expansion as the MINI3288. The MINI3066 instead runs preinstalled Android 4.4.2 on a Rockchip RK3066, which has dual 1.6GHz Cortex-A9 cores and a Mali400 MP4 GPU. The MINI3066 ships with 1GB DDR3 and 4GB NAND flash.

EM3288 SBC
The 175 x 118mm EM3288 SBC builds upon the MINI3288 COM with a microSD slot and SATA connector, plus two USB 2.0 host ports and a microUSB port. Other coastline ports include a GbE port, audio jacks, and HDMI and VGA ports. Additional display interfaces include MIPI-DSI, LCD, and LVDS, along with optional 10.1-inch touchscreen or LCD displays.


EM3288 SBC
(click images to enlarge)

A variety of wireless options include 2.4GHz WiFi. Bluetooth 4.0, 3G, and GPS. You also get 40 user-definable GPIO pins to support the MINI3288 COM's numerous supported peripherals.

EM3288 detail view (left) and block diagram
(click images to enlarge)

Specifications listed for the EM3288 with MINI3288 COM include:
Processor (via MINI3288 COM) — Rockchip RK3288 (4x Cortex-A17 cores @ 1.8GHz); Mali-T764 GPU
Memory (via MINI3288 COM) — 2GB DDR3; 8GB eMMC
Storage expansion — MicroSD slot; SATA connector with SATA power
Display:

HDMI 2.0 port with audio and Miracast support, and up to 4Kx2K@60fps
VGA connector (does not work with LVDS)
LVDS, MIPI, and TTL LCD interfaces
Optional 10.1-in. cap touchscreen or LCD display (1280 x 800)

Wireless:

SIM card slot
Optional 2.4GHz 8021.11b/g/n via AP6210 module
Optional Bluetooth 4.0 via AP6210 module
Optional 3G
Optional GPS

Networking — Gigabit Ethernet port
Other I/O:

3x USB 2.0 host
Micro-USB 2.0 OTG
Serial debug 3-pin
Audio I/O jacks
Mic header
40x GPIO
8x control GPIO

Other features — Power and recover buttons
Power — DC 5V/2.5A jack; Lithium battery interface
Dimensions — carrier is 175 x 118mm; MINI3288 COM is 70 x 58mm
Operating system — Android 5.1 or 4.4.4 with Linux 3.10 kernels, U-boot, drivers, Google Play support

Further information
The EM3288 SBC and MINI3288 COM are available together or separately, with pricing unstated. More information may be found at the Boardcon EM3288 and MINI3288 product pages.