May 28, 2021 — by Eric Brown 2,628 views
Enclustra unveiled two Linux-driven Zynq UltraScale+ modules with up to 8GB DDR4: the "Andromeda XZU60" with 2x GbE, 5x PCIe Gen3, 6x Samtec, and up to 686 user I/Os, and a "Mercury+ XU6" with up to 294 I/Os.

In 2017, Enclustra announced Mercury+ XU1 and SODIMM-style Mars XU3 modules featuring Xilinx's Arm/FPGA Zynq UltraScale+ MPSoC EG processors. Since then, the Swiss FPGA firm has expanded with different Mercury+ and Mars modules and it has now unveiled two new modules: the high-end Andromeda XZU60 and a low- to mid-range Mercury+ XU6. Enclustra also announced a new Mercury+ ST1 baseboard for Mercury+ modules that offers improved video support and SFP+ (see farther below).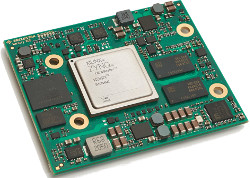 Andromeda XZU60 (left) and Mercury+ XU6
(click images to enlarge)

Both "under development" modules will ship with Linux BSPs tailored for the Zynq UltraScale+ MPSoC. The modules join many other UltraScale+ based modules, including as of April, the first Xilinx branded module, the
Kria K26 SOM
. Xilinx, which is soon to be acquired by AMD, equipped the module with a custom version of the UltraScale+ called the XCK26, which offers Xilinx Vitis AI technology. There is also a Kria KV260 Vision AI Starter Kit.
The Zynq UltraScale+ MPSoC is equipped with 2x or 4x 1.2GHz Cortex-A53 cores, a 667MHz Mali-400 MP2 GPU, and dual 600MHz Cortex-R5 MCUs. The SoCs are available with a wide range of FPGA capabilities.

Andromeda XZU60
The Andromeda XZU60 is the first of a new series of high-end Andromeda modules. The 80 x 64mm module is available in two SKUs: One offers the UltraScale+ ZU17EG along with 4GB DDR4 with ECC plus a 0 to 85°C operating range. The other features a ZU19EG with 8GB and -40 to 85°C. Both modules also integrate 128MB QSPI flash.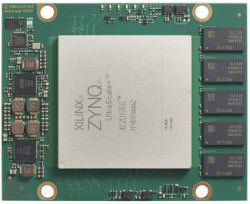 Andromeda XZU60, front and back

(click images to enlarge)

These
high-end UltraScale+ models
are more advanced than what is available on Enclustra's previous flagship, the Mercury+ XU9, and feature up to 1,143 system logic cells in the case of the ZU19EG. We have seen them on only a few products, such as iWave's
iW-RainboW-G35M
module.

Andromeda XZU60 block diagram
(click image to enlarge)

The Andromeda XZU60 supplies up to 6x Samtec ADM6-60 high-speed connectors with up to 686 user I/Os. There is support for 76 MGT interfaces at up to 25Gbps. The 12V module is further equipped with 2x GbE controllers, USB 3.0 OTG, 5x PCIe Gen3 x16, and a PCIe Gen2 x4 interface.

Mercury+ XU6
The Mercury+ XU6 has 3x connectors and enables up to 294 user I/Os and up to 8x, up to 12.5 Gbps MGTs. The 65 x 54mm module supports UltraScale+ models with up to 256K logic cells.
Options include two lower-end models in the quad-core EG sub-family and two quad-core EV models, which add H.265/H.264 video codec that supports simultaneous encode and decode at up to 4Kx2K @ 60fps. There are also two low-end, dual-core CG models.


Mercury+ XU6, front and back
(click images to enlarge)

As seen in the chart below, RAM (up to 8GB DDR4 with ECC) and temperature range depend on the specific model. All the models supply 16GB eMMC and 64MB QSPI.

Mercury+ XU6 models (left) and block diagram
(click images to enlarge)

The Mercury+ XU6 provides a single GbE controller plus PCIe Gen2 ×4, and on ZU3 or higher models, PCIe Gen3 ×4. There is also support for dual USB 3.0. The module has a 5-15VDC input and an optional heatsink.

Mercury+ ST1
The Mercury+ XU6 and other Mercury+ modules are now available with a new Mercury+ ST1 baseboard with a standard SBC form factor. The Mercury+ ST1 provides a video-oriented alternative to the earlier PCIe add-on board form-factor Mercury+ PE1.

Mercury+ ST1 and block diagram
(click images to enlarge)

Like the PE1, the smaller, 120 x 10mm ST1 carrier provides a microSD slot plus dual GbE ports and single USB 3.0 host and micro-USB 2.0 device ports. The carrier adds an SFP+ cage, as well as mini-DP and HDMI ports. Two MIPI interfaces include CSI and DSI/CSI connections.
Additional features include FMC HPC, 2x Anios 40-pin headers, and 3x 12-pin I/O connectors. There is a 12VDC input, a clock generator, buttons, and LEDs. The Mercury+ ST1 lacks the PCIe, mSATA, and mini-PCIe with optional SIM found on the PE1. A kit with power supply and USB cable is optional.

Further information
The Andromeda XZU60 and Mercury+ XU6 are under development and the Mercury+ ST1 baseboard appears to be available now. Pricing tables are listed for all three products. The Andromeda XZU60 costs $3,609 (ZU17EG) or $6,235 (ZU19EG), with prices declining by about a third for 1,000+ quantities. The Mercury+ XU6 ranges from $299 to $1,134 in single units, declining to $216 to $723, respectively, in 1K quantities. The Mercury+ ST1 sells for $259.
More information may be found on Enclustra's Andromeda XZU60, Mercury+ XU6, and Mercury+ ST1 product pages.