Nov 7, 2016 — by Eric Brown 1,233 views
Diamond's "Eagle" and "Eaglet" carrier boards turn Toradex's Apalis i.MX6, Tegra 3, and Tegra TK1 COMs into rugged, Linux-ready SBCs.

Longtime embedded boards vendor Diamond Systems has released its first ARM-based single board computers, in a solution that serves up multiple versions of Toradex Apalis modules in sandwich-style SBC designs. The new ARM SBCs are based on Diamond's new Eagle and smaller Eaglet carrier boards, which are either available barebones, or combined with a choice of three Apalis COMs plus a customized Linux OS on a microSD card, a full cable kit, and long lifecycle support.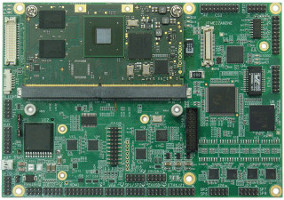 Eagle (left) and Eaglet sandwich style SBCs
(click images to enlarge)

Diamond is known for offering rugged SBCs and COM/carrier subsystems that typically deploy x86 processors on older form-factors including EPIC and various PC/104 formats. Examples include the Vortex86DX3-based monolithic, PC/104 form factor
Helix
SBC, as well as the sandwich-style
Quantum
, based on Qseven COMs, and
Vega
, based on COM Express Basic modules.
In addition to being sold without the processor modules, the "3.5-inch form factor" (146 x 102mm) Eagle and smaller (102 x 102mm) Eaglet carrier boards are available in combination with a choice of Linux-supported Toradex Apalis computer-on-modules. These currently include:
Apalis iMX6 — dual- or quad-core (800MHz/1GHz) Cortex-A9 NXP i.MX6 SoC, plus 512MB to 2GB DDR3 and 4GB eMMC
Apalis T30 — quad-core (1.4GHz) Cortex-A9 Nvidia Tegra 3, plus 1GB or 2GB DDR3 and 4GB/8GB eMMC
Apalis TK1 — quad-core (up to 2.2GHz) Cortex-A15 Nvidia Tegra K1, plus 2GB DDR3 and 16GB eMMC

Left to right: Apalis iMX6, Apalis T30, Apalis TK1
All the Apalis COMs are pin compatible, enabling customers to swap modules "by simply upgrading to a new Apalis module and installing new driver software," says Diamond. All three COMs have long-life support: 2028 for the Apalis i.MX6 model, and 2025 for the Tegra-based modules.
Although Diamond's Eagle and Eaglet carrier boards both are rated for industrial -40 to 85°C operation, the COM/carrier SBCs are limited by the capabilities of the Apalis COMs. In that regard, the i.MX6 and T30 Apalis support -40 to 85°C operation, while the TK1 is limited to a commercial range. Both of carrier boards also offer MIL-STD-202G shock and vibration resistance.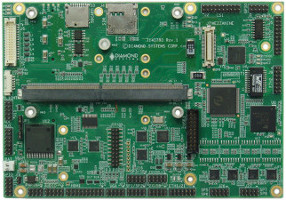 Eagle (left) and Eaglet carrier boards
(click images to enlarge)

The carrier boards provide pin-header based I/O, rather than supplying real-world coastline ports. However, there's an optional panel I/O board accessory that offers a generous mix of ports.

Optional I/O panel
(click image to enlarge)

As shown in the feature table below, common features on the Eagle and Eaglet carrier boards include a microSD slot, mSATA socket, mini-PCIe slot, and SIM card slot. Display interfaces include VGA, HDMI, and dual channel LVDS. Other common features include HD audio, 4x 12-bit analog, 4-channel PWM, and other onboard interfaces like 2x CAN, I2C, and SPI.

Feature comparison of Eagle and Eaglet
(click image to enlarge; source: Diamond Systems)

The Eagle has dual GbE ports instead of one for the Eaglet, and offers 5-6 USB 2.0 ports instead of 3-4. You also get 8x RS-232/422/485 instead of four serial ports split between RS-232/422/485 and RS-232.
The Eagle has twice the DIO capacity with 16x 3-28VDC lines compared to the Eaglet's 8x 3.3V lines. As for the overall board power supply, Eagle offers a wide range, 9-36VDC input vs. a 5VDC-only input on the Eaglet.


Block diagram for Eagle and Eaglet
(click image to enlarge)

Diamond offers a homegrown I/O expansion socket scheme supporting both analog and digital interfaces. The first optional expansion module is a 35 x 29mm, dual CAN isolated transceiver add-on that provides access to the 2x CAN ports available on all three Apalis COMs. "Due to the simplicity of the I2C and SPI interfaces provided on the connector, even novice users can easily design their own custom I/O modules to use on Eagle/Eaglet," says Diamond.
Only the Eagle has access to "Apalis type specific interfaces," says the company. Other options include enclosures with various mounting options, such as the 183 x 165 x 81mm Eagle enclosure.
Earlier this year, Toradex launched a partner program aimed at supporting its Linux-ready, ARM based "Colibri" COM line with carrier boards, displays, enclosures, and more. Gumstix subsequently announced a customizable carrier board for the Colibri i.MX6 COM, that can be modified and manufactured through Gumstix's Web-based Geppetto drag-and-drop PCB design tool and associated quick-turn manufacturing service.

Further information
The Eagle SBC with installed ARM module and heat sink starts at $650, and the Eaglet SBC in similar configuration starts at $420. single unit pricing for the baseboard models is $450 (Eagle Baseboard) and $220 (Eagle Baseboard). Shipments are expected to begin in December. More information may be found in Diamond's Eagle/Eaglet announcement (PDF), and in the following product pages for the Eagle ARM SBC, Eagle Baseboard, Eaglet ARM SBC, and Eaglet Baseboard.