Feb 29, 2016 — by Eric Brown 2,221 views
Toradex's SODIMM-style "Apalis TK1" module runs Linux on a 2.2GHz quad-core Tegra K1 SoC, and offers extensive I/O including SATA, A/V, USB 3.0, and PCIe.

The SODIMM-style, 82 x 45mm Apalis TK1 computer-on-module is pin-compatible with Toradex's earlier Nvidia Tegra 3 based Apalis T30 and i.MX6-based Apalis iMX6 modules. The Apalis TK1 moves up to Nvidia's Tegra K1 SoC, which here has four of its Cortex-A15 cores clocked to 2.2GHz. A fifth companion Cortex-A15 handles low-power duty. The real draw here, however, is the CUDA-enabled, 192-core Mobile Kepler GPU, which can be used for vision processing, GPU-accelerated parallel processing, and deep learning/machine learning in addition to good old fashioned graphics rendering.


Apalis TK1
(click image to enlarge)

Other Tegra K1 based COMs include Calao's SMARC-based
SMC-NTKE1
, Seco's COM Express Type 6 Compact
SECOMExp-TK1
, and GE Intelligent Platform's rugged COM Express Type 10 Mini
mCOM10K1
.
Since announcing the Tegra K1 in 2014, Nvidia released a 64-bit "Denver" version of the K1, as well as a Tegra X1, a 20nm fabricated SoC that incorporates four Cortex-A57 and four Cortex-A53 cores, plus an advanced 256-core Kepler GPU. A Toradex rep confirmed that the Apalis TK1 module sticks with the original 32-bit Tegra K1 SoC, however.


Apalis TK1 block diagram
(click image to enlarge)

Toradex is showing only a preliminary photo with a Coming Soon banner emblazoned on it, but there's a block diagram and a detailed datasheet posted online. The module will ship in the second quarter, says the Swiss boardmaker.
The Apalis TK1 is equipped with 2GB DDR3L RAM and 16GB of eMMC flash. To handle all that Kepler GUI power you get quad- and dual-lane DSI interfaces, plus HDMI (up to 4096 x 2160 pixels) and LVDS (up to 1920 x 1200), supported with resistive touch. The module includes dual quad- and one single-lane CSI camera interfaces, plus analog, I2S, and S/PDIF audio.
A Gigabit Ethernet controller is available along with some interfaces you don't always see on ARM modules, including SATA and PCIe x2. Additional I/O includes USB 3.0 host and OTG ports, 7x I2C, 5x SPI, 10x UART, 16x PWM, 21x ADC, 2x CAN, 3x SDIO, 1x IrDA, and up to 92 GPIO. The 0 to 70°C ready COM ships with Linux, but Android is available on request.

Apalis and Ixora carrier options
The Apalis TK1 is supported with the 250 x 250mm Apalis Evaluation Board, as well as the less feature-rich, 125 x 90mm Ixora Carrier Board. Both boards have real-time clocks and 5V/3.3V power supplies with wide-range, 7-27V DC voltage support.


Apalis Evaluation Board (left) and block diagram
(click images to enlarge)

Common interfaces include HDMI, LVDS, RGB, 4/5-Wire resistive touch, plus camera, S/PDIF in/out, and analog audio interfaces. They both offer Gigabit Ethernet ports, dual CAN ports, dual RS232 ports, as well as microSD, mSATA, and mini-PCIe slots.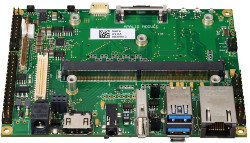 Ixora Carrier Board (left) and block diagram
(click images to enlarge)

The Apalis board adds features like SATA, RS422/485, digital audio, VGA, JTAG, IrDA, and I/O switches. The Apalis carrier also provides more USB ports, including a USB 3.0 OTG, as well as an 8-bit SD interface and great numbers of some other interfaces, such as GPIO, I2C, and SPI.
"Apalis TK1 is the result of a partnership between NVIDIA and Toradex for the past years," stated Serge Palaric, Nvidia's Senior Director, EMEA Embedded & OEMs Sales. "With a growing market for embedded solutions requiring more features and more capacities, we are very pleased that Toradex developed a fully capable CUDA 6.5 module leveraging the Jetson TK1 platform's extreme capacities for parallel computing and thus enabling the developer community and the industry to create smarter groundbreaking products and solutions."

Further information
The Apalis TK1 will be available for sale at the Toradex webshop in Q2 2016, starting at 149 Euros ($158). The module will be showcased at the GPU Technology Conference, to be held April 4-7, in San Jose, Calif. in booth 529.