Sep 7, 2017 — by Eric Brown 11,888 views

Now on Kickstarter: an "AutoPi" dongle based on a 4G- and GPS-equipped Raspberry Pi Zero W that plugs into a car's OBD-II port to enable DIY cloud services.

A Danish startup called AutoPi.io has gone to Kickstarter to launch a Raspberry Pi Zero W based AutoPi dongle that plugs into the same OBD-II port that automotive repair people use to run diagnostics and tap other telematics features. Automotive computers used for fleet management, such as iWave's Linux-based Connected Car Device — OBD II, connect to the same telematics port.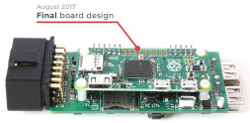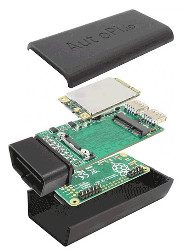 AutoPi board with RPi Zero W (left) and exploded view
(click images to enlarge)
AutoPi.io intends to establish the AutoPi and its associated cloud service as an affordable, open platform for DIY types to create automotive applications including voice recognition, remote start, auto door lock and unlock, crash and theft detection, eco-drive optimization, mobile hotspot, traffic monitoring, and even touchscreen HUD devices and parking assistance gizmos. The platform enables remote access to your car's status by means of an online dashboard, accessed via web browsers or mobile apps for Android and IoS. The AutoPi can be used on just about any 2002 vehicle or later, and is claimed to be easy to install and update via OTA.
The Linux-driven AutoPi is built around the WiFi and Bluetooth enabled, 1GHZ ARM11-based Raspberry Pi Zero W. The add-on board that attaches to the Zero W includes a secure OBD module with power management, an accelerometer, speakers, GPIO pins, two USB host ports, and a mini-HDMI port. You also get a Velcro strip, and a microSD card with preloaded Raspbian software. A cable plugs the enclosed, 90 x 45 x 25mm dongle into the OBD-II port, which also handles CAN signals.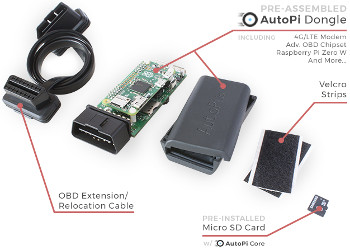 AutoPi detail view
(click image to enlarge)
This WiFi-only configuration is available on Kickstarter through Oct 1 for $197 (166 Euros), with shipments in May 2018. A version that adds a 4G/LTE radio with micro-SIM slot and a GPS chip costs $261 (217 Euros), and ships in March. The 4G radio offers global support via a region-locked modem, and has 3G/EDGE fallback.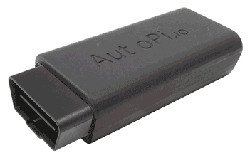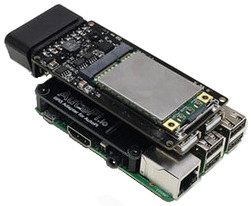 AutoPi dongle case (left) and HAT adapter version with Raspberry Pi 3
There's also a $98 DIY version that ships in May that consists of a simplified AutoPi HAT board that works with the Raspberry Pi 3. This model lacks 4G, GPS, speaker, cable, and speakers. The HAT adapter also lacks WiFi, BT, and the USB and HDMI ports, but these are provided by the RPi 3.

AutoPi Cloud dashboard (left) and AutoPi plugging into OBD-II port
(click images to enlarge)
The development platform, which lives on an AutoPi Cloud service, includes a customizable dashboard, REST based APIs, and the ability to run commands from a live terminal. It provides If-This-Then-That triggering controls, much like a home automation platform, and can be further programmed via Python.
Built-in features include historical trips overviews and OBD documentation. The secure "AutoPi Core" OBD module can be controlled via SaltStack middleware. AutoPi.io is asking funders to vote on which applications they would like the company to implement by the ship date. Although the development platform is open, there are no specific claims here for open source hardware.
Further information
The AutoPi is available on Kickstarter through Oct. 1, selling for $197 (166 Euros) for the WiFi-only version or $261 (217 Euros) for the 4G/GPS version. The DIY HAT adapter version that works with a user-supplied Raspberry Pi 3 starts at $98 (83 Euros). More information may be found at the AutoPi Kickstarter page. At publication time, the campaign was about a third of the way toward its goal, with 23 days remaining in the campaign.