Nov 25, 2013 — by Eric Brown 9,461 views
Anichips announced a $59 SBC said to be the first Pico-ITX board based on Allwinner's dual-core, Cortex-A7 based A20 SoC. The 100 x 72mm, open source, Android- and Linux-ready PhoenixA20 offers multiple display and wireless interfaces, as well as camera and Ethernet ports, and is supported by the same SwiftBoard.org community that backs the company's Allwinner A10-based SwiftBoard.

Anichips is one of a growing number of embedded firms, such as Olimex (OLinuXino) that are releasing community-backed, open spec single board computers (SBCs) based on ARM-based Allwinner and Rockchips system-on-chips from China. Like CubieBoard.org, Anichips is based in Shenzhen, where Tom Cubie recently started a firm called Radxa that has launched a Radxa Rock SBC.

PhoenixA20 SBC
(click image to enlarge)
While the earlier Anichips open source board — the SwiftBoard — is built around the Cortex-A8-based Allwinner A10, the PhoenixA20 moves up to dual-core Allwinner A20. The Phoenix is supported by the same SwiftBoard.org community site. (See farther below for more on the SwiftBoard.)
According to SwiftBoard.org's new PhoenixA20 page [translated], the SBC was created after the developer tried to set up a business to build custom embedded products. Because the needs of the customers were so diverse, however, Anichips decided to build an extendable SBC that would satisfy most customer needs.
The PhoenixA20 is aimed primarily at DIY and educational customers, as well as digital signage, image acquisition, and other multimedia-oriented embedded applications. With its multiple display options, the PhoenixA20 would appear to be particularly effective at signage.
The Allwinner A20 combines dual Cortex-A7 cores and a dual-core Mali-400 GPU, which together enable 1080p video playback, as well as 3D and UHD 2160P video decoding. No clock rate is mentioned, but you can be assured of at least 1GHz.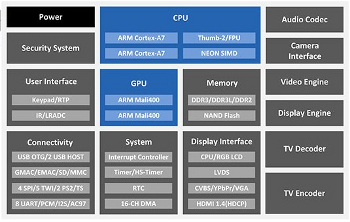 Allwinner A20 SoC block diagram
(click image to enlarge)
The PhoenixA20 is equipped with 1GB of DDR3 RAM, 4GB of onboard NAND flash, and a 32GB-ready microSD card. The announcement omits any mention of the SATA connector, which is indicated on the SwiftBoard.org product page, as well as a Vimeo video posted a week ago (see farther below). Neither the press release or the product page mentions the dual USB ports, although these are suggested in the photo and confirmed in the video.

PhoenixA20 connector designations
(click image to enlarge)
Other coastline ports on the 100 x 72mm Pico-ITX form-factor SBC include VGA, HDMI, and 10/100 Ethernet ports. The PhoenixA20 also ships with WiFi and Bluetooth 4.0, as well as a CSI camera interface. Other I/O available via pins and connectors includes LVDS, four TV-out pins, and a variety of audio and serial interfaces.
Specifications listed for the PhoenixA20 include:
Processor — Allwinner A20 (2x Cortex-A7); Mali 400 GPU
Memory:

1GB DDR3 RAM
4GB NAND flash
MicroSD slot (up to 32GB)

Storage — SATA 2.0 interfaces for 2.5-inch HDD (3.5-inch requires separate 12V input)
Display:

HDMI port
VGA port
LVDS interface
RGB/CVBS interfaces

Audio:

2x audio line-in, headphone, mic
I2S, SPDIF

Camera — CSI interface
Wireless — WiFi; Bluetooth 4.0
Networking — 10/100 Ethernet
USB — 2x USB ports
Other I/O (via connectors/pins):

3x UARTs
2x I2C
4x TVIN
2x PWM
2x LRADC
2x FMIN
4x TV-out
IR, TP

Dimensions — 100 x 72mm (3.9 x 2.8 in.); Pico-ITX form factor
Operating temperature — -20 to 70℃
Operating system — Android 4.2; Linux 3.3
The Phoenix20 is supported by the same SwiftBoard.org site that backs up the SwiftBoard hacker board released earlier this year. The site currently lacks English translation, so unless you know Chinese, you're at the mercy of translation services. The forum seems fairly lively, and there are plenty of resources on Android and Linux support. The hardware section, however, is either empty or requires member log-in.

Anichips SwiftBoard
Not to be confused with the earlier Innovate Software Solutions Swiftboard based on the Freescale i.MX28 SoC, the Anichips SwiftBoard is an open source SBC built around the ARM Cortex-A8-based, Mali-400-enabled Allwinner A10 SoC. The The 90 x 63mm board (pictured at the right; click to enlarge it) supports Android 4.0 and Linux, and is equipped with 1GB DDR3 RAM and 4GB NAND flash. An SD card slot is also available.
The SwiftBoard features an HDMI port, along with onboard LVDS, supporting 1024 x 600-pixel touchscreen displays. USB host and OTG ports are available, along with a camera interface, WiFi, and Bluetooth 3.0. Extension interfaces are said to include dual UARTs, dual I2C, as well as GPIOs and I2S and SPI interfaces.

Further information
The PhoenixA20 appears to be available now starting at $59. More information may be found at the Anichips PhoenixA20 announcement page, as well as the SwiftBoard.org PhoenixA20 product page and the Vimeo video page. More on the SwiftBoard may be found at the Anichips SwiftBoard product page, and at SwiftBoard.org.