Aug 11, 2017 — by Eric Brown 3,711 views
PolyVection's "VoltaStream Zero" is an audio streaming SBC that runs Linux on a 996MHz i.MX6 ULL, and offers a TI PCM5121 DAC, TOSLINK, USB, and WiFi.

In 2013, Berlin based software developer Philip Voigt decided to build his own music streaming system. As detailed in this blog entry, Voight started with a Raspberry Pi, but decided it lacked the features he needed. He then tried working with a BeagleBone design, but found the board too complex and expensive — especially the prospect of duplicating the 6-layer PCB. Voight also evaluated several computer-on-module based designs, but after playing around with a vastly improved KiCAD PCB design and layout package, he decided to build a customized single board computer from scratch.


VoltaStream Zero, front and back
(click images to enlarge)

The result is the VoltaStream Zero audio streaming SBC, which Voight's PolyVection startup is now selling in limited quantities for 41.93 Euros ($49.45), while also offering full schematics, KiCAD design files, and two custom Linux distros. A forum is also available.

VoltaStream Zero KiCAD design file
(click image to enlarge)

Not only did Voigt design and prototype the board all by his lonesome, but he also manufactured it using a
NeoDen 4
pick-and-place machine to populate the board on both sides. He even built his own case after purchasing a no-name Chinese laser cutter to carve a wooden case. A
ZDNet
story quotes Voigt as saying: "I think I'm currently the only one producing a commercial but open-source Linux board in a one-man show."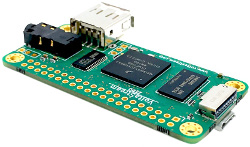 VoltaStream Zero (left) and enclosed in wooden case
(click images to enlarge)

The VoltaStream Zero runs on NXP's i.MX6ULL, which is almost identical to the earlier i.MX6 UL, and offers similarly low power consumption on its single Cortex-A7 core. Voight says he chose the ULL model in part because of its higher clock rate of 996MHz.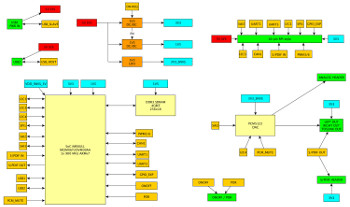 VoltaStream Zero block diagram
(click image to enlarge)

In April of this year, MYIR released a
MYS-6ULX
SBC that at the time offered all three i.MX6 ULL variants, all clocked at 528MHz, as well as all four variants of the i.MX6 UL, two of which can handle 696MHz. In May, however, NXP posted
i.MX6 ULL documentation (PDF)
that includes two new ULL models that support 900MHz operation. (Voight somehow squeezed an extra 96MHz out of the SoC.) The
i.MX6 UL
, meanwhile, still tops out at 696MHz.
Voight has developed his own Yocto (PolyOS) and Debian (PolyBian) based Linux distributions, and is working on adding support for Volumio. A microSD slot is available for loading the downloaded distro of choice. The SBC ships with 512MB RAM, which Voight says is all that most users would need, but it also supports up to 1GB.
The VoltaStream Zero ships with a TI BurrBrown PCM5121 DAC, which offers up to a 384kHz sampling rate and 106 SNR (signal-to-noise ratio). You can optionally swap that out for a pricier PCM5142 DAC. This has a higher 112dB SNR, and includes a DSP that is currently unsupported by the software. A 3.5mm jack lets you output optical TOSLINK or analog audio, and there's an S/PDIF header.
To connect with the outside world, you can call upon a free WiFi dongle that plugs into the sole USB host port. A micro-USB device port supports 5V power input, or you can use the power header on the GPIO.
The VoltaStream Zero not only has the same 65 x 30mm dimensions as the Raspberry Pi Zero, but also a similar 40-pin connector, with access to 28x GPIO. Voight is working on adding support for common Raspberry Pi audio HATs.
Specifications listed for the VoltaStream Zero include:
Processor — NXP i.MX6 ULL (1x 1x Cortex-A7 @ 996MHz)
Memory — 512MB, expandable to 1GB RAM
Storage — MicroSD slot
Audio:

TI BurrBrown PCM5121 or PCM5142 DAC (via I2S) with HW volume control
I2S for GPIO access
S/PDIF header
3.5mm TOSLINK and analog audio jack

Other I/O:

USB host port with free WiFi dongle
Micro-USB client port with power support
40-pin GPIO header with 28x GPIO (5V, 3V3, GND, 2x UART, flexCAN, 2x I2C, SPI, I2S, 3x PWM, S/PDIF in)

Other features — power switch; RTC support integrated in SoC
Power — 5V via micro-USB or header; PMIC
Power consumption — 0.1W (Linux suspend); 0.25W (Linux idle); 1.1W (USB WIFI busy)
Operating system — Linux: PolyOS (Yocto); PolyBian (Debian); Volumio (coming soon)

Further information
The VoltaStream Zero is available in very small quantities, although PolyVection is planning to keep up 100-unit runs to meet demand. Alternatively, if you're up to the challenge, you can build the board yourself, with all available open source files on GitHub. More information may be found on the VoltaStream Zero product page. The board's schematic can be downloaded here [PDF].