Nov 26, 2015 — by Eric Brown 11,324 views
[Updated: Nov. 27] — The Raspberry Pi Foundation has released a $5 "Raspberry Pi Zero" SBC with a 1GHz ARM11 SoC, 512MB RAM, plus microSD, mini-HDMI, micro-USB, and 40-pin GPIO.

The $9-and-up Chip has just been eclipsed in the hacker SBC price competition just as it has finally begun to ship to its crowdfunding backers. The Raspberry Pi Foundation's new Raspberry Pi Zero has gone on sale for a mere $5. The 65 x 30mm, community backed Zero is being bundled free with every December copy of MagPi magazine.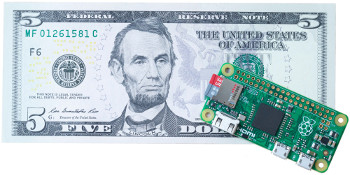 Raspberry Pi Zero alongside its price in U.S. currency
(click image to enlarge)

The Zero runs Raspbian Linux on the same ARM11-based Broadcom BCM2836 SoC as the now $25
Raspberry Pi Model B+
, but it's now clocked to 1GHz instead of 700MHz. The Zero is 40 percent faster than the original Raspberry Pi Model B, claims the Foundation's Eben Upton in today's blog announcement. It's also 40 percent smaller than the Pi 1 B+.

Raspberry Pi Zero top and bottom views
(click images to enlarge)

In many ways, the Zero is more akin to the much less successful, $20
Model A+
. Like the A+, the Zero lacks the Ethernet port found on the Model B or $35, quad Cortex-A7
Raspberry Pi 2 Model B
. The Zero's size, meanwhile, is almost identical to that of the 67.6 x 30mm
Raspberry Pi Compute Module
, which lacks real-world ports and is intended for drop-in COM duty.
Wondering why you can't locate the Pi Zero's Broadcom SoC in the top- and bottom-side photos of the Pi Zero above? The answer lies in the use of PoP (package-on-package) manufacturing technology, whereby the board's Elpida 512MB RAM chip is piggybacked atop the Broadcom chip, as seen in the edge view photo below.


Raspberry Pi Zero edge view, showing PoP DRAM/SoC (in center)
(click image to enlarge)

The Raspberry Pi Zero ships with 512MB LPDDR2 RAM, a microSD slot, and a pair of micro-USB ports, one for data and one for power. There's a mini-HDMI port with audio support and the usual 1080p capability, as well as an unpopulated composite video header. Gone are all the USB ports, DSI and CSI ports, and audio jacks found on the Pi 2.

Raspberry Pi Zero with 40-pin male and female expansion headers installed
(click images to enlarge)

Most importantly, however, especially for embedded- and IoT-focused hackers, the Zero shares the same 40-pin expansion header as other modern Pi boards, for attaching HATs or other expansion adapters. Additionally, the Zero is said to run any application that runs on a Model B+.

Pi Zero HATs from Pimoroni, left to right: Explorer, Scroll, DAC
(click images to enlarge)


Pimoroni Pibow Zero
(click to enlarge)
The following specifications are listed for the Raspberry Pi Zero:
Processor — Broadcom BCM2835 (1x ARM1176JZFS core @ 1GHz) with FPU and VideoCore IV dual-core GPU
Memory — 512MB LPDDR2 SDRAM
Storage — MicroSD slot
Display — Mini-HDMI port with audio for up to 1080p60; composite video header
Other I/O — 2x micro-USB 2.0 ports (1x data, 1x power)
Expansion — 40-pin RPi-compatible connector for GPIO and serial buses
Power — +5V via micro-USB
Dimensions — 65 x 30 x 5mm
Operating system — Raspbian Linux

Accessories and kits
Just as the $9 Chip SBC actually costs up to $25 to bring it up to speed as a fully functional hacker board, the $5 Zero requires an additional $5 or more in cables unless you already have those lying around. Most users, however, will need even more help. Adafruit, which is selling the Raspberry Pi Zero in the U.S., offers both a $30 Budget Pack and $60 Starter Pack, and other vendors are offering alternative accessory combos.


Adafruit Raspberry Pi Zero Budget Pack (left) and Starter Pack
(click images to enlarge)

The Adafruit Budget Pack includes a Zero board as well as:
Mini-HDMI to HDMI adapter
Micro-USB to USB OTG cable
8GB Class 10 SD card
5V 1A power supply and USB A/Micro B Cable
2×20 Male header strip
Adafruit's $60 Starter Kit adds a WiFi dongle, more 2×20 male and female headers, and a USB console cable. The latter connects to GPIO pins to provide you with an alternative display to the HDMI port.


Raspberry Pi Zero starter kits from Pimoroni (left) and PiHut
(click images to enlarge)

Additional Raspberry Pi Zero starter kits and accessories, shown above, are offered by Pimoroni and PiHut.

Further information
The Raspberry Pi Zero is now available for $5 at Adafruit in the U.S., or at Element14, The Pi Hut, and Pimoroni in the UK. Adafruit saccessory packs are available at $29.95 (Budget) and $59.95 (Starter). More information may be found at the Raspberry Pi Zero blog announcement or at the Adafruit RPi Zero page, which offers links to shopping pages for the starter kits, as well as an in-depth overview.