Feb 12, 2018 — by Eric Brown 6,877 views

Contemporary Controls is launching a "BASpi" Raspberry Pi add-on that supports the BACnet building control standard and Sedona Framework, and provides 6x relay outputs and 6x inputs, including analog, temp, contact closure, pulse, and resistance inputs.

Home automation is a new phenomenon compared to more established building automation technology, which largely follows the BACnet (Building Automation Control network) standard. We have seen various Linux-ready IoT products that offer some BACnet support, including Echelon's IzoT Router. However, Contemporary Controls' new BASpi Raspberry Pi 3 add-on board is the first product we've seen that is specifically designed for the standard.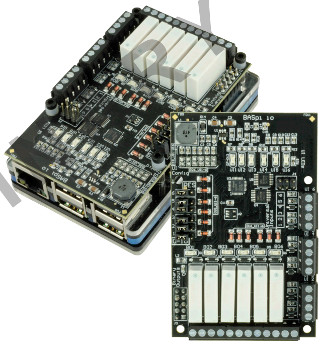 BASpi with (left) and without a Raspberry Pi 3
(click image to enlarge)

Contemporary Controls refers to the BASpi as a BAS expansion board, referring to the Building Automation Software (BAS) the company provides for its various BACnet compatible switches and controllers. Like its other BAS controllers, the BASpi supports Tridium's component-oriented
Sedona Framework
controller programming software. Like the similar Niagara Workbench, Sedona lets developers build applications by graphically assembling software components on a "wiresheet" interface.
When programmed by Contemporary Controls' free, Java-based Sedona Application Editor (SAE)– one of the company's BAScontrol Toolset programs — the BASpi connected Raspberry Pi can be transformed into a Sedona controller. The BASpi board is also compatible with other BAScontrol Toolset applications including the BAScontrol Project Utility and BASemulator. BASpi applications are said to include evaluation, testing, and training for BACnet and Sedona, as well as for augmenting commercial BACnet installations. It can even be used to extend BACnet to home automation applications.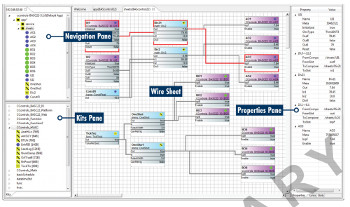 Sedona Application Editor screen with annotations
(click image to enlarge)

The BASpi board is referred to as a "top hat," suggesting it complies with the Raspberry Pi HAT add-on standard. It provides 6x relay outputs, as well as 6x "configurable Universal" inputs. The inputs include analog, binary, resistance, thermistor (10KT2, 10KT3, 20K), and pulse (40Hz).
The platform supplies a Sedona Virtual Machine (SVM) that enables support for 24 "Virtual Points" that are used to read or write data to or from a wiresheet provided by a BACnet client/supervisor station. The BASpi platform also enables 48 "Web Components" that allow live monitoring and control of wiresheet points from the BASpi's web page.
The 12 physical I/O points and 24 Virtual Points are served up over the board's BACnet/IP server using the Raspberry Pi's Ethernet or WiFi connections, which are also used for web page configuration. You can even attach the board to a BACnet head-end via Ethernet while programming the controller over WiFi. There's also an NTP server or manually-settable clock for timing control.
In addition to the BASpi add-on board, which is available with free downloadable Linux software, the company provides a complete BASpi-SYS starter kit for $199. The BASpi-SYS kit includes a BASpi along with a Raspberry Pi 3 SBC, enclosure, and a power supply with a 100-240V AC input and 5VDC output. The BASpi-SYS kit also furnishes an 8GB pSLC, industrial grade microSD card with a pre-written Linux image, the Sedona Application Editor, and a Quick Start Guide for beginners.

Further information
The BASpi board ($69) and BASpi-SYS starter kit ($199) will be available Mar. 1. More information may be found on the Contemporary Controls BASpi product page.