Jun 30, 2014 — by Eric Brown 3,391 views
TI unveiled a 1GHz, Cortex-A9 Sitara "AM437x" SoC with a 3D GPU, a Linux SDK, and an updated PRU module for dual simultaneous control of fieldbus protocols.

The Sitara AM437x is a major upgrade to the Texas Instruments Sitara AM335x, as well as the related Sitara AM3715 and Sitara AM3874. The Sitara AM437x is said to offer up to 40 percent more processing power than previous Sitara processors.
The Sitara AM437x begins sampling in July, and is available as part of a Linux-ready, $599 TMDXEVM437X evaluation kit (see farther below). Like other Sitara SoCs, the AM437x is aimed primarily at industrial applications. Suggested pairings include factory automation, Programmable Logic Controllers (PLCs), home automation gateways, Internet of Things (IoT) gateways, and human machine interface (HMI).


Sitara AM437x block diagram
(click image to enlarge)

TI tipped the AM4x last November, along with a Cortex-A15 based AM5x design, and followed up with
more details
in March when it announced it had moved the Sitara SDK to a mainline Linux foundation. Like TI's more multimedia-oriented OMAP4, the new SoC offers a Cortex-A9 processor, but in this case it's only a single core.
The Sitara AM437x, as well as other future AM4x and AM5x SoCs, provide a redesigned PRU-ICSS (Programmable Real-Time Unit and Industrial Communication Subsystem), one of the signature components of the Sitara AM335x. The new PRU was previously described as "adding a second PRU," although here the PRU subsystem is presented as a single, albeit quad-core subsystem. The new coprocessors offload real-time processing from the ARM core, enabling custom I/O development for simultaneous industrial Ethernet protocols and motor feedback protocols.
The updated PRU manages deterministic tasks such as controlling motors and supporting multiple industrial fieldbus protocols. This includes dual, simultaneous control of EtherCAT, EtherNet/IP, Profibus, PROFINET-RT/IRT, POWERLINK, Sercos III, and IEC61850 protocols, says TI. It also supports motor feedback protocols like EnDat, as well as sensor and actuator interfaces like BiSS. The PRU also adds support for Sigma-Delta modulation, says the company.
The company lists four different pin-to-pin compatible AM437x SoC variations: the Sitara AM4376, AM4377, AM4378, and AM4379. All the versions offer single 800MHz or 1GHz Cortex-A9 cores and PRU-ICSS subsystems. The high-end AM44379 adds PowerVR 3D graphics acceleration, as well as PRU support for the EtherCAT slave protocol. The AM4378 shares the PowerVR GPU, but not the EtherCAT, while the AM4377 is the reverse, offering EtherCAT, but no 3D. The AM4376 has neither feature.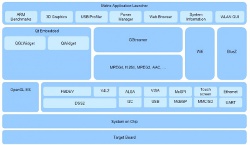 AM437x comparison chart (left) and Linux architecture
(click images to enlarge)

The Sitara AM4379 is further equipped with 64KB RAM, 256KB L2 cache, and 320KB of "other on-chip memory." It supports 32-bit DRAM including LPDDR2-533 and DDR3-800, and runs on 5mW standby power. The AM4379 supports interfaces including 2x USB, 2x CAN, 3x MMC/SD, 6x UART, 2x ADC, 6x PWM, 3x I2C, 3x McBSP, 2x McASP, 5x SPI, plus QSPI, eQEP, eCAP, HDQ-1-Wire, and more.
In addition to the new Cortex-A8 and second-gen PRU technology, highlights of the Sitara AM437x are said to include:
Support for dual parallel cameras for data terminals with bar code scanning
Dual-port gigabit Ethernet switch
2x independent, 8-channel ADCs at up to 867Kbps, for servo motor control, audio sampling, and sensor monitoring
Improved Vector Floating Point unit for motor control and audio algorithms
9-channel Sinc3 filter sigma-delta ADC for precision current sensing for industrial drives
Power management IC (TPS65218) for DC/DC converters with integrated power path, featuring high-accuracy, integrated voltage supervisor, and ultra-low power mode for coin-cell batteries
Quad-SPI for execute-in-place (XIP), enabling system to run directly from low-cost NOR flash
The AM437x SoCs ship with the new stable mainline Linux SDK, including development tools for debugging. Several members of TI's Developer Network, including Adeneo Embedded, QNX, Mentor Graphics, Wind River, Green Hills, SmartEmbedded, and Ittiam will offer software support for the SoC later this year. AM437x-based hardware solutions will ship later this year from companies including Bytes at Work, Gumstix, Calixto, and Mistral Solutions, says TI.

AM437x EVM
A TMDXEVM437X evaluation module (EVM) is available for $599, which includes the integrated, 7-inch capacitive touchscreen. The AM437x eval board also has a connector for TI's optional WiLink 8 combo wireless connectivity modules, supported with Linux software drivers.


TMDXEVM437X top (left) and side views
(click images to enlarge)

The TMDXEVM437X board is equipped with 2GB of DDR3 RAM, plus onboard NAND and eMMC memory. You also get a gigabit Ethernet port, microSD slot, HDMI port, and USB 2.0 OTG and host ports. Additional I/O includes a UART, dual CAN ports, JTAG, audio I/O, and dual camera modules.
An industrial development kit (IDK) will ship in 3Q, providing development aids for industrial automation applications. The kit includes support for PLCs and drives, as well as simultaneous industrial Ethernet and motor feedback protocols, says TI.

Further information
The Sitara AM437x will begin sampling in July, and will enter production in the fourth quarter, with pricing at $15 in volume. The TMDXEVM437X evaluation kit is available now for $599, and the Industrial Development Kit will be available in 3Q for $329. More information may be found at the Texas Instruments AM437x portal and the TMDXEVM437X evaluation kit product page.