Jul 8, 2016 — by Eric Brown 63,303 views

FriendlyARM launched an $8 open source, 40 x 40mm "NanoPi Neo" SBC that runs Ubuntu Core on a quad-core Allwinner H3. It's Ethernet-ready, but headless.

With the NanoPi Neo, FriendlyARM has released what appears to be the world's smallest quad-core ARM based single-board computer, and one of the smallest ARM SBCs we've seen. This open spec, 40 x 40mm sibling to the $11, 69 × 48mm NanoPi M1 has the same 1.2GHz, quad-core, Cortex-A7 Allwinner H3 SoC with 600MHz Mali 400MP2 GPU, and the higher-end, $10 model has the same 512MB of DDR3 RAM. However, in order to slim down, the Neo sacrifices the HDMI port, the camera and CVBS interfaces, DC jack, and Raspberry Pi compatible expansion connector.


FriendlyARM's $8 NanoPi Neo
(click image to enlarge)

While the NanoPi M1 offers a choice of Ubuntu MATE and the lightweight, transactional-enabled
Ubuntu Snappy Core
, the Neo is offered only with Snappy Core. Although the Neo's Wiki currently lists
Qt Embedded
as being available, it's unclear how a GUI framework would be useful on a headless SBC (see brief reader discussion about this in the comments farther below). The BSP includes the U-Boot open source bootloader, kernel, and file systems, and there are wiki and Git repositories. The kernel is an old Linux 3.4, but as noted by CNXSoft, which
tipped
the SBC a few days before it was formally launched,
Allwinner H3 mainline support
should finally arrive in Linux 4.7 or 4.8, so an up-to-date kernel should not be that far away.

NanoPi Neo front and back views
(click images to enlarge)

FriendlyARM's software choices, combined with the small size, lack of video port, and the optional $8, 256MB RAM model suggests an SBC for headless, IoT endpoint devices. The NanoPi competes very nicely indeed with the much slower, ARM11-based
Raspberry Pi Zero
($5 and up) and $9 and up, Cortex-A8 based
Chip
, both of which are well-suited for display-free environments. Even those boards had video interfaces, however. The Neo "does not have any graphical interface output interfaces," says the NanoPi Neo wiki. There is however a serial debug header, which can be used with an adapter to bring up a console display.

NanoPi Neo details
(click image to enlarge)

The NanoPi Neo is further equipped with a microSD slot, 10/100 Ethernet port, USB 2.0 host port, and a micro-USB OTG port for power and data. There are also 36 GPIO pins, separated into banks of 12 and 24. (Note: the product page incorrectly states there are 40 pins.)

NanoPi Neo block diagram and dimensions
(click images to enlarge)

At 40 x 40mm, the NanoPi takes up only 1,600 square millimeters, compared to 1,950 sq. mm for the 65 x 30mm RPi Zero. It's not the smallest Linux-ready SBC, but the smaller ones are all single-core ARM Cortex-A8, ARM9, or MIPS based boards. The smallest SBC we've seen is the ARM9-based, 15 x 10 x 5mm
CloudBit
(500 sq. mm) from LittleBits, which has only a microSD slot and WiFi radio.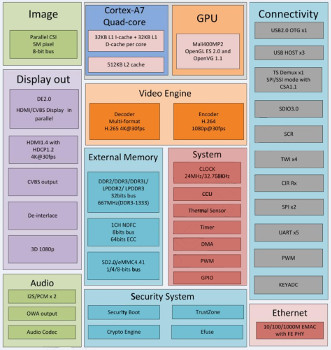 Allwinner H3 SoC block diagram
(click image to enlarge)

There are also several MIPS-based SBCs smaller than the NanoPi Neo, which are similarly minimalistic, such as the small version of the 56 x 26mm (1,400 sq. mm)
LinkIt Smart
, which lacks the ATmega32U4 MPU of the larger Duo, but offers WiFi, microSD, and dual micro-USB ports. The Cortex-A8
USB Armory
, which is limited to a USB port, microSD slot, and 7-pin GPIO, measures just 65 x 19mm (1,235 sq. mm).
It should be noted, however, that the Zero is only 5mm tall and the USB Armory is only 6mm. By comparison, the NanoPi Neo has a higher profile, as defined by its RJ45 Ethernet port. Of course, you could remove the tall USB and Ethernet connectors and wire directly to their mounting holes to obtain a lower profile.
Specifications listed for the NanoPi Neo include:
Processor — Allwinner H3 (4x Cortex-A7 @ 1.2GHz); ARM Mali-400 MP2 GPU @600MHz; 256KB L1, 1MB L2 cache
Memory – 256MB or 512MB DDR3 SDRAM
Storage — MicroSD slot
Networking — 10/100Mbit Ethernet port
Other I/O:

USB 2.0 host port
Micro-USB 2.0 OTG port (with power input)
Debug serial port header (4-pin)
12-pin GPIO with 2x USB, IR, mic, line-out, SPDIF, power, etc.,
24-pin GPIO with UART, SPI, I2C, PWM etc.

Power — +5V @ 2A via micro-USB input or GPIO
Dimensions — 40 x 40mm
Operating system — Ubuntu Core; with Qt Embedded and Linux 3.4 kernel

Further information
The NanoPi Neo is available for $8 (256MB RAM) or $10 (512MB RAM). More information may be found at FriendlyARM's NanoPi Neo product page and NanoPi Neo wiki. The Neo's wiki includes full documentation, including schematics and dxf pcb files, and software sources are at Github.