Jun 28, 2017 — by Eric Brown 11,710 views
On Crowd Supply, an $18 "µduino" board that targets wearables and sensor devices offers an Arduino Leonardo compatible in a half-inch square package.

A Chelmsford, Mass. based startup called µduino has gone to Crowd Supply to fund what it claims is the "smallest Arduino ever created." The 12 x 12mm device is smaller than the smallest Arduino compatible we've heard of, which is the Pemi's 20 x 11mm BeanDuino DigiSpark clone. Unlike the BeanDuino, the µduino deploys its micro-USB port flat to the surface, rather than sticking up vertically, and it features a faster, 16MHz ATMEGA32U4 instead of an ATtiny85 MCU.


µduino from both sides
(click image to enlarge)

According to µduino, led by Dave Chadwick, there have been other ATtiny85 based Arduino compatibles around the same size of the µduino, but these offer limited performance and I/O ports (6x vs. 20x). The µduino gives you the processing power and I/O of the 48 x 18mm Arduino Micro, which itself mimics an Arduino Leonardo. Not surprisingly, then, the µduino costs $18, with volume discounts, instead of $10 for the BeanDuino. Shipments are due Sep. 30.

Arduino Leonardo (left), Arduino Micro (middle) and µduino
(click image to enlarge)

The board is touted for its ability to be powered by batteries, in addition to micro-USB, thereby enabling wearable devices. Potential applications are said to include mini quad-copters, GPS logging modules, small multimeters, and heart rate monitors.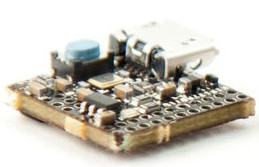 µduino side view
Compared to other Arduinos, the µduino uses smaller hole separation (1.27mm vs 2.54mm). Yet, "standard sized wires are still compatible and can be soldered fairly easily," says the µduino Crowd Supply page.
Specifications listed for the µduino include:
ATMEGA32U4 MCU
6x analog I/O ports
14x digital I/O ports (including Rx/Tx)
Status LED
5V voltage regulator (accepts up to 16V DC)
6-pin ICSP programming ports
5V ports
2x ground ports
Analog reference voltage port
Reset button
16MHz precision crystal oscillator
Micro-USB port
2x mounting holes

Further information
The µduino is available for $18, or $35 for two, or $80 for five. Shipping is free in the U.S. or $7 (1 or 2 units) or $10 (5 units) in other countries. Shipments were originally due by Sept. 30, but ended up being delayed until mid-December due to a design or manufacturing fault. More information may be found at the µduino Crowd Supply page.