Jan 15, 2016 — by Tom Williams 1,482 views

Wind River announced "Helix Chassis" connected car software, featuring Linux-based "Cockpit," VxWorks-based "Drive," IoT device access, and cloud services.

Intel software subsidiary Wind River has been building up its portfolio of automotive oriented software for several years. The results of this process have ranged from safety critical, real-time control software based on its venerable VxWorks RTOS, to an in-vehicle infotainment (IVI) platform based on its widely respected embedded Linux distribution, to a recently introduced Helix Cloud services platform. This week, the company announced that this assortment of software, development tools, and services for the "connected car" market have become a new Wind River product suite, called "Wind River Helix Chassis."
Helix Chassis encompasses a wide range of connected car technologies and applications including infotainment, telematics, and digital cluster systems; safety-oriented systems such as advanced driver assist systems (ADAS) and autonomous driving systems; and cloud-based development tools and enhancements for the applications. Helix Chassis is structured into three main components, which in turn are based on preexisting Wind River products and services:
Helix Cockpit — based on Wind River Linux
Helix Drive — based on Wind River VxWorks
Helix Cloud — Wind River's recently announced IoT cloud services

Wind River Helix Chassis overview
(click image to enlarge)


Helix Cockpit
Helix Cockpit, which Wind River refers to as "the command center of the connected car," is built on Wind River Linux OS. This core Helix Chassis component offers automakers "a framework for a holistic view and better control of the connected car of the future," and is designed to "meet the intersecting needs of the automotive and IoT landscapes," says the company.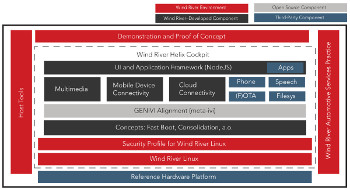 Helix Cockpit software architecture
(click image to enlarge)

Key features of Helix Cockpit, as listed by Wind River, include:
Connectivity framework — Integrated connectivity solutions help to extend and bridge the car experience to the IoT devices and landscape, including the cloud.
Firmware and software over-the-air (OTA) management — Cockpit includes the ability to manage and update software over-the-air throughout its lifecycle.
Flexible platform — Flexibility in car system design, from consolidated to distributed architecture, allows functional services to be distributed across ECUs.
Long term support — A secure Linux base from the market leader in commercial embedded Linux allows for extensibility over time with evolving IoT offerings, protocols, and developments.
Built-in security — Security Profile for Wind River Linux delivers secure data handling from boot to run time.
As illustrated below, Helix Cockpit's connectivity framework manages communications among the vehicle's Cockpit, Drive, and other subsystems that are connected to the car's internal network. It also provides WiFi and Bluetooth support for communications with IoT devices (smartphones, tablets, smartwatches, etc.) in and near the vehicle, including protocol options such as Apple CarPlay, MirrorLink, Google AAP, and others. Cockpit also appears to provide firewall/router functions in support of wireless communications with Helix Cloud services.


Helix Chassis network services
(click images to enlarge)

Like Mentor Automotive's similarly
IVI-oriented Linux distribution
, Helix Cockpit supports the specifications of
GENIVI
, a nonprofit organization developing open standards for automotive and consumer entertainment devices. Adherence to open source and standards is essential to attract not only automobile makers and their tier 1 suppliers, but also for the inclusion of third-party after-market devices.
Helix Cockpit supports all of Wind River's Yocto-compliant Linux BSPs, which span processor architectures including includes Intel x86, Renesas R-Car, NPX (formerly Freescale) i.MX6, and other ARM Cortex-A9 and A15, and others available on request.

Helix Drive
The rubber-hits-the-road component of Helix Chassis is Helix Drive, which is based on Wind River's VxWorks real-time operating system (RTOS). As described by Wind River, this AUTOSAR-oriented product is designed to help carmakers develop ISO 26262-certifiable automotive safety-critical applications.
Drive supports the development of real-time- and safety-critical embedded software, and provides functionality for exchanging data with Helix Cockpit over the internal network, such as providing instrumentation data for display, or configuring subsystems such as HVAC.

Other Wind River automotive technologies
The illustration below, extracted from a Wind River Automotive Solutions Overview brochure that apparently predates the creation of Wind River Helix Chassis, shows the diversity of Wind River's automotive-oriented technologies and services.


Wind River automotive technologies
(click image to enlarge)

"Given the convergence of vehicle functions within the car and externally for seamless interconnected experiences, growing momentum toward the Cloud, autonomous driving innovations, and the ensuing evolving safety ratings and requirements, there is a critical need for a higher level of intelligence and connectivity across vehicle systems," stated Wind River in its announcement of Helix Chassis. "This complicated and interconnected future will rely heavily on advanced software."

Further information
More details regarding Wind River's automotive products may be found at the Wind River Helix Chassis page.