Feb 19, 2014 — by Eric Brown 1,870 views
Canonical announced its initial Ubuntu Phone manufacturers — Meizu and BQ — and said the first mid- to high-end phones would ship by the end of this year.

Some images of the Ubuntu Touch UI running on a Meizu MX3 smartphone were leaked on Weibo in early January (see image below). Now, the connection has been confirmed, as Canonical announced that both China's Meizu and Spain's BQ would ship phones running Ubuntu.
Canonical says its Ubuntu Touch platform will ship in mid- to high-end smartphones with global online campaigns by the end of the year. A month ago, a key Ubuntu developer suggested the first Ubuntu Phones were not likely to ship until 2015.


Meizu MX3 running Ubuntu
(Source: Meizu's Flyme account on Weibo)

Neither company comes close to the size of the partners supporting
Mozilla's Firefox OS
, such as ZTE, TCL, and LG. (At MWC, ZTE is expected to show off a new Firefox OS 1.3 smartphone called the
Open C
.) However, Meizu in particular is one of the fastest growing device vendors in the world, let alone China. Known for its open approach to product development, in which it improves its single brand of Android-derived
Meizu MX
phones based on customer feedback, the 1,000-employee company sells primarily to its native China.
Meizu is already used to following its own OS path, as its phones run its own Android derivative called Flyme 3.0. The well-reviewed Meizu MX3 is equipped with a 5.1-inch 1080 x 1800 display and a quad-core, 1.6GHz processor. Other high-end features include 2GB of RAM, a 32GB storage option, and an 8-megapixel camera.
BQ, short for BQ Readers, is less well known outside of its home base in Spain, but is also said to be a fast-rising upstart. According to Canonical, the 600-employee BQ shipped almost 1.5 million devices, "and in less than a year has become Spain's second biggest seller of unlocked smartphones." The company makes ebook readers, as well as Android phones and tablets, and is known for its dual-SIM phones.
BQ sells a line of Aquaris phones, led by a 260-Euro Aquaris 5.7 model, which runs Android 4.2 on a quad-core, 1.5GHz Cortex-A7 SoC. The phone offers a 5.7-inch, 1080 x 1920-pixel display, and both 13-and 5-megapixel cameras.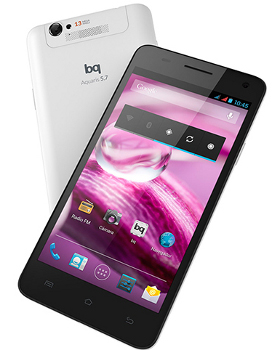 BQ's Aquaris 5.7
(click image to enlarge)

Canonical also touted its
Carrier Advisory Group
(CAG), which last week swelled to 16 members. None of the carriers have yet to promise a phone, although five of them submitted testimonials today, including Portugal Telecom, Three Group, Telecom Italia, Smart, and Smartfren. The latter came the closest to a call for action, stating they "look forward to being able to launch Ubuntu devices in the Indonesian market."
The CAG also includes U.S. carriers Verizon and T-Mobile, but it's doubtful the U.S. will see a carrier-backed Ubuntu Phone by the end of the year. However, more Ubuntu Phone news is expected to emerge next week at Mobile World Congress (MWC) in Barcelona.
"Ubuntu's intuitive and visually stunning user interface aligns with our own ethos of producing simple, innovative mobile experiences," stated Li Nan, Meizu's VP Sales and Marketing. "This partnership gives us an opportunity to develop a truly different and compelling offering that will support our strategy to deliver devices to both China as well as internationally."
"Ubuntu's ongoing success on PCs, as well as the huge support it has gained for its mobile proposition provides the best opportunity to bring an alternative platform to market on our hardware," stated Alberto Mendez, BQ's CEO.