Apr 21, 2015 — by Eric Brown 7,380 views
Canonical's Ubuntu 15.04 switches to the systemd init, and offers a commercial-ready Ubuntu Touch for Phones and the first stable build of its IoT-focused Snappy.

Canonical's Ubuntu project released Ubuntu 15.04 ("Vivid Vervet"), calling the updated Linux distro "a fully converged platform spanning cloud, device, and client." While Ubuntu continues to move in that direction, this is not, in fact, the convergence release promised years ago. The release does, however, provide the first commercially viable Ubuntu Touch or Phones code, which began shipping last week in the first Ubuntu phone: BQ's Aquaris E4.5 Ubuntu Edition.
Ubuntu 15.04 moves up to a Linux 3.19 kernel, and replaces Canonical's Upstart init system with the Debian-standard systemd. The Vivid Vervet release also integrates the first stable version of the lightweight Snappy version of Ubuntu for Internet of Things applications. Otherwise, most of the upgrades are on the server side, including a new LXD virtual container technology that integrates with OpenStack. In other Linux distro news, Red Hat's Fedora Project released Fedora 22 Beta. (See farther below for more on Snappy, LXD, and Fedora 22.)


Ubuntu 15.04 Beta 2 application drawer
(click image to enlarge; source: Softpedia)

Ubuntu 15.04 continues to run on the Unity 7.3x desktop environment, not the upcoming, more mobile-oriented Unity 8, which will integrate the still experimental Mir windowing technology to replace X. Once Unity 8 arrives, presumably in the upcoming October release of Ubuntu 15.10, or perhaps next April with Ubuntu 16.04, developers may finally be able to write a single app that will automatically conform to the UI of any mobile or desktop form factor.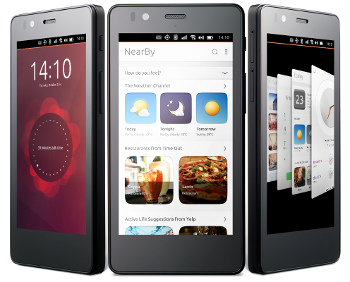 Aquaris E4.5 Ubuntu Edition
(click image to enlarge)

Ubuntu Touch for Phones will soon be released via phased OTA updates, a la Android, and it will soon be available on the delayed Ubuntu version of the Meizu MX4 smartphone, claims Canonical. However, the final Ubuntu Touch for Tablets code has yet to arrive. This hasn't stopped at least one touch-enabled, Ubuntu based
Cube i7-CM tablet
from reaching market, possibly running
Ubuntu Kylin
.

Ubuntu Kylin 15.04 release banner
(click image to enlarge)

The China-focused Kylin was also updated today, with enhancements such as integration of menus and click-to-minimize. There were also updates to the Ubuntu Kylin Software Center, Youker Assistant 2.0.2, Youker Weather, and improved Pinyin support.
With Ubuntu 15.04, the Ubuntu Developer Tools Centre is now called Ubuntu Make, which offers more tools for mobile and web apps. Ubuntu Make supports 14 new platforms including Android NDK and Android Studio, a Firefox developer edition, and the Stencyl game development platform. Newly supported IDEs include IDEA, pycharm, webstorm, rubymine, phpstorm and, Eclipse. In addition, a Dell XPS 13 Developer Edition laptop starting at $949 is available with new tools for Ubuntu cloud and IoT development, says Canonical.


Dell XPS 13 Developer Edition
(click images to enlarge)

Vivid Vervet also advances to LibreOffice 4.4, which offers improved change tracking in Writer, enhanced mail merge performance, and "improved shapes which can now have fully formatted content with tables," says Canonical. Other enhancements include support for digitally signed PDF exports, as well as connections to Sharepoint and OneDrive.

Snappy gears up for IoT
Ubuntu 15.04 includes the first stable version of its lightweight "Snappy" Ubuntu Core version designed for embedded IoT devices. Announced in January, Snappy is billed as being smaller and more secure than any previous Ubuntu edition. Snappy is aimed at drones, robots, network switches, mobile base stations, industrial gateways, and IoT home automation hubs, says Canonical.


Snappy architecture
(click image to enlarge)

Snappy integrates a cloud interface and a common app store. It also provides automatic smartphone-like software updates, including security safeguards that are said to block unauthorized software updates.
Snappy supports ARMv7 and x86-64 platforms, and requires a 600MHz CPU, 4GB of flash, and 128MB RAM, only 40MB of which is directly used by the system. Recommended development environments include the BeagleBone Black and Odroid-C1 SBCs.

Ubuntu Server: LXD takes on KVM and Docker
LXD
In addition to the new device version of Snappy, Canonical released the cloud version of Snappy with Ubuntu 15.04 for Server. The Snappy-packaged Ubuntu Core is designed for transactional systems, such as Docker cloud container hosts and a new container-based hypervisor called LXD (Linux Container Daemon).
LXD competes with the KVM virtualization platform, and although it can run Docker containers, it can also be considered a competitor for Docker. Integrated with the OpenStack "Kilo" cloud platform supported in Ubuntu for Server, LXD "eliminates the very high virtualisation penalty of traditional hypervisors, making Linux-on-Linux workloads much faster and much more dense," stated Ubuntu founder Mark Shuttleworth.
In particular, LXD offers much higher density than KVM with Linux VMs that run Tomcat applications under light load, says Canonical. Applications such as Hadoop, which typically run on bare metal, can perform at native speeds under LXD without the 15 to 20 percent overhead of KVM, claims the company.
"LXD support in OpenStack means big data specialists can now use OpenStack APIs for provisioning, and get bare metal performance for their analytics," stated Mark Baker, product manager for OpenStack in Ubuntu.

Fedora 22 goes beta
Red Hat's Fedora project also announced a major update today as it released the first Beta version of Fedora 22. Like Ubuntu, Fedora Linux is a favorite among Linux developers, especially those willing to try out the bleeding edge of new Linux developments. This upstream "sandbox" version of Red Hat Enterprise Linux (RHEL), the leading server-oriented Linux distribution, is available in server, cloud, and workstation versions.
The Fedora 22 workstation version takes a further step toward replacing the X window system with Wayland. The login screen is now defined by Wayland, and the libinput library is now used for both X11 and Wayland for consistent input device handling, says the Fedora Project. While most of the Linux world is moving from X to Wayland, Ubuntu is moving from X to its own homegrown Mir, which will fully debut in Unity 8.
Fedora 22 Beta also provides improved GNOME system event notifications. In addition, the Automatic Bug Reporting Tool (ABRT) now features better notifications and gives users additional control over the information sent via the GNOME privacy control panel.

Further information
Ubuntu 15.04 will be available to download starting April 23 at the Ubuntu project site (the beta 2 release is currently here). More information may be found in the Ubuntu 15.04 release notes.