Jan 15, 2018 — by Eric Brown 1,225 views
CompuLab's rugged, 68 x 42mm "CL-SOM-iMX8" computer-on-module runs Yocto or Android on NXP's dual- or quad-core Cortex-A53 i.MX8M, with up to 4GB LPDDR4, up to 64GB eMMC, onboard wireless, and PCIe and HDMI 2.0 support.

CompuLab's CL-SOM-iMX8 COM, which ships with an optional SBC-iMX8 Evaluation Kit, shares many features with Variscite's recently announced DART-MX8M module, which similarly features NXP's new i.MX8M SoC. The CL-SOM-iMX8 is slightly larger, at 68 x 42mm, and adds shock (50G/20ms) and vibration (20G/0-600Hz) resistance.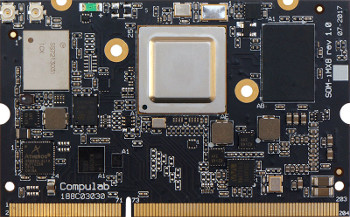 CL-SOM-iMX8
(click image to enlarge)

Unlike the DART-MX8M, the CL-SOM-iMX8 is a SODIMM-style COM with a 204-pin edge connector. As with the Variscite model, you can choose from 0 to 70°C and -40 to 85°C SKUs. There's also an option for an intermediate -20 to 70°C range.
CompuLab is offering a BSP with a ready-to-run Yocto Project image with mainline Linux support. It will soon add an Android image, as well as U-Boot. You also get 3D Object mechanical drawings and extensive documentation.
The SBC-iMX8 Evaluation Kit's carrier board is supported with Gerbers, schematics, and layout files. (Since this story was published earlier this week, CompuLab has posted a product page and pricing for the SBC-iMX8 Evaluation Kit.)
The CL-SOM-iMX8 is available in dual- or quad-core versions of NXP's 1.5GHz, Cortex-A53 i.MX8M. The SoC incorporates a Vivante GC7000Lite GPU and VPU, enabling 4K HEVC/H265, H264, and VP9 video decoding with HDR technology for greater brightness and clarity. The i.MX8M, which will also ship in a few months on Technexion's community-backed Wand-Pi-8M SBC, is further equipped with a 266MHz Cortex-M4 MCU.


CL-SOM-iMX8 block diagram (left) and i.MX8M block diagram
(click images to enlarge)

Like the DART-MX8M, the CL-SOM-iMX8 backs up the i.MX8M with up to 4GB LPDDR4 and 4GB to 64GB eMMC. The module similarly supplies a GbE controller, as well as 802.11ac and Bluetooth 4.1/BLE radios (via a Broadcom BCM4356 chip). Unlike with the Variscite module, these networking links are all optional. In addition, you can add to the single PCIe x1 link with a second PCIe if you forego the onboard wireless chip.
Like the DART-MX8M, the CL-SOM-iMX8 supports 2x USB 3.0 OTG and 4x UARTs. The CL-SOM-iMX8 is further equipped with 3x I2C, 2x SPI, 4x PWM, 90x GPIO, and single JTAG and SD/SDIO/MMC interfaces.
The module differs somewhat in its choice of display interfaces. You get HDMI 2.0a for up to 4096 x 2160 @60Hz plus HD-ready, dual-channel LVDS and 4-lane MIPI-DSI for up to 1920 x 1080 @ 60Hz. There's also a 24-bit Parallel RGB connection for up to 1600 x 1200 pixels. If we're interpreting CompuLab's ordering codes correctly, you can't get the HDMI and RGB links on the same SKU, and you must also choose between LVDS and DSI.
In any case, 4-lane MIPI-CSI2 and capacitive touch support via SPI and I2C are standard. In a switch from the traditional practice, the digital audio SPDIF connection and up to 4x digital serial I2S/SAI interfaces are standard while the analog codec and headphone, mic, and line-in interfaces cost extra.
The CL-SOM-iMX8 supports an RTC with external battery. The 14-gram module runs on 3.4 to 4.5V power and offers 3.3V I/O voltage. A heat dissipation plate is optional.

Further information
The CL-SOM-iMX8 module appears to be available for order for $170 in single units, all the way down to $68 in 1K volumes. Pricing is for the bare-bones dual-core model, but CompuLab adds a calculator page to add up the price with preferred options. No ship date was listed. More information may be found at Compulab's CL-SOM-iMX8 product page.