Aug 2, 2017 — by Eric Brown 13,648 views
TI's Linux-driven "DLP LightCrafter Display 2000 EVM" integrates a 0.2-inch "DLP2000" chipset that drives 640 x 360 displays, and plugs into the BB Black.

Texas Instruments invented DLP (digital light processing) pico projection technology, and has offered Linux-driven evaluation modules since the original circa-2012 DLP LightCrafter EVM. While the original LightCrafter was a fully formed SBC, the new DLP LightCrafter Display 2000 EVM is a daughter-board designed to work with any SBC with I2C and a GPIO-driven video interface that supports 24-bit RGB. The module, which can drive up to a 640 x 360-pixel, 30-lumens projected display, offers built-in support for the BeagleBone Black or BeagleBone Green, and includes Linux-based software drivers and code examples for developing pico projector devices.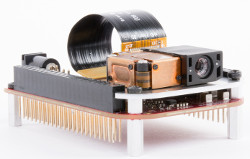 DLP LightCrafter Display 2000 EVM from two angles
(click images to enlarge)

The DLP LightCrafter Display 2000 EVM costs only $99, compared to $599 for the original EVM, and incorporates a tiny new, 0.2-inch DLP2000 chipset that is available separately for only $20. The EVM and chipset "now make it more affordable to leverage DLP technology and design on-demand, free-form display applications such as mobile smart TVs; pico projectors; digital signage; projection displays for smart homes, smartphones and tablets; and control panels and Internet of Things (IoT) display solutions," says TI.

DLP LightCrafter Display 2000 EVM simplified block diagram
(click image to enlarge)

The 14 x 5mm DLP2000 chipset integrates a 0.2-inch (5.55mm) diagonal display component, making it TI's tiniest DLP device yet. This digital micromirror device (DMD) features a micro-opto-electromechanical system (MOEMS) spatial light modulator (SLM), and provides a 7.56-micron micromirror pitch and a 12° micromirror tilt.
The DLP LightCrafter Display 2000 EVM integrates the DLP2000 via a DLP Light Engine optical unit manufactured by Young Optics Inc. The Light Engine, which also includes optics and RGB LEDs, supports 20 to 30 lumens intensity.


EVM block diagram (left) and DLP Light Engine
(click images to enlarge)

The DLP2000 works with the EVM's
DLPC2607
display controller chip to generate an up to a 640 x 360-pixel, 16:9 projected image. The board also provides TI's DLPA1000 PMIC/LED driver.
The EVM has a BeagleBone cape (add-on card) footprint that measures 76 x 54mm. Its dual connectors are designed to match up to the pinouts of the BeagleBone Black. A Debian image is available for the TI AM335x powered BB Black enabling the SBC to automatically hook up to the EVM's EEPROM on boot-up. The EVM's DLPC2607 controller, which is backed up with some flash memory, can then communicate with the BB Black via the Parallel RGB888 and I2C interfaces. A power jack connects to an external 5V DC, 3A power supply, or it can be powered by any board that can provide a minimum of 320mA.


EVM pinout (left) and detail view: 1) 5V DC jack, 2) DMD data connector, 3) EEPROM, 4) DLPC2607, 5) DMD LED connector, 6) flash for DLPC2607, 7) DLPA1000 PMIC/LED driver
(click images to enlarge)

According to an
EETimes
report that alerted us to the DLP2000, TI is the leading supplier of pico-projector chips, having shipped more than 1 million units in the first half of 2017. The chips drive smartphone pico projectors such the Moto Mod, which snaps on to the Moto Z2 Force Edition smartphone. The story also reminded us that TI fellow Larry Hornbeck received an Oscar at the 87th Academy Awards for inventing DLP, which is also the key technology behind digital cinema.

Further information
The DLP LightCrafter Display 2000 EVM, including the DLP2000 chipset, is now available for $99. The DLP2000 chipset is also available separately for $20. More information may be found in TI's DLP2000 and EVM announcement, as well as the EVM product page and DVP2000 product page.