Jul 5, 2018 — by Eric Brown 7,547 views
NXElec has launched an 80 x 42mm "Innostick 6" SBC that runs Linux on a low-power, 900MHz i.MX6 ULL SoC, and offers up to 32GB eMMC, WiFi, Bluetooth, and USB host and OTG ports.

Nine-year old embedded firm Shanghai Naxing Electronics (NXElec), which makes the BeagleBone Companion Board and BeadaFrame LCD Display Kit for BeagleBoard, has now moved to the NXP world with a miniscule Innostick 6 SBC. The 80 x 42mm board features the low-power, i.MX6 ULL, a variation on the i.MX6 UltraLite (UL) that similarly offers a single Cortex-A7 core, in this case clocked to 900MHz. Other i.MX6 ULL SBCs include MYIR's 70 x 55mm MYS-6ULX and PolyVection's open source VoltaStream Zero, an audio streaming SBC that features a similarly petite footprint.


Innostick 6, front and back
(click images to enlarge)

The system ships with a choice of Yocto Project "Morty" based Linux stacks: one with X11 and one with Qtopia. Debian Stretch is also supported. There is no indication this is an open source board. However, there's a wiki on elinux.org and the company has a section in the forums at the
pHbBB
community site.
The Innostick 6 ships with 512MB DDR3L and either 16GB or 32GB eMMC. There's no Ethernet, but you get WiFi and Bluetooth. The only coastline ports are the USB 2.0 host and micro-USB OTG ports.
The SBC is further equipped with a resistive touch-enabled LCD interface and a CSI Parallel camera interface. There are also 16- and 50-pin GPIO headers.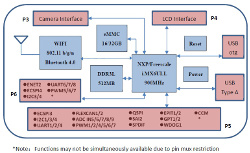 Innostick 6 and block diagram
(click images to enlarge)

Specifications listed for the Innostick 6 include:
Processor — NXP i.MX6 ULL; 1x Cortex-A7 @ 900MHz
Memory/storage — 512MB DDR3L; 16GB or 32GB eMMC
Wireless — 802.11b/g/n with Bluetooth 4.0 (AP6212 module)
Display/camera:

24-bit RGB LCD interface with 4-wire resistive touch support
8-bit CSI Parallel input

Other I/O:

USB 2.0 host port
Micro-USB 2.0 OTG port
16-pin expansion header — ENET2, ECSPI4, I2C3/4, UART6/7/8, PWM5/6/7
50-pin expansion header — ECSPI3, I2C1/3/4, UART1/2/4, FLEXCAN1/2, ADC IN5/6/7/8/9, PWM1/2/4/5/6/7, QSPI, SAI2, SPDIF, EPIT1/2, GPT1/2, WDOG1, CCM

Other features — LED; reset button; boot and power jumpers
Dimensions — 80 x 42mm
Operating system — Yocto Morty Linux with X11 or Qtopia 5.6, Debian Stretch

Further information
The Innostick 6 appears to be available now at an undisclosed price. More information may be found on NXElec's Innostick 6 product page and the Elinux.org wiki.