Apr 16, 2018 — by Eric Brown 1,729 views
Moxa announced a line of rugged, compact "UC 2100" IoT gateways that run 10-year available Moxa Industrial Linux and optional ThingsPro Gateway middleware on a Cortex-A8 SoC.

Moxa announced the UC-2100 Series industrial IoT gateways along with its new UC 3100 and UC 5100 Series, but it offered details only on the UC-2100. All three series will offer ruggedization features, compact footprints, and on some models, 4G LTE support. They all run Moxa Industrial Linux and optional ThingsPro Gateway data acquisition software on Arm-based SoCs.


Moxa UC-2111 or UC-2112 (left) and UC-2101
(click image to enlarge)

Based on Debian 9 and a Linux 4.4 kernel, the new Moxa Industrial Linux (MIL) is a "high-performance, industrial-grade Linux distribution" that features a container-based virtual-machine-like middleware abstraction layer between the OS and applications," says Moxa. Multiple isolated systems can run on a single control host "so that system integrators and engineers can easily change the behavior of an application without worrying about software compatibility," says the company.
MIL provides 10-year long-term Linux support, and is aimed principally at industries that require long-term software, such as power, water, oil & gas, transportation, and building automation industries. In December, Moxa joined the Linux Foundation's Civil Infrastructure Platform (CIP) project, which is developing a 10-year SLTS Linux kernel for infrastructure industries. MIL appears to be in alignment with CIP standards.


Diagrams of ThingsPro Gateway (left) and the larger ThingsPro eco-system
(click images to enlarge)

Moxa's ThingsPro Gateway software enables "fast integration of edge data into cloud services for large-scale IIoT deployments," says Moxa. The software supports Modbus data acquisition, LTE connectivity, MQTT communication, and cloud client interfaces such as Amazon Web Services (AWS) and Microsoft Azure. C and Python APIs are also available.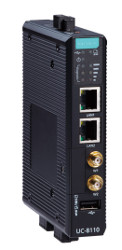 Moxa's UC-3100 (source: Hanser Konstruktion), and at right, the similarly Linux-driven, ThingsPro ready UC-8112
(click images to enlarge)

Although we saw no product pages on the UC-3100 and UC-5100,
Hanser Konstruktion
posted a short news item on the UC-3100 with a photo (above) and a few details. This larger, rugged system supports WiFi and LTE with two antenna pairs, and offers a USB port in addition to dual LAN and dual serial ports.
The new systems follow several other UC-branded IoT gateways that run Linux on Arm. The only other one to support ThingsPro is the UC-8112, a member of the UC-8100 family. This UC-8100 is similarly ruggedized, and runs Linux on a Cortex-A8 SoC.

UC-2100
The UC-2100 Series gateways runs MIL on an unnamed Cortex-A8 SoC clocked at 600MHz except for the UC-2112, which jumps to 1GHz. There are five different models, all with 9-48 VDC 3-pin terminal blocks and a maximum consumption of 4 Watts when not running cellular modules.
The five UC-2100 models have the following dimensions, weights, and maximum input currents:
UC-2101 — 50 x 80 x 28mm; 190 g; 200 mA
UC-2102 — 50 x 80 x 28mm; 190 g; 330 mA
UC-2104 — 57 x 80 x 30.8mm; 220 g; 800 mA
UC-2111 — 77 x 111 x 25.5mm; 290 g; 350 mA
UC-2112 — 77 x 111 x 25.5mm; 290 g; 450 mA
All five UC-2100 variants default to a -10 to 60°C operating range except for the UC-2104, which moves up to -10 to 70°C. In addition, they are all available in optional -40 to 75°C versions.
Other ruggedization features are the same, including anti-vibration protection per IEC 60068-2-64 and anti-shock per IEC 60068-2-2. A variety of safety, EMC, EMI, EMS, and hazardous environment standards are also listed.
The first three models ship with 256MB DDR3, while the UC-2111 and UC-2112 offer 512MB. These two are also the only ones to offer micro-SD slots. All five systems ship with 8GB eMMC loaded with the MIL distribution.
The UC-2100 systems vary in the number and type of their auto-sensing, 1.5 kV isolated Ethernet ports. The UC-2101 and UC-2104 each have a single 10/100Mbps port, while the UC-2102 and UC-2111 have two. The UC-2112 has one 10/100 and one 10/100/1000 port. The UC-2104 is the only model with a mini-PCIe socket for 4G or WiFi.
The UC-2111 and UC-2112 offer 2x RS-232/422/48 ports while the UC-2101 has one. It would appear that the UC-2102 and UC-2104 lack serial ports altogether except for the RS-232 console port available on all five systems.
The UC-2100 provides push buttons and dip switches, an RTC, a watchdog, and LEDs, the number of which depend on the model. A wall kit is standard, and DIN-rail mounting is optional. TPM 2.0 is also optional. A 5-year hardware warranty is standard.

Further information
The UC-2100 Series gateways appear to be available for order, with pricing undisclosed. More information may be found on Moxa's UC-2100 product page. More information about the UC-2100, as well as the related, upcoming UC-3100 and UC-5100 Series, will be on tap at Hannover Messe 2018, April 23-27, at the Arm Booth at Hall 6, Booth A46.