Jul 29, 2014 — by Eric Brown 23,037 views
Hardkernel launched a $30, 60 x 36mm Raspberry-Pi compatible "Odroid-W" wearables oriented SBC, adding eMMC, ADC, RTC, a fuel gauge, and step converters.

Hardkernel's Odroid project developed the Odroid-W (Odroid-Wearable) for a partner's Internet of Things prototyping platform, after first considering and dismissing its quad-core Odroid-U3 single board computer. The Odroid-U3, which was rated as the third most popular Linux hacker SBC in our recent survey, used too much power for use as an IoT and wearables platform. The Raspberry Pi was more power efficient, but too large. No doubt, RPi compatibility also had its attractions, as the project ended up building its own Raspberry Pi pseudo-clone implemented on a COM (computer-on-module) style form factor.


Odroid-W
(click image to enlarge)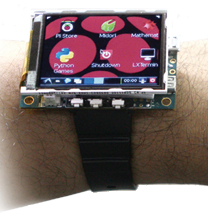 Odroid-W based smartwatch
At only 60 x 36mm (2.6 x 1.4 inches) and weighing just 8 grams, the Odroid-W is small enough to build a slightly oversized smartwatch. This is demonstrated in the video posted farther below, which walks you through a sample watch's construction.The Odroid project didn't say whether it also considered the smaller Raspberry Pi Compute Module, but presumably this was too barebones and OEM-focused for the Odroid-W, which like the RPi and other Odroid boards is intended for simplified DIY prototyping.
The Odroid-W is claimed to be fully software compatible with the RPi. The video below shows how it's relatively easy to solder on a USB port to the board's available interface, add a mouse/keyboard dongle, power up via micro-USB or Li-Poly battery, and attach a monitor using the micro-HDMI port to bring up a Raspbian Linux desktop.

Odroid-W video: from COM to SBC in eight solder points

Odroid-W details
The open source, open-spec Odroid-W starts with the Raspberry Pi's 700MHz, ARM11 Broadcom BCM2835 system-on-chip, accompanied by the usual 512MB of RAM and microSD slot. It also features the RPi's 15-pin MIPI-CSI2 camera module, with "full compatibility" with the Pi camera, and includes an RPi-compatible 26-pin expansion connector, in this case with access available from both the top and bottom of the board for easier stacking. The latest Raspberry Pi Model B+ instead moves to a 40-pin connector, but it's backward compatible, and the 26-pin standard will likely stick around for a while.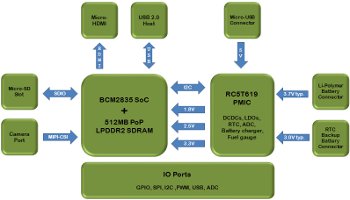 Odroid-W block diagram
(click image to enlarge)

Unlike the
Banana Pi
, this is not a full RPi clone. It lacks, for example, the MIPI-DSI display connection, and also lacks some real-world ports such as Ethernet. A USB port can be soldered on either the front or back using eight solder points.

Raspberry Pi Model B (left) compared to Odroid-W
(click image to enlarge)

While the new RPi Model B+ sticks with a full HDMI port, the Odroid-W goes micro-HDMI. Like the B+, however, it switches from an SD slot to a micro-SD slot, available with an optional 8GB card pre-installed with Raspbian Linux. Like the
Raspberry Pi Compute Module
, it also adds support for eMMC flash, although there's no pre-installed option that we could see.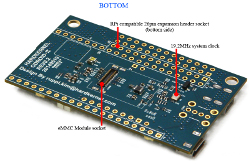 Odroid-W details, top and bottom
(click images to enlarge)

To make the device fit for wearables, the Odroid project added the following key features to the RPi-like design:
Li+ rechargeable battery charger and fuel gauge
Real Time Clock
12-bit precision ADC to measure the dynamic voltage signals via two single-ended inputs
DC/DC step-down converters for higher power efficiency
DC/DC step-up converter for 5V rails (USB host and HDMI) from a Li-Polymer battery
DIY friendly 0.1-inch/2.54mm pitch I/O connector (up to 32 GPIO ports) for prototyping
The figure below shows the pinouts of the board's expansion connectors. For more complete details on the SBC's expansion connectors, download the board's schematic here.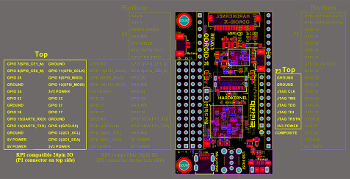 Odroid-W expansion header pinouts
(click image to enlarge)

Available options
Hardkernel has built up quite an array of options for its many flavors of Odroid SBCs, many of which are available for the Odroid-W. These include a 720P USB camera, a docking board, an Arduino Uno compatible "Oduino One" module, and an "Odroid-VU" 9-inch, 1280 x 800 capacitive touchscreen.
Both WiFi and Bluetooth USB modules are available to make up for the lack of a built-in wirelesss option. Presumably, the project chose to omit any built-in networking connection due to cost and size constraints and because many wearable platforms require only Bluetooth rather than a full WiFi/Bluetooth combo.

Summary of Odroid-W specs
Specifications listed for the Odroid-W include:
Processor — Broadcom BCM2835 (1x ARM1176JZFS core @ 700MHz) with FPU and VideoCore IV dual-core GPU
Memory:

512MB SDRAM
MicroSD slot with optional 8GB card with pre-loaded Raspbian Linux
eMMC socket

Other I/O:

USB 2.0 host interface (accessible from top or bottom)
Micro-HDMI port
MIPI-CSI2 15-pin camera connector (RPi-compatible)
26-pin (13×2) expansion connectors (RPi-compatible) with top and bottom access
26-pin (20+6) GPIO header with 2x 12-bit precision ADCs
6x JTAG/ground headers

Other features – LEDs; reset button
Options:

Odroid-VU 9-inch, 1280 x 800 capacitive multitouch screen
WiFi and Bluetooth modules
USB-CAM 720P camera
Oduino One (Arduino Uno compatible module)
Docking board with optional TFT LCD
Connectors, cables, etc.

Power:

Micro-USB port for 5V input
Li-Polymer battery connector (Molex 53398-0271) with optional 750mAh battery
RTC Backup battery connector (Molex 53398-0271) with optional coin battery
TI TPS61259 5V step-up DCDC converter for USB host and HDMI block
PMIC (Ricoh RC5T619) for DCDCs, LDOs, ADCs, RTC, battery charger, and fuel gauge
Optional Odroid Smart Power supply

Weight — 8 g
Dimensions — 60 x 36 x 7mm (2.4 x 1.4 x 0.3 in.)
Operating system — Raspbian Linux

Video: DIY Odroid-W based smartwatch
Video: Odroid-W turns into a smartwatch

Further information
The Odroid-W is available for pre-order at $30 plus $9 shipping, with availability beginning Aug. 26, plus 2-4 weeks delivery. More information may be found in the Odroid-W blog announcement and the Odroid-W product page.