Nov 25, 2014 — by Eric Brown 20,121 views
[Updated Dec 18] — SolidRun's tiny, $100 "CuBoxTV" media player runs OpenElec Linux and Kodi (formerly XBMC) on a quad-core i.MX6 SoC, and offers 100Mbps+ video decoding.

The CuBoxTV is the first Freescale i.MX6 based media player to run the Kodi (formerly XBMC) multimedia distribution, says Israel-based SolidRun. CuBoxTV is closely based on the company's latest i.MX6 based CuBox mini-PC, which now sells for $80 to $140, depending on the number of Cortex-A9 i.MX6 cores and other features. The CuBoxTV, which is available only with the quad-core i.MX6 SoC, goes for a sale price of $100.

CuBoxTV front (left) and back
The CuBoxTV runs the lightweight
OpenELEC Linux
, a homegrown distro popular on the Raspberry Pi that's designed to showcase XBMC, now called
Kodi Entertainment Center
. The XBMC Foundation
changed the open source stack's name
in August for several reasons, including the fact that the foundation had no legal control over the name, which was being misused. In addition, the "XB" in its former stemmed from its original role as a distribution for Microsoft's XBox, which is no longer actively supported, and since the MC stood for Media Center, the foundation decided their expansion into games merited a broader "Entertainment Center" name.

Kodi interface, with CuBoxTV at lower right
(click image to enlarge)

When Kodi v14 support was announced for the i.MX6 in September, SolidRun says it partnered with OpenELEC and Yatse, which makes a Kodi/XMBC remote control interface for Android devices, to develop the CuBoxTV. With its four Cortex-A9 cores and GC2000 GPU, the i.MX6 Quad enables the CuBoxTV to provide 1080p multi-format decoding and encoding with an over 100Mbps decoding bit rate, That's "almost twice the highest transfer bit rate of Blu-ray," says SolidRun. The i.MX6 also supports OpenGL/ES 2.0 and OpenCL 1.1.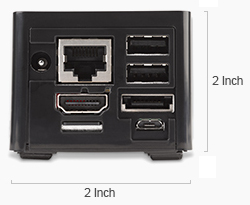 CuBoxTV dimensions
The CuBoxTV's specs and 2.0 x 2.0 x 2.0-inch dimensions closely match those of the original CuBox. However, SolidRun has stripped out the CuBox's BCM4329-based WiFi and Bluetooth functions, so the device depends on its gigabit Ethernet port for both local networking and Internet access. Mobile remote access is available through the Android-only
Yatse
interface.

CuBoxTV package (left) and Yatse remote control for mobile devices
(click images to enlarge)

The CuBoxTV ships with 1GB of RAM, along with 8GB of flash in a microSD slot, and there's also an eSATA port for additional expansion. The CuBoxTV is further equipped with a pair of USB 2.0 ports, an HDMI port, and optical TOSLINK and SPDIF audio out ports.

CuBox-i block diagram
(click image to enlarge)

The block diagram above shows all the features available in the top-end CuBox-i Pro, not all of which are present in the CuBoxTV. Specifications listed for the CuBoxTV include:
Processor — Freescale i.MX6 Quad (4x Cortex A9 cores @ 1GHz-1.2GHz); GC2000 GPU (OpenGL/ES 2.0, OpenCL 1.1)
Memory/storage:

1GB RAM 1066MHz, 64-bit
8GB flash (resides in microSD slot; contains OS and user data)
MicroSD slot
eSATA slot

Networking — gigabit Ethernet port; limited to 470Mbps bandwidth "due to internal chip buses"
Other I/O:

2x USB 2.0 host
HDMI 1.4b
Optical audio SPDIF out
Optical TOSLINK
Infra-red receiver

Video decoding — MPEG-4 ASP, XVID, H.264 HP, H.263, MPEG-2 MP, MJPEG BP, VP8, Sorenson-H263
Video encoding — MPEG-4 SP, H.264 BP, H.263, MJPEG BP
Audio decoding — AAC, MP3, Vorbis, FLAC, audio encoder SBC, MP3
Audio encoding — SBC, MP3
Image codecs — PEG, BMP, GIF, PNG
Power — 5V; 5.5mm power jack
Weight 9.9 oz (281 g)
Dimensions — 55 x 55 x 42mm (2 x 2 x 2 inches)
Operating system — OpenELEC Linux with Kodi and Yatse remote UI (on 8GB microSD)
In July, SolidRun launched three Linux- and Android-ready, open source HummingBoard SBCs based on the i.MX6. The top-of-the-line HummingBoard-i2eX ($100 to $120) uses the dual-core i.MX6Dual. This has a more powerful Vivante GC2000 GPU than the GC880 GPU found on i.MX6Solo and i.MX6DualLite, which form the basis for the lower-end HummingBoard-i1 ($50-$60) and HummingBoard-i2 ($75-$95), respectively.

Further information
The CuBoxTV is available for a sale price of $100 (regularly $125). Considering that the CuBox debuted starting at $45 before jumping to $80, we trust that this is indeed a sale price, and it will probably go up to the regular listed price of $125 after the new year. More information may be found at SolidRun's CuBoxTV product page. A $10 "limited time" promotional discount code appears to be available here.