Oct 19, 2016 — by Eric Brown 6,266 views
The $12 "VoCore2" WiFi COM, which runs OpenWrt on a Mediatek MT7688AN, has won Indiegogo funding and has been joined by a $4 "VoCore2 Lite" version.

Back in 2014, we hailed the $20 VoCore computer-on-module as the smallest yet to run Linux, measuring only 25 x 25mm. Earlier this month, China-based VoCore launched an updated open source VoCore2 board on Indiegogo, and quickly surpassed its modest flexible funding goal. With a month left, the campaign decided to fulfill an informal stretch goal based on popular demand to produce a cheaper version.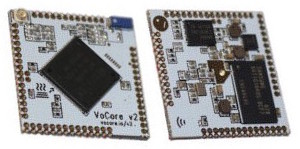 VoCore2, front and back
Consequently, the same Indiegogo campaign now offers a $4 "VoCore2 Lite" as well as a $12 VoCore2. There are also packages ranging from $29 to $39 that combine the VoCore2 with cube-like add-on docks that turn the COM into an SBC or mini-PC, depending on your point of view.

VoCore2 pinout and VoCore2 Lite
(click images to enlarge)

The open source COM ships with schematics, circuit diagrams, and full source code including bootloader, system, and applications. The VoCore2 can be used as is as a portable WiFi router or as a general-purpose IoT gizmo. You can build devices including wireless speakers, cameras, network sniffers, private cloud servers, and more. The COM supports development in C, Java, Python, Ruby, and Javascript.

Comparison of VoCore, VoCore2 Lite, and VoCore2 specs
(click image to enlarge)

While the original VoCore ran OpenWrt Linux on the MIPS-based, 360MHz Ralink RT5350 WiFi SoC, the 25.4 x 25.4 x 2.8mm VoCore2 uses a faster MIPS-based MediaTek MT7688AN WiFi SoC clocked to 580MHz. The VoCore2 Lite uses a MT7688N variant, which has the same 580MHz clock speed, but supports less memory and has slower 150Mbps WiFi rather than 300Mbps. That's still twice the WiFi throughput of the original $20 model.
Original VoCore
The MT7688 has also appeared on the open spec Omega2 module and the similar LinkIt Smart 7688, a collaboration between SeeedStudio and MediaTek Lab that we call an SBC due to its onboard microSD slot. Like both of these boards, the VoCore2 modules run OpenWrt, and they also support the newly forked LEDE version.
The VoCore2 ships with 128MB of DDR2 RAM and 16MB of NOR flash, while the Lite version has 64MB and 8MB, which is half the RAM and twice the flash of the original. The Lite version lacks an onboard antenna, and has only one U.FL antenna slot instead of two. It also lacks the standard version's PCie 1.1 interface, a feature missing from the original. Otherwise, the boards are identical.
Compared to the original Ralink-based model, the new COMs draw almost half the power at 74mA. They also give you SPI DMA in addition to SPI master and slave interfaces. They offer three UARTs instead of two, and provide 10x more GPIO with 40x total pins. In addition, you get native SD support rather than relying on SPI. Once again, there's a 5-port 10/100Mbps Ethernet switch. The one subtraction here is the removal of the USB 2.0 OTG interface, leaving only the single USB host.

VoCore2 with PoE Dock (left) and with AirPlay audio dock
The dock add-ons are currently offered only in packages that mate them with the VoCore2, not the Lite version. For $29 you can choose either an AirPlay audio dock that turns it into a music player, or a PoE dock that connects to an Ethernet jack to turn the VoCore2 into a wall-powered wireless hotspot.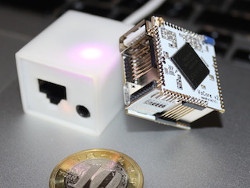 VoCore2 with Ultimate Dock, and the combination with its enclosure
(click images to enlarge)

The new $39 Ultimate Dock package replaces the original dock, and similarly turns the VoCore2 into a 28 x 28 x 20mm SBC/mini-PC somewhat reminiscent of the old
Marvell Plug Computers
, but without the electrical wall plug. Like the original dock, it adds an RJ45 10/100 Ethernet port and micro-USB port with power support. It also provides a microSD slot.
In addition to these real-world connections, the Ultimate Dock adds a four-channel AD converter and one-channel DA converter for sensors, as well as "an onboard driver-free serial port to USB." There's a "small power bank (9800mAh)" that can run the device autonomously for four days. A plastic enclosure also appears to be part of the $39 package.

VoCore2 introduction on YouTube
Further information
The VoCore2 and VoCore2 Lite are available on Indiegogo for another month starting at $12 and $4, respectively. Dock packages, which include the VoCore2, range from $29 to $39. Shipments are due in December for the VoCore2 and January for the VoCore2 Lite, which will initially be available in limited quantities compared to the VoCore2. More information may be found at the VoCore 2 Indiegogo page and Vonger blog announcement of the Lite, as well as the VoCore website.