Jan 27, 2015 — by Eric Brown 18,819 views
[Updated 11PM] — Smart Electronics is prepping a tiny $26 open-source "Black Swift" SBC that runs OpenWRT on an Atheros AR9331 and offers WiFi, dual micro-USB, and header I/O.

The Black Swift, which launched on Kickstarter yesterday, comes from Russian firm Smart Electronics LLC. It's an open source, 35 x 25 x 4mm single board computer designed for Internet of Things (IoT) devices such as robotics, wireless speakers, home automation devices, and IP cameras.


Black Swift SBC
(click image to enlarge)

The Black Swift is equipped with 64MB of RAM, 16MB ROM, onboard WiFi, and two micro-USB ports, one of which can drive the board with 5 VDC power. The other interfaces are expressed via PLLD connectors that can connect to standard PLLD-1.27-2.54mm adapter boards to enable LEDs, buttons, sensors, relays, and even Arduino boards.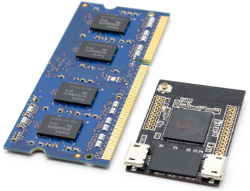 Black Swift beside a SODIMM and a metric ruler
Like a number of super lightweight, IoT-oriented SBCs, computer-on-modules, and hybrids, the Black Swift SBC runs the stripped down
OpenWRT Linux
on a 400MHz, MIPS-based Atheros AR9331 processor, which offers onboard WiFi. Other OpenWRT on AR9331 boards include the
Arduino Yun
, the
DPT Board
, the
WeIO
module, and the
Carambola 2
module.

Black Swift mated to a custom PCB in a homebrew current-measuring device
(click image to enlarge)

"We made the Black Swift because we needed computing and communication core for our own designs and we were not happy with existing options," writes Oleg Artamonov, product marketing manager at Smart Electronics. "The Raspberry Pi was too big and the Carambola 2 has to be surface-mounted, etc. So we decided to make our own computer, friendly enough to enthusiasts and at the same time suitable as professional embedded solution. And we are going to make it open source, everything up to Gerber files."

Black Swift prototyping project (left) and connected to a USB SoundBlaster
(click image to enlarge)

I/O expressed via the PLLD-1,27-30 interfaces include dual 10/100 Ethernet interfaces, a serial UART, and I2S, S/PDIF, I2C, and SPI. There are also 24 GPIO lanes, which offer support for 1-wire, PWM, and more.

Black Swift details (left) and interface header pinouts
(click image to enlarge)

A Pro version will add an integrated USB-UART adapter to access the bootloader or OpenWRT serial interfaces. The Pro version can re-flash the ROM completely using an "external programmer" or another Black Swift board, says Smart Electronics.

Black Swift "Pro" model with easy-access pins for programming
(click image to enlarge)


Open source, down to the gerbers
According to Smart Electronics website, "Everything in the Black Swift project is open. Not only software, which is based on enormously popular OpenWRT OS, but even hardware — schematics as well as circuit board — will be made available to everyone."
"We love open source," states the SBC's Kickstarter campaign page. "In fact, we are really grateful to open source community — without them we wouldn't be able to create Black Swift, as it uses open source OpenWRT operating system and U-Boot boot loader. So we decided to release everything related to the project to public."

Summary of Black Swift specs
Specifications listed for the Black Swift SBC include
Processor — Qualcomm Atheros AR9331 (1x 32-bit MIPS 24K core @ 200MHz to 400MHz)
Memory — 64MB DDR2 SDRAM; 16MB NOR flash
Wireless — 802.11b/g/n (1×1, up to 150Mbps, 2.4GHz, PCB antenna); optional external antenna with U.fl connector
USB — 2x micro-USB 2.0 ports (1x host/client, 1x 3.4-6 VDC power)
Other I/O (via 2x PLLD-1,27-30 interfaces):

2x Fast Ethernet
I2S and S/PDIF (shared interface)
SPI
I2C
16550 UART
26x GPIO, including 1-wire and PWM support– max load 24mA; min logic «1» level: 2.44 V; max logic «0» level: 0.1 V; max voltage 3.3 V (2.75 V recommended)

Power:

5V (with USB support) or 3.3V without
3.6-6 В (using onboard voltage regulator and without USB support)
300mA max consumption (without external load)
60mA min consumption (200MHz, WiFi disabled)
Integrated voltage regulators:

3.3 V, switch mode, external load 700mA max
2.75 V, linear LDO, external load 300mA max
Total external load 700mA max

Dimensions — 35 × 25 × 4mm (1.38 × 1.0 × 0.16 in.)
Weight — 3 g
Operating system — OpenWRT Linux 14.07 (Barrier Breaker) with mpd music daemon, USB audio drivers, and samba network file client

Further information
The Black Swift went on sale Jan. 26 on Kickstarter for about $26 ($34 for the Pro version), with slightly lower prices (about $19) for the first early bird investors. More information may be found at the project's Kickstarter campaign page as well as at the Smart Electronics Black Swift website.