Jul 12, 2013 — by Eric Brown 25,181 views
[Updated Aug 14] — An OpenWRT Linux-based hardware adapter designed for unifying USB-connected storage met its $69,000 Kickstarter pledge goal in 12 hours. The tiny "Lima" device (initially called "Plug") eschews cloud storage for a localized approach whereby an app or driver installed on each participating computer or mobile device intercepts filesystem accesses, and redirects data reads and writes to storage drives attached to the user's Lima device.

Developed by Paris-based startup Cloud Guys Corp. (CGC), the developers of a Gmail app called Forgetbox, the Lima enjoyed one of the fastest fulfillments in Kickstarter history, meeting its goal in 12 hours. The $69 Lima almost doubled that to $118,000 in the first day, and has now soared to over $200,000 in funding (over $850,000, as of Aug 14).

CGC Lima runs OpenWRT Linux
(click image to enlarge)

Despite the presence of "Cloud" in the name of the company, the Lima stores nothing on Cloud-based storage services. Instead, it puts the user in complete control of all storage devices, and, in contrast to services like DropBox, which offer limited amounts of free storage and charge for larger capacities, the Lima device has no ongoing fees associated with its use.
The warm response on Kickstarter perhaps derives in part from its launch in the wake of the revelations about corporate-assisted U.S. government snooping on citizens using programs such as the NSA's "PRISM." The Plug press release refers to the device as "PRISM-free storage."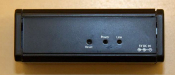 Three views of the Lima device
(click images to enlarge)
The Lima is similar in concept to Marvell's popular, Linux-based SheevaPlug Plug Computer design, which has been used in numerous third-party products including the PogoPlug (pictured at right, click to enlarge). Like the SheevaPlug designs, the Lima is tiny, lacks internal storage, and is limited to a USB port and an Ethernet port.
While it's similarly intended to orchestrate storage over the Internet from multiple devices, unlike PogoPlug there's no cloud service involved. Instead, a Lima app or driver installed on each participating desktop computer or mobile device intercepts filesystem accesses, and redirects data reads and writes to the Lima's attached USB drive, wherever on the Internet it may be located. As described on the Lima's Kickstarter page, "when Lima is installed on your computer, our application intercepts all the input/output operations performed on your files, using several patent pending technologies."

Inside the Lima device
(click images to enlarge)
The Lima app or driver installed on the user's desktop, mobile, or other devices (which may include TV media players) automatically backs up internal storage to the Lima-connected USB drives. It then enables the user to view and access these files spread out over multiple devices, as if they were located on a single local storage device. As a result, a smartphone might appear to have 2TB of storage, claims CGC. The Lima device supports up to eight connected drives via a separately available USB hub.
The Lima is 20 times cheaper and 60 times faster than cloud storage on sites such as DropBox, claims the company. The Lima's software technology lets users share access to their Lima-connected files with others, without requiring a cloud storage service.
Not mentioned on the Lima's Kickstarter page, is the method by which a user's mobile devices can connect to the Lima when they are outside of its subnet, assuming the Lima does not have its own static IP. Typically, products requiring this capability are paired with a web service that acts as a gateway, as in the case of PogoPlug, or they employ a dynamic DNS intermediary, such as DynDNS, which can maintain synchronization to the server's dynamic IP. The DynDNS dynamic DNS service, which previously had been offered in a free version, now costs $25 per year.
Update on July 14, 2013: We asked the Lima team to clarify the mechanism by which mobile devices or desktop computers communicate with the Lima when they're outside of the Lima's subnet, and received the following explanation from Gawen Arab-Laffon, CGC's Founder and CTO: "Plug, and all devices which use Lima, are connected to a decentralized VPN we created. A little like OpenVPN, but without the star scheme topology. Every node of the system has a name, like a domain name. Every one of the nodes has to announce to a DHT its own IP, so that other nodes can contact it. It's a little like DNS, but decentralized."
CGC also claims the device is far more difficult to hack than a PC, and says it will be regularly updated with security patches to meet new threats. Files are protected via a "zero-configuration, private and encrypted VPN" based on asymmetrically encrypted RSA-2048/SHA-1 keys, says the company.
The Lima device itself runs on an OpenWRT-based Linux distribution using an unnamed x86-based processor. The device includes a USB 2.0 port and a 10/100 Ethernet port with an average transfer speed of 30Mbps, and the device comes with a 110/220V power adapter that's said to be usable in both the U.S. and Europe.
According to its Kickstarter page, the Lima measures 270 x 110 x 20mm, weighs 200 grams, and can withstand temperatures of 0 to 90° F. Since prototype photos on the Lima's Kickstarter page seem to be of a unit that's about half the size indicated by its listed dimensions, we asked the Lima team whether there was an error in those numbers. They confirmed that the dimensions as listed are correct, so we presume the production version will be about double the size of what's shown in the current photos.
Supported filesystems are said to include NTFS, HFS+, Ext3/Ext4, and FAT32, and supported desktop and device operating systems include Mac OS X, Linux, Windows, iOS, and Android, with Windows Phone expected to be added soon.
The Lima is expected to ship by the end of the year or January 2014, and will be built by an unnamed Shenzen, China manufacturer. It is available to Kickstarter backers for a $69 pledge, but retail pricing is estimated at $150. More information may be found at the Plug Kickstarter page, and a video is available (and not much else) at the MeetLima.com website.