Apr 19, 2019 — by Eric Brown 10,818 views
On Kickstarter: a tiny, laser-based "Nebra AnyBeam" pico projector with 720p resolution and up to 381cm screen sizes available in four versions: standalone, dev kit, Raspberry Pi HAT, and an RPi-Zero W based "Monster Ball."

A Pi Supply spinoff called Nebra has successfully launched the "world's smallest pocket laser pico projector" on Kickstarter. The fanless, pocketable projector can stream video from any HDMI equipped source device, including a Chromecast, Fire TV Stick, laptop, or phone.


Nebra AnyBeam (left) and HAT version with Raspberry Pi
(click images to enlarge)

Four versions of the Nebra AnyBeam are available, starting with a 103 x 50 x 19mm, standalone version available with a 219 Pound ($285) early bird price. The AnyBeam, which we discovered on
BetaNews
, is also available in a 199 Pound ($259) development kit version. There's no mention of the processor used on the device's mainboard, but it likely runs Linux.
There's also a HAT add-on board version that works with any Raspberry Pi that's available in a 189 Pound ($246) early bird package. Finally, there's a spherical standalone Monster Ball version based on a Raspberry Pi Zero W, available in a 249 Pound ($325) early bird.
All the products will ship with 3D and 2D drawings of all parts. They are all due in August except the Monster Ball, which is expected in December. The campaign concludes May 6.


Nebra AnyBeam dev kit (left) and Monster Ball
(click images to enlarge)

While a 720p projector may not permanently change your TV viewing habits, pico projectors are good for quickie business presentations and showing images and video as parties and other gatherings. The prices are higher than some other portable pico projectors like TI's $99
DLP LightCrafter Display 2000 EVM
add-on for the BeagleBone Black. However, the Nebra AnyBeam stands out by using laser instead of DLP-based projection.
Nebra touts laser projection technology for its fanless, silent operation and low power consumption — the AnyBeam runs on as little 3 Watts. A tripod mount is available, but the device can be held in your hand without overheating, says Nebra. The device's lightweight, MEMS-based Class 1 laser scanner also last up to 10 times longer than a typical DLP bulb, says the company.
Laser projectors offer better color saturation, contrast, sharpness, and brightness than bulb-based projectors, claims Nebra. All the AnyBeam devices provide 720p, 60fps video at a 16:9 aspect ratio and 80,000:1 contrast. Although the brightness is rated at only 30 ANSI, this is claimed to be the equivalent of 150 ANSI rated "standard" DLP projectors.
The Nebra AnyBeam can adapt to changing angles and sizes and curved and irregular surfaces "without the need for constantly focusing and adjusting," claims Nebra. It can also maintain brightness at greater distance, projecting images ranging in size from 12.7cm (5 inches) to 381cm (12.5 feet) "and beyond, if your room is dark enough," says the company.
The flagship AnyBeam device weighs only 133 grams and incorporates a 5V DC input, HDMI 1.4b port, a power-ready micro-USB port, and 3.5mm audio jack. There's also a multi-way navigation switch and a 1W speaker. The developer kit version, which offers easier access to the mainboard beneath the clear acrylic case, has the same components as the commercial version, but without the 1W speaker.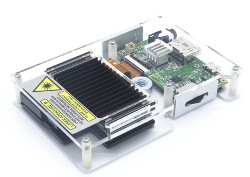 Nebra AnyBeam internal (left) and detail views
(click images to enlarge)

The two Raspberry Pi versions let users set up Kodi/OSMC home cinema interfaces "in a matter of seconds." The 65 x 57 x 31mm HAT version weighs 79 grams and connects with a Pi using a DPI interface via the 40-pin header. The device can be powered over the header or via micro-USB, and there are 3x navigation switches.
The Monster Ball is a 10cm diameter sphere that weighs 580 grams. It integrates a Raspberry Pi Zero W, a microSD card, and 3x navigation switches. It's powered the same way as the HAT, but also offers a 2.5A international power supply and cable. Like the standard AnyBeam, it has a tripod mount – and could those be LED disco lights around the equator?

Further information
The Nebra AnyBeam is available on Kickstarter through May 6 starting at 189 Pounds ($246) for the Raspberry Pi HAT version. Shipments are due in August except for the Monster Ball which ships in December. More information may be found at Nebra's Nebra AnyBeam Kickstarter page.