Jul 12, 2018 — by Eric Brown 4,093 views

Nvidia unveiled a Jetson Xavier Developer Kit for its octa-core, AI/robotics focused Xavier module. The carrier includes eSATA, PCIe x16, GbE, 2x USB 3.1 Type-C with DP support, and 2x M.2 slots with NVMe support.

As promised in early June when Nvidia announced its robotics and drone-oriented Isaac SDK for its Linux-driven Jetson Xavier computer-on-module, the company released the first details about the dev kit. The kit, which goes on sale for $1,300 in August, offers the first access to Xavier aside from the earlier Drive PX Pegasus autonomous car computer board, which incorporates up to 4x Xavier modules. The kit includes Xavier's Linux-based stack and Isaac SDK.


Nvidia Jetson Xavier Developer Kit (top) and side view, which shows (l to r) micro-USB, GPIO, and USB Type-C
(click images to enlarge)

Last month, Nvidia said the dev kit would target applications that require "maximum compute at the edge to run modern AI workloads and solve problems in manufacturing, logistics, retail, service, agriculture and more." The 105 x 87 x 16mm Xavier module features 8x ARMv8.2 cores and a high-end, 512-core Nvidia Volta GPU with tensor cores. It also includes 2x NVDLA deep learning engines, a 7-way VLIW vision chip, and more. The module ships with 16GB 256-bit LPDDR4 and 32GB eMMC 5.1.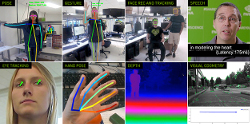 Nvidia Xavier (left) and Isaac IMX data points for visual recognition
(click images to enlarge)

Nvidia calls the Xavier "an AI computer for autonomous machines, delivering the performance of a GPU workstation in an embedded module under 30W." Nvidia continues: "With multiple operating modes at 10W, 15W, and 30W, Jetson Xavier has greater than 10x the energy efficiency and more than 20x the performance of its predecessor, the Jetson TX2." (See our
Isaac
story for more details on Xavier.)

Xavier dev kit showing PCIe x16 slot (left) and rear view showing (l to r) DC input with 2nd USB Type-C on top, GbE, USB 3.0/eSATA hybrid, and HDMI 2.0
(click images to enlarge)

No dimensions were supplied for the dev kit, but it appears to be only slightly larger than the Xavier module that sits on top of it. A thermal unit acts as the top slice of the sandwich.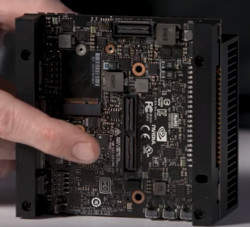 Xavier dev kit with power buttons (left) and bottom view pointing to CSI connector; M.2 E-Key is at upper left
(click images to enlarge)

As the video farther below demonstrates, the Xavier with thermal unit component can detach, exposing the top of the carrier board with its M.2 M-Key slot with NVMe support. The bottom of the board is always exposed, offering access to M.2 E-Key and CSI interfaces. The module has a slightly smaller package than the standard Xavier module, which can also be used with the dev kit's carrier board.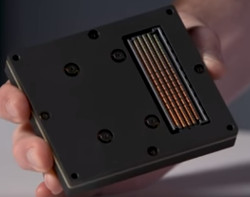 Xavier dev kit with top removed showing top of carrier with M.2 M-Key slot and 699-pin B2B connector below (left), and at right: standard Xavier module's 699-pin connector
(click images to enlarge)

Highlights include an interesting combo port with eSATAp and USB 3.0. Triple displays are supported if you team the HDMI 2.0 port with the dual DisplayPorts that are available via the dual-use USB Type-C ports. Other features include a GbE port, eDP, PCIe x16, a 40-pin header, and power buttons.
Specifications for the Jetson Xavier Developer Kit include:
Processor/memory — Jetson Xavier module with 16GB RAM, 32GB eMMC
Storage:

MicroSD slot with UFS support
eSATAp with USB 3.0 combo port with 2.5-inch SATA (with power) support via PCIe x1 bridge
M.2 M-key with NVMe storage support

Networking — GbE port
Display/camera:

HDMI 2.0 port
2x DisplayPort 1.4via 2x USB Type-C
eDP 1.2a port
Triple display support
16x MIPI-CSI 2 lanes

Other I/O:

2x USB 3.1 Type-C ports with DP and power delivery (1x port supports close-system debug and flashing)
Micro-USB port with FTDI serial
HD audio header

Expansion:

40-pin header (UART, SPI, CAN, I2C, I2S, DMIC, GPIOs)
PCIe x16 slot for 8x PCIe Gen4/x8 SLVS-EC
M.2 E-Key for PCIe x1, USB 2.0, UART (WiFi/LTE), I2S, PCM

Other features — 3x buttons (power, force recovery, reset); cable, adapters
Power — DC input for included 65W power supply
Xavier dev kit demo video

Further information
The Nvidia Jetson Xavier Developer Kit with Xavier module will go on sale in August for $1,299. More information may be found in Nvidia's Xavier dev kit product page, which offers a sign-up for on-sale notification.