Jan 22, 2014 — by Eric Brown 21,300 views

[Updated: July 15, 2016] — Acme Systems announced a tiny hacker-oriented module called the Arietta G25, built around Atmel's 400MHz ARM9 SAM9G25 SoC.

Tux Case
Back in 2006, Italian embedded Linux manufacturer Acme Systems shipped a penguin-shaped Tux Case for its original Fox single board computer (SBC).
The new, 25 x 50mm Arietta G25 computer-on-module (COM) is equipped with the same Atmel AT91SAM9G25 processor used by the company's Aria G25 (see farther below). The Tux Case is still available, as well. But whereas the 40 x 40mm Aria G25 is aimed at OEM developers, the 20 x 50mm Arietta G25 was developed for the DIY crowd. The module is designed for compact, low-cost, low-power, embedded gizmos, better known today as Internet of Things (IoT) devices.


Arietta G25 (left) and with optional WiFi add-on installed
(click images to enlarge)

Atmel's
SAM9G2x series SoCs
arrived in 2008, improving on the SAM9260 with larger memories, including 64K of internal SRAM. Unlike the newer
SAM9G45
processor, the SAM9G2x offers only one bus interface instead of two.

Two more views of the Arietta G25; note the rear-mounted microUSB OTG connector
(click images to enlarge)

The Arietta G25 module is equipped with 128MB of DDR2 RAM and a 32GB-ready microSD slot. There's no Ethernet port or video interface, but one of the USB interfaces supports an optional WiFi radio that adds 7 Euros to the price, plus another 7 Euros for the antenna.

Arietta G25 details
(click image to enlarge)

All the other I/O is accessed via a 2×20-pin header connector. This includes three USB 2.0 ports, one of which is available with an optional, 7-Euro USB-to-serial interface. This can be used to link the debug port to a PC USB host port and access the Linux system console using a terminal emulator program, says Acme Systems.
For those desiring network access to the Arietta board without adding the optional WiFi adapter, it's possible to do so using one of the module's USB ports. In an email, Acme Systems co-owner Sergio Tanzilli wrote: "It is possible to have a LAN link with the PC using the USB device port, as with the BeagleBoard. I used Codiad and Shell-in-a-box to have a web editor, a file manager and a Linux session directly inside the browser. We are thinking to design a POE version."
Additional I/O includes three UARTs, I2C, SPI, A/D converters, and PWM interfaces. The 3.3V DC-powered module operates between -20 to 70° C.
MicroSD cards containing the Debian Linux image are available in 4GB (10-Euro), 8GB (14-Euro), and 16GB (18-Euro) capacities. Fully open source firmware, software environments, and toolchain will be available from Atmel, "Linux sites," and various Acme Systems repositories on GitHub, says the company. Schematics for the Arietta G25 will be posted soon.
Specifications listed for the Arietta G25 include:
Processor — Atmel AT91SAM9G25 (1x ARM9 core @ 400MHz)
Memory — 128MB or 256MB DDR2 RAM; microSD slot for up to 32GB, with bootable Linux OS card
Wireless — optional WiFi (802.11b/g/nm, RaLink RT5370N) with optional antenna
I/O (via 2×20 header)

USB 2.0 full-speed host
USB 2.0 high-speed OTG port (shared with microUSB connector)
USB 2.0 high-speed host (shared with WiFi add-on connector)
3x UARTs
2x I2C
1x SPI, with up to 3x chip selects (5 to 50 MHz)
PWM (4x lines)
A/D converters (4x channels @ 10-bit)
Serial debug port

Other features — user-configurable LED; supports placement of 20×2-pitch, 2.54mm (100mils) pinstrip
Power — 5VDC via microUSB device port or 3.3VDC via PCB pads
Dimensions — 53 x 25mm
Operating temperature — -20 to 70°C (with 128MB RAM); 0 to 7°C (with 256MB RAM)
Operating system — Debian Linux 8.4 ("Jessie"); BuildRoot Linux 2016.02
The Arietta G25's OEM-focused cousin, the Aria G25, is already selling well in China, Tanzilli informs us. The larger COM has the same SAM9G25 processor, but offers an option to expand to 256MB of RAM. It appears to lack a microSD slot, but adds a 10/100Mbps Ethernet PHY. Like the Arietta G25, the Aria G25 supplies three USB host ports and adds additional UART, I2C, and SPI connections, as well as 60 GPIOs.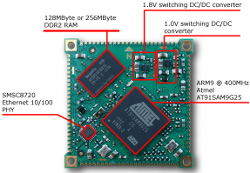 Aria G25 details
(click image to enlarge)

The Aria G25 is also available with an optional
Terra baseboard
. Among other features, the baseboard provides a microSD slot, real-world LAN and USB ports, and a SIM slot with an optional quad-band GSM/GPRS modem. It also has connectors that support up to four optional Acme Systems
Daisy daughtercards
, including a stepper motor driver, GPS and sensors, serial breakouts, wireless modules, and a small LCD display module, to name a few. A metal frame enclosure is also available, among several other Terra options.

Further information
For additional details, visit the Acme Systems Arietta G25 and Aria G25 product pages. As of the update to this post, in single units the Arietta is priced at about $28, and the Aria is listed at about $30, in single units with 128MB RAM. Upgrading to 256MB RAM adds about $7.