Jun 8, 2017 — by Eric Brown 1,749 views
TI's Linux-driven, Cortex-A8 "Sitara AMIC110" SoC with PRU-ICSS is designed for multiprotocol industrial Ethernet and fieldbus communications.

Texas Instruments has announced the AMIC110, the first in a series of Sitara AMIC SoCs designed to "help developers convert existing non-networked designs such as motor drives to networked systems by adding industrial Ethernet." The SoC's single-core, 300MHz Cortex-A8 core is joined by a programmable real-time unit (PRU-ICSS), much like the one found on TI's Sitara AM437x. A Linux SDK is available along with multiple development boards.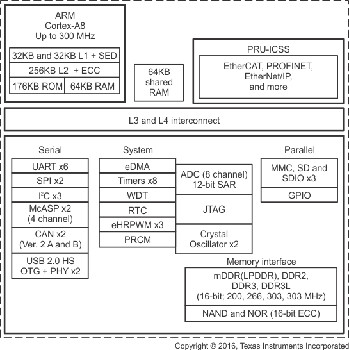 AMIC110 block diagram
(click image to enlarge)

The programmable PRU-ICSS subsystem is like the industrial communications equivalent to software defined radio (SDR). The MCU-driven subsystem can support many different protocols including EtherCAT, Profinet, Ethernet/IP, PROFIBUS master and slave, HSR, PRP, POWERLINK, SERCOS III, and CANopen, with more in development.
By comparison, many industrial networking devices use ASIC chips, which are often limited to a single industrial fieldbus standard, says TI. PRU-ICSS subsystem also "provides flexibility in implementing fast, real-time responses, specialized data handling operations, custom peripheral interfaces, and in offloading tasks from the other processor cores of SoC," says TI.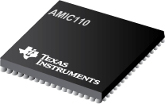 AMIC110
The AMIC110 is equipped with a NEON SIMD co-processor, 32KB each of L1 and data cache, and 256KB of L2 cache with error correcting code. The SoC supports DDR2, DDR3, DDR3L, and LPDDR RAM, and can drive up to two Fast Ethernet ports, with optional PHY. Peripheral support includes CAN, I2C, SPI, UART, USB, and more. Industrial -40 to 105°C temperatures are supported.
The Sitara AMIC110 SoC can act as a standalone device or serve as a communication companion to a microcontroller unit (MCU) such as TI's C2000 MCU, "for connected drive applications," says TI. Available development boards include C2000 MCU LaunchPad development kit and AMIC110 industrial communication engine (ICE) development board.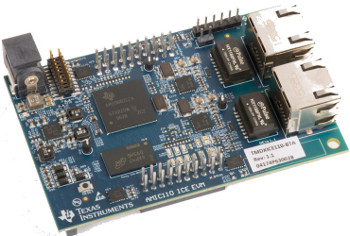 AMIC110 ICE
(click image to enlarge)

The $195 AMIC110 ICE board builds on the AMIC110 SoC by adding 512MB DDR3, 8MB SPI flash, a JTAG header, and dual Fast Ethernet ports. The 5V board features a PMIC, as well as a 3.3V SPI interface to external host processors such as the C2000. The BoosterPack Plug-in Module form factor board is available with full schematics, BoM, and design and assembly files.

EtherCAT Slave and Multiprotocol Industrial Ethernet Reference Design (left) and block diagram
(click images to enlarge)

Developers can also tap TI's
EtherCAT Slave and Multiprotocol Industrial Ethernet Reference Design
, another BoosterPack board that showcases TI's
DP83822
PHY Fast Ethernet transceiver device. The board integrates an AMIC110 with dual EtherCAT slave ports and a PMIC, and can also work with a C2000 MCU.

Further information
The AMIC110 SoC is available now for $6 apiece in 1,000 unit quantities. More information may be found on the Texas Instruments AMIC110 product page. Links to related development boards are included above.