Oct 12, 2015 — by Eric Brown 2,002 views
TI has launched a "Processor SDK" based on a mainline LTS Linux kernel, U-Boot, Yocto Project filesystem, and Linaro tool chain, initially covering Sitara SoCs.

Texas Instruments has introduced a Processor Software Development Kit based on Linux as well as its own TI-RTOS, that will eventually scale across multiple Sitara and DSP processors families. The first two SoC families supported by Processor SDK are the 720MHz, Cortex-A8 Sitara AM335x and the 1GHz, single-core Cortex-A9 Sitara AM437x. Both SoCs are notable for offering a PRU-ICSS (Programmable Real-Time Unit and Industrial Communication Subsystem), which comprises 32-bit microcontrollers that enable customization of I/O.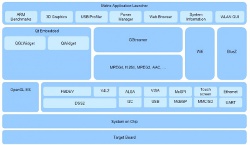 TI Sitara AM437x comparison chart (left) and Linux architecture
(click images to enlarge)

The Linux component of Processor SDK is built on the mainline long-term stable (LTS) Linux kernel, as well as a Yocto Project-compatible file system, Linaro tool chain, and U-Boot. The SDK also supplies application libraries and examples, plus support or Khronos OpenCL, which "enables easy distribution of tasks to different cores in heterogeneous processors without requiring in-depth knowledge of the different cores," says TI.

TI Sitara AM335x versions compared
(click image to enlarge)

The Processor SDK helps developers use TI chips across a diverse set of end products, while "offering simplified migration from one device to the next," says TI. The SDK features a common graphical navigation, tools and utilities across devices in order to streamline access to reference software, tools, documentation, and training, says the company. The structured software architecture is said to feature industry-standard application programming interfaces (APIs), common drivers, and frameworks.

Further information
Processor SDK is available for free download for TI's Sitara AM335x and Sitara AM437x SoCs. More information may be found at the Processor SDK web page.