Jul 27, 2018 — by Eric Brown 6,721 views
Sequent is Kickstartering an industrial "MegaIO-IND" version of its Mega-IO home automation add-on for the Raspberry Pi with 4x 4-20mA inputs, 4x digital inputs, and 4x 10A/250V relays, all with optical isolation, plus analog I/O and more.

Sequent Microsystems has launched a follow-up to two previous Raspberry Pi add-on boards that found success on Kickstarter: the Raspberry Pi Mega-IO Expansion Card (Mega-IO) and the Raspberry Pi 8-Relay Card. The new Raspberry Pi MEGA-IO Industrial Expansion Card, or MegaIO-IND, is conceptually like the Mega-IO, but offers a somewhat different and more extensive set of features that target industrial I/O expansion instead of home automation. It also borrows features from RPi 8-Relay Card, which can be added as an accessory.


MegaIO-IND and detail view
(click images to enlarge)

The MegaIO-IND is more than third of its way toward its $15,000 Kickstarter goal, with the campaign running through Aug. 20. There are still plenty of $60 early bird packages — a 40 percent discount from retail — although the $50 deal is gone. Assuming the project reaches its goals, shipments are due in Jan. 2019.
Like the Mega-IO, the MegaIO-IND can be stacked four high and controlled from a single Raspberry Pi using the RS485 port. The Raspberry Pi 40-pin connector is passed through on the back of the board and can be used to access all the GPIO pins or install third party add-on boards.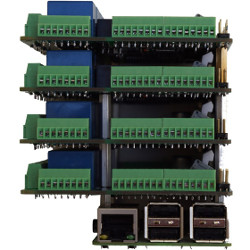 MegaIO-IND with Raspberry Pi and a 4-stack with Pi
(click images to enlarge)

Basic specifications listed for the MegaIO-IND are listed below. (More extensive documentation is available on the KS page.):
24VDC power supply
4x optically isolated 4-20ma inputs
4x 4-20ma outputs
4x 0-10v analog inputs
4x 0-10v analog outputs
4x optically-isolated digital inputs
4x optically-isolated open drain outputs
4x optically-isolated 10A/250V relays with status LEDs
4x general purpose LED's
RS485, CAN, 1 Wire communication
Real time clock with battery back-up
Configurable interrupts
To switch 250V/10A signals on the relays, Sequent extended the short side of the board outside the Raspberry Pi area and separated all the high voltage runs from low level digital. This high voltage area will be isolated with a fiberglass shield.
The MegaIO-IND provides better than 0.2 percent linearity on all current channels, and better than 0.15 percent on voltage channels, claims Sequent. Options include pluggable connectors in place of the standard screw-type terminal blocks. There's also a Raspberry Pi Breakout Card with screw terminals for all GPIO pins, a DIN-rail kit, and the $20 Raspberry Pi 8-Relay Card.


Additional MegaIO-IND detail view and block diagram
(click images to enlarge)

All features are accessible from a command line interface, which can downloaded from GitHub. Python and CODESYS drivers are also available.

Further information
The Raspberry Pi MEGA-IO Industrial Expansion Card is available at Kickstarter through Aug. 20 starting at $60, with shipments due in Jan. 2019. More information may be found MegaIO-IND Kickstarter page and the Sequent Microsystems website.