Aug 11, 2014 — by Eric Brown 5,559 views
Storm Energy has upgraded its "SunSniffer" solar plant monitoring system to a Linux-based platform running on a Raspberry Pi SBC.

Germany-based Storm Energy is the latest of a growing number of companies building commercial products based on the hackable Raspberry Pi single board computer. The company's SunSniffer system is designed to monitor photovoltaic (PV) solar power installations of all sizes, and the latest version can also control the equipment, says the company. The new SunSniffer version adds a Raspberry Pi SBC along with a custom expansion board and customized Linux OS, which combine to enhance the system's flexibility and upgradability.

SunSniffer Sensor
(click to enlarge)
The SunSniffer system, along with its backend software, helps monitor and control solar equipment at the system, string, and module level. By enabling the monitoring of temperature, cable power loss, and other variables, including interconnection bandwidth, it can help increase efficiency by more than 7 percent, claims Storm Energy. The SunSniffer system enables online reporting, as well as mobile device reporting, via SMS or an iPhone app.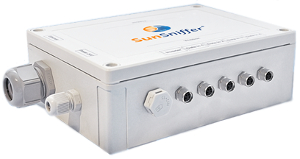 SunSniffer Connection Box (contains Raspberry Pi)
(click image to enlarge)

The chief draw of cashing in its proprietary SunSniffer plant monitoring system for a Raspberry Pi based version is the open Linux platform it enables, says the company. "The use of Linux means maximum upgradability, and adjustments and changes can be extremely flexible, fast, and are made especially [economically]," says a Google translation of the company's press release. (
PV Magazine
has posted an edited version of the release that translates "low" into "economically.")

SunSniffer system connections and components
(click images to enlarge)

The IP65-rated SunSniffer Connection Box's custom Raspberry Pi expansion board integrates five RS-485 ports and eight analog/digital I/O interfaces. This enables it to simultaneously monitor a wide variety of solar inverters from manufacturers including Refusol, Huawei, Kostal, Kaco, SolarMax, PowerOne, Danfoss, Schüco, and Delta.

SunSniffer desktop and mobile interfaces
(click image to enlarge)

The new capability for controlling solar inverters, rather than just monitoring their data, enables remote controlled turn-off by means of a "radio ripple control receiver," says Storm Energy. The new product also supports "the real-time reduction of the system performance for compensation after the market premium model," says the company. The system supports meter reading, said to be useful for solar-powered apartment buildings, and it offers SSL-encryption that supports "future
BSI Smart Meter Gateway
requirements."
The SunSniffer offers optional integrated anti-theft protection, with features including night-time surveillance and an emergency shutdown system. The Raspberry Pi enables the integration of cameras for optical monitoring of the PV system at up to 1920 × 1080 pixels at 30fps, says the company.
SunSniffer technology overview
Further information
No pricing or availability information was provided for the SunSniffer. More information may be found at the Storm Energy and SunSniffer websites.