Feb 15, 2017 — by Eric Brown 1,953 views
Samsung launched a new, Fedora Linux ready Artik 530 COM and development kit, which unlike the dual Cortex-A7 Artik 520, moves to a quad-core Cortex-A9 SoC.

Samsung has released its second Artik 5 computer-on-module and its first quad-core Artik, establishing a new mid-range for the modular family of IoT COMs and development boards. The company recently abandoned its high-end, 64-bit octa-core Artik 10 (Artik 1020) after launching a very similar Artik 7 (Artik 710) in October with 8x 1.4GHz Cortex-A53 cores and a Mali T400 GPU. At the same time, Samsung launched an MCU-based Artik 0 line (Artik 020 and 030), which unlike the other Artiks does not run Linux, after having previously dropped its low-end, MIPS-based Artik 1 line.


Artik 530 module (left) and development kit
(click images to enlarge)

The Artik 530, which was revealed in a
Tizen Experts post
, is the big sister to the earlier Artik 520 module. Aside from the processor, however, it's almost identical to the Artik 710.
The Artik 530 has the same dimensions as the Artik 710, measuring 49 x 36mm, compared to 30 x 25mm for the Artik 520, and offers a similar layout, peripherals, and GPIO expansion system. It also appears to use the same Development Environment, which comprises an Interposer Board with a built in Artik 710 module, a Platform Board, and an IF Board (see farther below). By comparison, the Artik 520 has a single carrier board.
While the Artik 520 offers a dual-core Cortex-A7 Exynos, the Artik 530 moves up to a 1.2GHz quad-core Cortex-A9 SoC with 1MB L2 cache. Despite voluminous documentation provided for the Artik 530, Samsung does not list the name of the CPU or GPU. According to Tizen Experts, both SoCs are Samsung Exynos models.
The GPU is identified only as offering 3D graphics acceleration. The earlier Artik 520 has a Mali-400 MP2 and the Artik 710 has a Mali T400. The Artik 530 similarly ships with Fedora 24.


Artik 530 simplified block diagrams
(click images to enlarge)

Like the Artik 520, the Artik 530 provides a modest 512MB of LPDDR3 RAM and 4GB of eMMC 4.5 flash, as well as dual-band 802.11n WiFi, Bluetooth/BLE 4.2, and 802.15.4 (ZigBee/Thread) radios. There's also a Gigabit Ethernet MAC, requiring an external PHY.

Artik 530 detail block diagram (left) and software architecture
(click images to enlarge)

The Artik 530 supports MIPI-DSI and HDMI 1.4b displays at up to 1920 x 1080, as well as LVDS up to 1280 x 720. By comparison, the 520 is limited to a 960 x 540-pixel MIPI-DSI interface. The Artik 530 also provides 4-lane MIPI-CSI for up to 5-megapixel, 1920 x 1080 camera input.
The GPIO system differs from that of the 520, but is identical to the 710. The Artik 530 provides 107 GPIOs, 31 of which are dedicated and 76 multiplexed. Other interfaces include USB host, OTG, and HSIC interfaces, as well as SD/MMC, 2x SPI, 3x UART, 3x I2C, 2x I2S, 2x PWM, 6x ADC, and JTAG. The module also offers a PMIC and a secure element supported with an Artik-family security stack.

Artik 530 Development kit
As noted, the three boards that make up the Artik 530 development kit appear to be identical to those used by the Artik 710's kit. The Interposer Board provides GbE, micro-HDMI, and micro-USB OTG ports, as well as an LVDS interface. Other features include connectors with bundled antennas, and various switches and LEDs.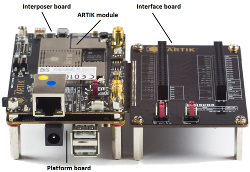 Artik 530 development kit detail views. At left, the Interposer board is on top and the Platform board is on bottom, with rear views shown farther to the right in each case
(click images to enlarge)

The Interposer board sits on top of the Platform Board, which provides a USB 2.0 host port, an SD slot, an audio jack, and MIPI-CSI and -DSI connections. The board also supplies a 5V DC input, several UART interfaces, JTAG and battery connectors, and the power switch.
The adjacent IF (interface) board offers a wide variety of GPIOs laid out in breadboard style. Options include 5-megapixel camera module, various wireless modules, and a Sensor Board with accelerometer, gyroscope, humidity, magnetometer, pressure, and temperature sensors.

Further information
Samsung's Artik 530 module sells for $44.60, down to $42.35 in 100+ volume, at Digi-Key, and it sells for $60.91 or $54.82 at 10+ volume at Arrow. The Artik 530 development kit sells for $189 at Digi-Key and $179 at Arrow.
More information may be found on this Artik modules developers page, as well as on the shopping pages above.