Mar 31, 2017 — by Eric Brown 1,736 views
Technologic's "TS-7970" SBC runs Linux on an i.MX6, and offers wide power and temp ranges, dual GbE, WiFi, BT, CAN, Modbus, an FPGA, and full schematics.

Technologic Systems' Linux-driven TS-7970 SBC was a long time coming, having been originally announced in June, 2015, but that's not so surprising for such a complex, feature-rich SBC. The 122 x 112mm TS-7970 offers extended temperature support in fanless systems running at about 3 watts, and is aimed at mainstream embedded products including "smart devices, auto entertainment systems, medical systems, enterprise class intelligent control, and plant automation." Other recent i.MX6 based SBCs include Fedevel's OpenRex.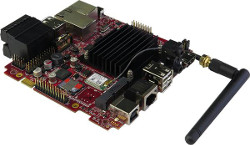 TS-7970 (left) and block diagram
(click images to enlarge)

The TS-7970 follows some earlier, Linux-ready Technologic SBCs that tapped Freescale's old ARM9-based i.MX286 SoCs, such as last year's
TS-7680
. Technologic also offers a popular, i.MX6-based
TS-4900
COM, which recently
received an Ubuntu Core port
.
Like the TS-4900, the TS-7970 includes a Lattice FPGA, in this case a Lattice MachXO2. The TS-7970 connects the i.MX6 to the FPGA with a crossbar that allows users to select the mode of the FPGA controlled I/O pins. The modes include UARTs, digital I/O, interrupt requests, and "passing through high speed IO from the CPU," says Technologic. The FPGA also adds an additional UART controller. The company can develop custom FPGA solutions with features such as PWM, quadrature, or other custom I/O controllers.


TS-7970, front and back (higher-end WiFi version)
(click images to enlarge)

The TS-7970 is offered in 800MHz i.MX6 Solo or 1GHz i.MX6 Quad models with 1x or 4x Cortex-A9 cores, respectively, and with RAM allocated in 1GB or 2GB allotments, respectively. The Solo-based models support audio over HDMI only whereas the Quad version also offers a stereo codec with a headphone/mic jack. The Solo can operate at a range of -40 to 85°C, while the Quad version is limited to -20 to 70°C. Only the Quad model supports mSATA over the mini-PCIe slot.
There are four SKUs overall, with the Solo and Quad configurations each split into barebones models with a single Gigabit Ethernet port, as well as higher-end models that add a second GbE port, a USB-based mini-PCIe slot, and a wireless module with WiFi and Bluetooth 4.0 + EDR.
The board ships standard with 2GB (SLC) or 4GB eMMC flash, and offers an HDMI port, an LVDS interface, four USB 2.0 host ports, and a micro-USB OTG. There's a Two-Wire Modbus RJ45 port, and up to six serial ports, including a pair of RS-485 connections.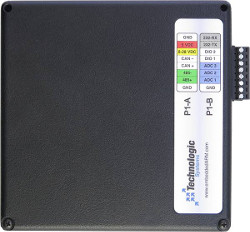 Optional TS-7970 enclosure (left) and top view showing screw terminal assignments
(click images to enlarge)

Other features include CAN, ADC, 2x DIO, and 32x GPIO, among other I/O. As shown in the block diagram and photos, there are two banks of 8x pin screw terminals offering access to some of the DIO, serial, RS-485, CAN, ground, and power signals. An RTC and wide-range power supply are also available, as well as an optional enclosure.

TS-7970 enclosure exposed views, front and back
(click images to enlarge)

Like other Technologic SBCs, the TS-7970 ships with substantial documentation, schematics, and other developer-friendly support. A Board Support Package (BSP) features a fresh Linux 4.1 kernel, source code, and support for various Linux distros. The board also supports QNX. Customers gain access to online guides, schematics, source code, toolchain, and binaries. There's free software and hardware support, and a standard 1-year warranty and 10+ year lifecycle guarantee.
Specifications listed for the TS-7970 include:
Processor — NXP i.MX6 Solo or Quad (1x or 4x Cortex-A9 cores @ up to 1.0GHz); up to 1MB L2 cache; Vivante GPU 2D/3D graphics acceleration; separate Lattice MachXO2 FPGA with crossbar
Memory/storage:

1GB (Solo) or 4GB (Quad) DDR3 RAM
2GB SLC or 4GB MLC eMMC with optional pSLC (greater reliability)
Micro-SD slot
mSATA (SATA II) via mini-PCIe (Quad, high-end SKU only)

Display:

HDMI port with audio
LVDS

Wireless (on high-end SKUs) — 802.11b/g/n and Bluetooth 4.0 + EDR; optional antenna
Networking — 10/100/1000 Ethernet port (2x GbE on high-end SKUs)
Other I/O:

4x USB 2.0 host ports
Micro-USB OTG port
Two-Wire Modbus RJ45 port
3x RS-232
2x RS-485
1x TTL UART (4x if you disable Bluetooth and RS-485)
2x CAN
32x GPIO
2x DIO (30 VDC tolerant)
3x analog input (4-20 mA)
SPI, I2C
Audio out, mic jack (Quad only)

Expansion — Mini-PCIe slot (USB-based, and only on higher-end SKUs)
Other features — battery backed RTC; LEDs; pushbutton; 10-year lifecycle guarantee; optional enclosure
Power — 5 to 28 VDC input; 3W typical consumption, about 15mW in sleep
Operating temperature — -40 to 85°C (Solo) or -20 to 70°C (Quad)
Dimensions — 122 x 112mm
Operating system — Linux 4.1 kernel with source; Debian, Yocto Project; Ubuntu 16.04; QNX

Further information
The TS-7970 is available at prices ranging from $272 to $375 in single units, ranging down to $219 to $309 for 100+ units. More information may be found at the Technologic Systems TS-7970 product page.