Feb 27, 2014 — by Eric Brown 7,949 views

Rockchip announced the RK3288 SoC, which combines four ARM Cortex-A17 cores with a 4- or 16-core Mali-T7xx GPU, a 4Kx2K video decoder, and HDCP2.x security.

Rockchip is the second chipmaker to jump on ARM's recently announced Cortex-A17 processor design, after MediaTek's octa-core MT6595 system-on-chip. This heir to the quad-core, Cortex-A9 RK3188, which fuels Android stick computers like the Rikomagic MK802IV and Ugoos UM2, was tipped at CES as being a Cortex-A12 processor. However, Rockchip instead converted the SoC to the similarly 32-bit Cortex-A17.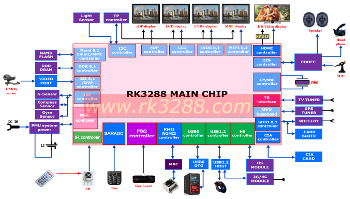 Rockchip RK3288 block diagram
(click image to enlarge)

The
Cortex-A17 was announced earlier this month
as a faster, smaller, and more power efficient heir to the Cortex-A9. The Cortex-A17 is also a big brother to the
Cortex-A12 design announced last June
, and due to ship in SoCs later this year. The Cortex-A12 was also billed as the successor to the Cortex-A9, with claims of 40 percent faster performance in the same power envelope. Like all these processors, Linux and Android are supported, along with other OSes.
Rockchip is aiming the RK3288 at high-end tablets, notebooks, all-in-one devices, smart monitors, and "TV-Boxes." With the help of the SoC's high-end video decoder, it's especially suited for 4Kx2K TVs and set-tops.

RK3288
Rockchip did not list the clock rate of the RK3288, but the Cortex-A17 is intended for 2GHz and above clock rates, according to ARM. MediaTek clocks its MT6595 to 2.5GHz.
Each of the four Cortex-A17 cores have separate NEON and FPU coprocessors and 32KB/32KB cache allotments. The SoC also features a shared 1MB L2 Cache. The SoC offers virtualization extensions, as well as LPAE for up to 8GB address space, says Rockchip
The RK3288 is equipped with ARM's new Mali-T7 series GPUs. It appears to support ARM's recommended pairing of the new quad-core Mali-T720, as well as its much more powerful sibling, the Mali-T760 GPU. (MediaTek instead opted for a PowerVR Series6 GPU.)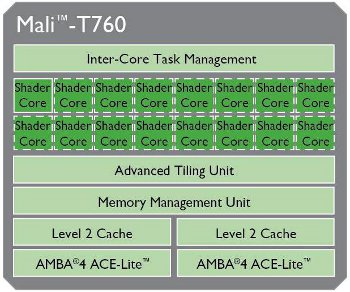 Mali-T760 architecture
(click image to enlarge)

The Mali-T760 offers 16 shader cores instead of four for the Mali-T720, and adds an advanced tiling unit. It's said to offer four times the power efficiency of the earlier Mali-T604. On the RK3288, the GPU supports up to 3840 x 2160 display resolution and supports OpenVG1.1, OpenGL ES1.1/2.0/3.0, OpenCL1.1, RenderScript, and DirectX11.
The RK3288 also supplies a hardware video decoder, which supports 4Kx2K multi-format decoding. Video interfaces include HDMI 2.0, dual-channel LVDS and MIPI-DSI, and optional eDP1.1. Dual-channel MIPI-CSI2 camera support is available, along with support for up to 13- and 5-megapixel rear and front cameras, respectively.
The SoC provides extensive memory interfaces, including dual-channel, 64-bit DDR RAM, NAND flash, and eMMC. I/O is a standard mix of gigabit Ethernet, USB, and various serial interfaces. You also get GPS and Smart Card support.
The RK3288 is claimed to be the first SoC to provide for HDCP2.x secure boot, which supports Miracast and various DRM solutions. A cryptographic engine supports most standard protocols.
Specifications listed for the RK3288 include:
CPU:

4x Cortex-A17 cores
4x Neon and FPU
4x 32KB/32KB L1 I-Cache/D-Cache
1MB L2 Cache
LPAE (Large Physical Address Extensions) for up to 8GB
Virtualization Extensions support
DVFS support

3D GPU:

Mali-T720 (4x cores) or Mali-T760 (16x cores)
OpenGL ES1.1/2.0/3.0, OpenVG1.1, OpenCL1.1, Renderscript, Directx11 support
DVFS support

2D GPU

Multicore GPU with up to 8Kx8K input and 4Kx4K output
Up/down dither
Image rotation with 90/180/270 degree or x/y-mirror BitBLT
Alpha blending, raster operation

Video decoder/encoder:

MPEG-2, MPEG-4, AVS, VC-1, VP8, MVC decoding at up to [email protected]
H.265 support
Multi-format video decoder with up to 4Kx2K
High-quality de-interleave
Multi-format encoder at up to [email protected]

Video Input:

Dual-channel input for front and rear camera
Dual-channel MIPI-CSI2 interface with 4-lane per channel
8/10/12 bits standard DVP interface
Max. 5MP for front, 13MP for rear camera, with high-performance ISP

Video display:

Dual-panel display with 2x separately interfaced
4Kx2K max. resolution
CABC support to decrease interface power
Dual-channel 8/10-bit LVDS
Dual-channel MIPI-DSI
HDMI 2.0 support up to 4Kx2K display
Optional eDP1.1

Memory:

Dual-channel 64-bit RAM
DDR3/DDR3L/LPDDR2/LPDDR3 support
Dual-channel, 8-bit per channel flash
SLC/MLC/TLC and NAND/DDR NAND compatibility
Embedded 60-bit hardware ECC
8x chip selects to support more flash devices
eMMC4.5 standard 8-bit width compatibility
DDR-50, SDR-100 eMMC support
3x SD/MMC/SDIO I/O, compatible with SD 3.0, SDIO3.0, and MMC4.5

Other I/O:

Gigabit Ethernet
2x USB 2.0 host
USB 2.0 OTG
8-channel I2S/PCM
8-channel SPDIF
Dual-channel TS stream interface with descramble and demux
Smart Card
GPS
PS/2
5x UART
3x SPI (master or slave)
6x I2C (up to 4Mbps)
5x PWM

Security:

Standalone crypto and decrypto
AES 128-bit/DES/3DES/SHA-1/SHA-256/MD5/160-bit PRNG support
Supports HDCP2.x secure boot, secure debug, DRM

Other features — supports 4G LTE; temperature sensor

Further information
No pricing or availability information was supplied by Rockchip for the RK3288. More information may be found at this RK3288 product page.