Dec 2, 2021 — by Eric Brown 295 views
Forlinx announced a "FET3399K-C SOM" that runs Android 7.1 or Linux on a Rockchip RK3399K with up to 4GB LPDDR3 and 32GB eMMC plus -20 to 80℃ support. An "OK3399K-C" SBC based on it offers GbE, 4x USB, HDMI, MIPI DSI/CSI, M.2, and mini-PCIe.

Forlinx announced an update to its FET3399-C SOM and OK3399-C SBC that advances from the the Rockchip RK3399 to the RK3399K, enabling a wider -20 to 80℃ operating range instead of 0 to 80℃ . The FET3399K-C SOM and OK3399K-C SBC appear to be otherwise identical to the year-old originals. Since we missed that announcement, we cover the boards in detail below.


FET3399-C SOM (same design as FET3399K-C SOM) and detail view for OK3399-C (same as OK3399K-C) showing GPIO and XH2.54 connectors for USB
(click images to enlarge)

Although other boards we have seen that use the RK3399K, such as Kontron's
3.5"-SBC-R39
, take advantage of its higher clock rates in addition to the wider temperature range, Forlinx lists the same clock rates: 2x 1.8GHz Cortex-A72 and 4x 1.4GHz Cortex-A53 instead of 2.0GHz and 1.6GHz on the Kontron boards and other RK3399K models. The products follow earlier Forlinx products such as its recent i.MX8M Plus powered
FETMX8MP-C SoM and OKMX8MP-C
and the earlier
FETMX8MM-C and OKMX8MM-C
(i.MX8M Mini) and FETMX8MQ-C and OKMX8MQ-C (i.MX8M).
The FET3399K-C module supports Android 7.1 or Linux 4.4.189 with QT 5.12 on the RK3399K, which like the RK3399 has a 3G-ready Mali-T864 GPU. The RK3399 has appeared on other sandwich-style offerings such as Boardcon's CM3399 with Idea3399 SBC, among others. Although the SoC lacks the NPU of the RK3399Pro, Forlinx's products are supported with Tensorflow Lite, Caffe and other related AI frameworks. The 12V powered, 70 x 46mm module ships with 2GB or 4GB LPDDR3 and 16GB or 32GB eMMC 5.1. I/O is delivered via 4x 80-pin connectors.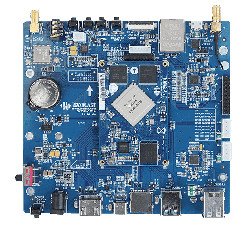 OK3399K-C/OK3399-C from two angles
(click images to enlarge)

The OK3399K-C SBC builds on the FET3399K-C module with a microSD slot, a GbE port, and a wireless module with 802.11ac and Bluetooth 5.0. Dual displays are supported via an HDMI 2.0 port for up to 4Kx2K @ 60Hz resolution and a USB Type-C port with DP 1.2 support. Other display options include eDP 1.3 and 4-lane MIPI-DSI.
There are also 2x MIPI-CSI interfaces for one 13MP or dual 8MP cameras. For audio you get a 3.5mm I/O jack, a speaker with up to 1W output, volume keys, and digital audio interfaces include 3x I2S/PCM and SPDIF.
In addition to the USB Type-C, there is a single USB 3.0 and 2x USB 2.0 host ports plus 2x additional USB 2.0 interfaces on the side of the board that use XH2.54 (JST) connectors. The XH2.54 connectors can be used to connect a binocular camera or USB serial expansion, says Forlinx. A micro-USB port supports serial debug.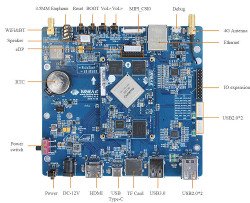 OK3399K-C/OK3399-C detail views
(click images to enlarge)

Expansion is enabled via an M.2 M-key slot for NVMe storage and a mini-PCIe slot with optional 4G modem. You also get a micro-SIM slot and dual 4G antennas. A GPIO expansion header provides I2C, 2x SPI, 4x GPIO, and 2x 10bit ADC.
The OK3399K-C SBC has a 12VDC jack plus a power button, power switch, and reset and boot buttons. There is also an RTC with coincell battery.

Further information
No pricing or availability information was provided for the FET3399K-C module or OK3399K-C SBC. The almost identical FET3399-C module is available on Alibaba for $85 to $100 with 2GB RAM and 16GB eMMC, and the OK3399-C SBC is available on Alibaba for $150 to $200 with the module in the same configuration. More information may be found in Forlinx's FET3399K-C/OK3399K-C announcement and the OK3399K-C product page. We did not see a FET3399K-C product page but there is a FET3399-C page.