May 12, 2014 — by Eric Brown 7,368 views
Rikomagic is prepping an Android 4.4 ready "MK902II" mini-PC claimed to be three times faster than earlier models thanks to its Cortex-A17 Rockchip RK3288.

Rikomagic's MK902II is set to arrive in June, only a few months after the company launched its first mini-PC versions of the previously HDMI stick form-factor media players. The Android 4.4-focused MK902II has the same footprint as the recent MK902 and very similar, Ubuntu Linux-based MK902 LE. Rikomagic has yet to announce a Linux version of the MK902II, although like the MK902, the MK902II can run Linux as well.

MK902II
Like the previous models, the MK902II is designed primarily for plugging into a TV. However you can also use it as a mini desktop PC, signage computer, or other media-savvy embedded device.
The new system runs three times faster than the MK902, claims Rikomagic, thanks to moving from Rockchip's quad-core, Cortex-A9 based RK3188 system-on-chip to the new quad-core RK3288. Along with the octa-core MediaTek MT6595, the RK3288 is the first SoC to showcase ARM's new Cortex-A17 design. The Rockchip RK3288 will also soon be available in a media-focused Ugoos UT3 mini-PC.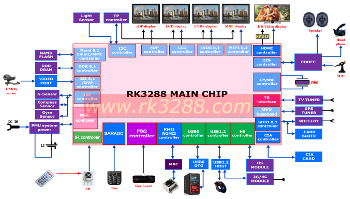 Rockchip RK3288 block diagram
(click image to enlarge)

The Cortex-A17 design is billed as a faster, smaller, and more power efficient heir to the Cortex-A9, and it also appears to edge into Cortex-A15 territory. The RK3288's four Cortex-A17 cores are clocked at up to 1.8GHz, and are accompanied with separate NEON and FPU coprocessors and 32KB/32KB cache allotments. The SoC also features a shared 1MB L2 Cache, virtualization extensions, as well as LPAE for up to 8GB address space, says Rockchip.
The RK3288 is paired here with ARM's powerhouse new Mali-T760 GPU, which boasts 16 shader cores instead of four for its less powerful sibling, the Mali-T720. It's also four times as power efficient as of the earlier Mali-T604. The GPU supports up to 3840 x 2160 display resolution and supports OpenVG1.1, OpenGL ES1.1/2.0/3.0, OpenCL1.1, RenderScript, and DirectX11. The RK3288 adds to the multimedia fun with a separate hardware video decoder, which supports 4Kx2K multi-format decoding.


MK902II PCB
(click image to enlarge)

Other than the new processor, the MK902II appears to be almost identical to the MK902, with 2GB RAM, 8GB or 16GB flash, and microSD expansion. The main difference is that the Ethernet port advances to a gigabit connection, and one of the four USB ports has gone from host to client.
WiFi and Bluetooth 4.0 are standard, along with HDMI, AV out, and S/PDIF audio connections. Once again, a camera and mic are available, but it's unclear if it's the same 5-megapixel camera.
Specifications listed for the MK902II include:
Processor — Rockchip RK3288 (4x Cortex-A17 cores @ 1.8GHz); Mali-T764 GPU
Memory:

2GB DDR3 RAM
8GB flash; 16GB optional
MicroSD slot (up to 32GB)

Video format support — MPEG-1, MPEG-2, MPEG-4, H.263, H.264, H.265, AVS, VC-1, RV, VP6/VP8, MVC (1080p) Sorenson Spark, MVC up to 4K2K @ 60fps; Flash 11.1 or later
Audio support — MP1, MP2, MP3, WMA, WAV, OGG, OGA, APE, FLAC, AAC, M4A, 3GPP etc.
Wireless — 802.11b/g/n (supports optional external antenna); Bluetooth 4.0
Networking – gigabit Ethernet
Other I/O:

3x USB host
USB client
HDMI out
AV out
Optical S/PDIF out

Other features — camera and mic
Power — 5V, 2.5A DC-in
Operating system — Android 4.4

Further information
The MK902II will launch in early June at an unstated price. (The previous MK902 sells for $105 with 8GB of flash.) More information may be found in the Rikomagic MK902II announcement.