Apr 18, 2017 — by Eric Brown 2,267 views
CNC Design's "Pulse Train Hat" is a Raspberry Pi add-on that generates variable frequency pulses for automation systems such as stepper/servo motors.

CNC Design Limited has launched a Pulse Train Hat (PTHAT) add-on board for the Raspberry PI designed to "make motor control easy, fast and accurate." The Raspberry Pi HAT compliant board lets customers use simple serial ASCII commands to generate clean, fast and accurate variable frequency pulses. The chief application is to drive stepper/servo motors that use pulse and direction lines, such as motors found in 3D printers, CNC machines, and robot arms.


PTHAT Mainboard (left) and with Add-On board on top
(click images to enlarge)

The 35 Pound ($45), 65 x 56mm PTHAT Mainboard is equipped with a 100MHz Cortex-M4 MCU and direct digital synthesizer (DDS) pulse generators, among other gizmos shown below. The Mainboard can be expanded with an optional 30 Pound ($38) Add-On board that increases the single-channel capability to four channels. The add-on also provides additional I/O functionality. A discounted 55 Pound ($70) Full Package offers both boards.
PTHAT Full Package on a Raspberry Pi (left) and Add-On board
The PTHAT Mainboard specs are as follows:
100MHz Cortex-M4
Dedicated DDS pulse generators with 0.01Hz resolution for each channel
Up to 4x individual pulse train outputs (X,Y,Z,E)
Step, direction and enable 5V outputs for each channel
Limit switch and emergency stop inputs
3x Aux switched 5V lines for switching on extruders, heated beds, etc.
2x ADC inputs for monitoring sensors or for speed control, etc.
Counter for each pulse train with auto stop
Up/down ramping to allow motors to run at higher than normal speeds
Pulse train speeds of 0.01Hz to 125kHz output
JTAG connector for easy updating of the firmware updates
To ease the learning curve involved with pulse generation control, CNC Design has created a dedicated Pulse Train Hat support website. The device can presumably work with any Raspberry Pi that supports the HAT spec. Other recent stepper/motor related products we've seen include the Plugg.ee Labs JuicyBoard robotics kit, but it does not offer pulse control.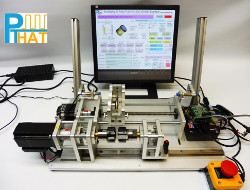 PTHAT with a coil winder (left) and with a Parallel SCARA robot arm
(click images to enlarge)

Further information
The Pulse Train Hat Mainboard is available for 35 Pounds ($45), and the Add-On board goes for 30 Pounds ($38). The full package that combines both costs 55 Pounds ($70). More information may be found at CNC Design Limited's PTHAT shopping page.