Jul 14, 2014 — by Eric Brown 9,717 views
The newly released Raspberry Pi Model B+ has the same CPU, memory, and $35 price, plus a new 40-pin GPIO header, two more USB ports, and a microSD slot.

Considering all the competition from open-spec hacker boards like the Odroid and BeagleBone Black, not to mention Pi clones like the Banana Pi, the non-profit Raspberry Pi Foundation was overdue for an update to the world's most popular single board computer. To be sure, "this isn't a 'Raspberry Pi 2'," as Eben Upton and the Pi gang note in today's announcement of the Pi Model B+. The update uses the same aging, ARM11-based Broadcom BCM2835 processor and 512MB of RAM as the Pi Model B, disappointing those looking for a Cortex-something update, but also maintains perfect software compatibility with Raspbian and existing Linux distros and applications.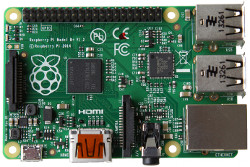 Raspberry Pi Model B+ front and back views
(click images to enlarge)

Whereas BeagleBone.org raised the price of its
Rev C
by $10, for a price of $55, the Pi Model B+ maintains one of its most fetching features: a $35 price. Or at least we think it does. The prices we're seeing are $50.59 (Element14) and 26 Pounds, or about $44 (RS/Allied), respectively. Presumably, the prices will drop to the promised $35 soon.

Pi Model B "infographic"
(click image to enlarge)

The chief allure of the B+ is the addition of two more USB ports for a total of four, thanks to an upgrade from the LAN9512 chip to a LAN9514 chip. The USB ports are now aligned with the board's edge — and the Ethernet port — and now present better hotplug and overcurrent behavior, according to the Pi Foundation.

Raspberry Pi models A (left) and B (right)
(click images to enlarge)
Hardware hackers will appreciate a 40-pin GPIO connector, which is claimed to be pinout compatible with existing 26-pin expansion boards, assuming the physical design can handle the larger connector bank. This includes "the majority of the add-on boards currently on the market," says Element 14.

Port detail comparison between Pi Model B and Model B+
(click image to enlarge)

The Model B+ is claimed to reduce power consumption by between 0.5W and 1W, thanks to replacing linear regulators with switching regulators. The improved power circuit is said to provide greater tolerance for cheaper, under-powered power supplies.
A microSD slot now resides in place of the old friction-fit SD slot. In addition, the audio circuit has been improved with the addition of a dedicated low-noise power supply. Other features include the consolidation of the Composite video port onto the 3.5mm stereo out jack. (You'll now need an adapter to connect the Composite port to an older monitor or TV.) The board now features four mounting holes and rounded edges, and the new layout aligns all ports on only two sides of the board.

Comparison of three Raspberry Pi models
Model B+
Model B
Model A
Processor
Broadcom BCM2835 SoC full HD multimedia applications processor
RAM
512 MB SDRAM @ 400 MHz
512 MB SDRAM @ 400 MHz
256 MB SDRAM @ 400 MHz
Storage
MicroSD
SD Card
SD Card
USB 2.0
4x USB Ports
2x USB Ports
1x USB Port
GPIO
40
26
26
Power (typ. to max.)
600mA to 1.8A @ 5V
750mA to 1.2A @ 5V
600mA to 1.2A @ 5V
(Note: The power estimates in this table are from Element 14)
The modified mounting hole and real-world I/O port styles and positions are likely to be incompatible with many existing projects and products based on the Raspberry Pi Models A and B boards. For example, although the Pi maintains the same 85 x 56mm footprint, most off-the-shelf enclosures will not be usable without modification. Consequently, the earlier Model B will be "in production for as long as there's demand for it," says the Pi Foundation.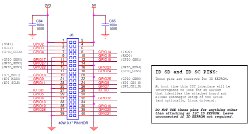 Pi Model B schematics (left) and 40-pin connector pinout
(click images to enlarge)

All told, the design should keep Pi users who are less interested in improved performance than in more connectivity from jumping to faster SBCs or clones like the Banana Pi. It should please users who have struggled with "bulky and awkward" USB hubs, as the developers of a new Kickstarter project called
Raspiado
puts it. The Raspiado board sandwiches snugly onto a Pi Model B, offering an improved power supply and up to five USB ports for $30.

Summary of Raspberry Pi Model B+ specs
Specifications listed for the Raspberry Pi Model B+ include:
Processor — Broadcom BCM2835 (1x ARM1176JZFS core @ 700MHz) with FPU and VideoCore IV dual-core GPU
Memory — 512MB SDRAM; microSD slot
Networking — 10/100 Ethernet port
Other I/O:

4 x USB 2.0 ports
Micro-USB port (for power)
HDMI 1.4 port
Composite video (PAL/NTSC) out (now on shared 4-pole 3.5mm jack)
Stereo audio out (on same 3.5mm jack as Composite)
15-way MPI CSI-2 connector (for Raspberry Pi HD video camera)
15-way DSI (Display Serial Interface) connector
Header footprint for JTAG connector
40-pin header for GPIO and serial buses (pin compatible with 26-pin)

Power — +5V @ 2A via microUSB socket; 600mA up to 1.8A @ 5V
Dimensions — 85 x 56 x 17mm
Operating system — Raspbian and other Linux distros available on optional microSD card
Model B+ on YouTube

Further information
The Raspberry Pi Model B+ is on sale at Farnell/Element14/Newark, as well as at RS/Allied Components for prices that are supposed to be $35, but appear to be $10 to $15 more than that. More information may be found at the Raspberry Pi Foundation's Model B+ blog announcement, as well as at product pages at Element 14 and RS.