Jan 20, 2017 — by Eric Brown 15,908 views
[Updated: Mar. 3] — Asus has launched a RPi-like "Tinker Board" that runs Debian and Kodi on a quad-core 1.8GHz -A17 RK3288, and offers 2GB RAM, GbE, 4K video, and 40-pin GPIO.

The rumored Asus Tinker Board is finally for sale at Farnell in the UK, with a footprint, layout, and features that are very close to that of the Raspberry Pi, including the much copied 40-pin expansion connector and a Debian Linux image. The quad-core SoC and onboard wireless further reminds one of the Raspberry Pi 3.
There are some key differences, however. While most Raspberry Pi pseudo clones — pseudo because no one else but RPi Trading can get their hands on a Broadcom BCM283x SoC — tend to be cheaper than or priced about like the $35 RPi3, the Tinker Board costs 45.83 Pounds ($57) or 55 Pounds ($68) including VAT. In addition, while the Rockchip RK3288 is claimed to be almost twice as fast as the RPi 3's Broadcom SoC, with a more powerful Mali T760 GPU, it's 32-bit, as opposed to 64-bit, which will matter more in the coming years as more 64-bit applications come online.


Asus Tinker Board
(click images to enlarge)

This is the closest a major PC manufacturer has come to launching a maker-style SBC, and it's drawing considerable attention on that score. Asus's Aaeon Europe subsidiary has its own community-backed, x86 based
UP board
, although the hardware design is not fully open.
The Asus Tinker Board has three key advantages over the RPi 3. First, there's 2GB of LPDDR3 RAM rather than 1GB of LPDDR2. Second, the board enables 4K/30fps video playback, up-scaled from 1080P. Finally, there's a dedicated Gigabit Ethernet (10/100/1000Mbps) port rather than the RPi 3's 10/100Mbps port, which shares bandwidth with the four USB 2.0 host ports.
All those advantages should add up to an impressive multimedia device for streaming video over the web using the supported Kodi media platform. Indeed, like other Rockchip SoCs, the Rockchip RK3288 is frequently used for media players.


Additional views of the Tinker Board
(click images to enlarge)

Other SBCs that have tapped the quad-core, 1.8GHz Cortex-A17 SoC include the Firefly-RK3288 and
Firefly-RK3288 Reload
. These higher-end, media-oriented boards start at $129 and $159, respectively, but offer features not found on the Tinker Board such as SATA and onboard flash.
Asus's Tinker Board FAQ includes a claim that the board is "almost twice faster" than the Raspberry Pi 3, and features a RealTek HD audio codec that supports an up to 192K/24-bit sampling rate. The FAQ also says the board has a maximum consumption of 5W, as compared to about 3.7W on the RPi 3. The board's 85.6 x 56mm footprint closely matches that of the RPi boards, making it compatible with "most" Raspberry Pi cases, says the FAQ.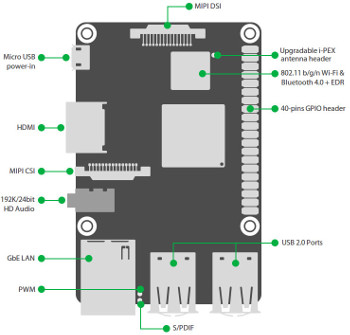 Tinker Board detail
(click image to enlarge)

As of this post's Mar. 3 update, Asus's Tinker Board product page includes the board detail drawings that are shown above and below. RPi-like I/O signals on the board's 40-pin connector in addition to GPIO include 2x SPI, 2x I2C, 4x UART, 2x PWM, 4x power, 8x ground, and PCM/I2S. There are no claims for RPi expansion board compatibility, however, either on the slides or the Farnell page.

Tinker Board GPIO pin assignments
(click image to enlarge)

Specifications listed by Asus for the Tinker Board include:
Processor — Rockchip RK3288 (4x Cortex-A17 @ 1.8GHz); Mali T760 GPU
Memory — 2GB dual-channel LPDDR3 RAM; microSD slot with UHS-I support
Media I/O:

HDMI port with 4K support
MIPI-DSI with HD support
MIPI-CSI camera port
Audio — 3.5mm jack; RTL ALC4040 audio CODEC

Wireless — 802.11b/g/n; Bluetooth 4.0 + EDR
Networking — Gigabit Ethernet port via PCI
Other I/O:

4x USB 2.0 ports
Micro-USB port for power
40-pin expansion header with up to 28x GPIO plus 2x SPI, 2x I2C, 4x UART, 2x PWM, and 1x PCM/I2S, plus power (5V and 3.3V) and ground pins
Contact points for PWM and S/PDIF

Dimensions — 85.6 x 56 x 21mm
Power — 5V/2A power via micro-USB (power supply not included)
Operating systems — "TinkerOS" (based on Debian); Kodi
Numerous additional fine points are covered in the board's detailed FAQ.

Further information
The Asus Tinker Board is available in the UK for 45.83 Pounds ($57) or 55 Pounds ($68) including VAT at Farnell. Shipping is free in the UK, while others are asked to contact an export coordinator for a shipping quote. Additional details and documentation, including specs, schematic, FAQ, and Linux OS image, are available at Asus's ASUS Tinker Board product page.