Nov 17, 2017 — by Eric Brown 5,872 views
Crowd Supply is hosting a "Pi/104" carrier for the RPi Compute Module 3 featuring PC/104 OneBank expansion, a 40-pin RPi header, and -25 to 80°C support.

Here's something we haven't seen before. Developer Adam Parker has launched a stackable PC/104 form factor carrier board on Crowd Supply designed to work with the Linux-driven Raspberry Pi Compute Module 3. The industrial-targeted carrier provides -25 to 80°C support and an 8-36V input with screw terminal connector.


Pi/104, front and back
(click images to enlarge)

The Pi/104 features a connector that complies with a subset of the PC/104 Consortium's
OneBank
standard. However, because the 1.2GHz, quad-core, Cortex-A53 Broadcom BCM2837 SoC on the RPi CM3 lacks support for PCIe, the carrier's OneBank expansion connector is limited to supporting OneBank expansion modules that use the format's dual USB interfaces, as well as 5V and 3.3V inputs.
In an email, Parker noted that Connect Tech offers a OneBank compatible PCIe/104 to Mini-PCIe Card Adapter, and that "there is a very strong subset of mini-PCIe cards which use the USB lanes only." So far, he has successfully tested a Huawei EM820W 3G cellular mini-PCIe card using Linux, and other compatible cards include various cellular and WiFi modems, USB to SATA, FPGA, and serial cards.
Parker is also considering developing a OneBank-to-mini-PCIe adapter of his own that is more affordable than the Connect Tech product. His goal for the Pi/104 is to spawn a "hobby/104" format and to see "a rash of Hobby/Lite-Industrial cards crop up by makers."


Pi/104 with RPi CM3 installed (left) and the Raspberry Pi CM3 alone
(click images to enlarge)

The 67.6 x 31mm Raspberry Pi CM3 offers the same 1GB of LPDDR2 RAM found on the Raspberry Pi 3, as well as 4GB of built-in eMMC flash. The Pi/104 carrier adds a microSD slot that enables the use of the $25 Lite (CM3L) model, which lacks the CM3's eMMC, but provides an SD card or eMMC interface to its expansion pins for offboard storage. The microSD slot is disabled if you use a standard CM3.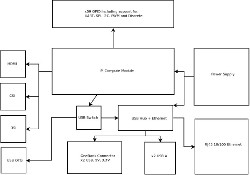 Pi/104 detail view (left) and block diagram
(click images to enlarge)

The Pi/104 extends the CM3's interfaces via dual 40-pin connectors that support up to 59x GPIO total. The inner 40-pin connector is pin-compatible with the Raspberry Pi, according to Parker. The outer one implements a homegrown expansion pinout.
The Pi/104 is further equipped with a recessed 10/100 Ethernet port, 2x USB 2.0 host ports, and a micro-USB OTG port, which provides a third power supply option in addition to the 8-36V input and the OneBank power inputs. There's also an HDMI port and MIPI-DSI display and MIPI-CSI camera connectors.
Pi/104 specifications listed on its Crowd Supply page include:
2x USB Type A ports
1x micro-USB OTG port
1x HDMI port
1x 10/100 Ethernet interface
1x microSD slot (CM3L only)
1x CSI
1x DSI
59x GPIOs on 2x 40-pin connectors
PC/104 "OneBank" stackable expansion connector with 2x USB and 5/3.3VDC
Power input — 8-36VDC
Operating temperature:

-25 to 80°C with Pi Compute Module
-40 to 85°C without Pi Compute Module

Dimensions — presumably 3.6 x 3.8 in.; basic PC/104 form-factor

Further information
The Pi/104 is available on Crowd Supply for $130 in singles, or $250 for two. Shipping is free to the US and $20 worldwide, and orders placed now are expected to ship by the end of January. More information may be found on the Pi/104 Crowd Supply page.