Oct 19, 2015 — by Eric Brown 12,784 views
Aaeon launched a Kickstarter campaign to fund a Raspberry Pi form-factor "Up" SBC, that runs Linux and Android on a quad-core, 1.84GHz, Intel Atom x5 SoC.

Embedded board maker Aaeon Europe, a subsidiary of Asus, went to Kickstarter to launch "Up" SBC with the same 85.6 x 56.5mm footprint, port layout, and expansion interface as the Raspberry Pi 2 Model B. Instead of a 900MHz Broadcom ARM SoC, however, the Up board features an x86-based Intel Atom x5-Z8300 system-on-chip from the 14nm Cherry Trail generation clocked to 1.33GHz or 1.84GHz.


Up (left) compared to Raspberry Pi 2 Model B
(click images to enlarge)

The Up board, which is one of the first embedded products to use the typically mobile-focused Cherry Trail Atoms, is designed for "professional makers" who want "to quickly UPscale their prototyped ideas into mass produced solutions," says Aaeon. Applications are said to include robotics, drones, machine vision, smart home, education, digital signage, intelligent cars, and other Internet of Things gizmos.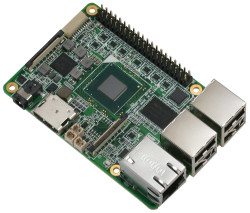 Up board, seen from two angles
(click images to enlarge)

At publication time, Up was more than a third of the way to its $57,402 goal, with funding available through Nov. 30, and shipments expected by February. Early bird packages start at 89 Euros (about $102) including VAT, with 1GB RAM and 16GB eMMC flash. Since all the packages add 20 Euros for shipment to the U.S., this would cost 109 Euros ($123) from a stateside perspective. Other European priced packages include €119 with USB-based WiFi. Packages ranging from €199 to €319 add EnOcean Kinetics and Smart Home kits, or 7- and 10-inch touchscreen options. A €149 developer version for beta testers is based on a prototype, and ships in December with WiFi.

Up board prototypes
(click image to enlarge)

The Up board is provided under Aaeon's new Up Board unit, which is expected to evolve into a standalone subsidiary. The board is supported with an
Up-Board.org
community site that offers tutorials and "pro-active" support forum, and will "provide a professional service where volume quantities of UP boards, including customized derivatives, can be requested and produced," says Aaeon.
In addition, an up-shop.com site will sell accessories and shields. There is no indication this will be an open-spec hardware platform, but "we are constantly looking for partners to create accessories and expansions modules," says Aaeon.
Emutex is supporting the SBC with its Ubuntu-based Ubilinux distribution, which the company provided for the Bay Trail Atom E3800 based Intel Edison and Intel Galileo hacker boards. There's also a free version of its Ubiworx software framework for IoT, which will enable developers "to quickly develop sensor monitoring solutions connected to the cloud," says Emutex. The board will soon support Android 5.0 and Windows 10, but Linux is the main focus.


Intel Atom x5-Z800 block diagram
(click image to enlarge)

The tablet-oriented, 64-bit Atom x5-Z800 SoC is the slower of the two Atom x5 models, but can still crank out up to 1.84GHz on its four 14nm Airmont cores. Emutex says its Ubilinux distro specifically supports the x5's security features including Intel AES New Instructions and Intel Identity Protection. The Intel HD Graphics Gen 8, which is similar to what's available on Intel's higher end Broadwell Core processors, goes well beyond what you can get from the Raspberry Pi 2's VideoCore IV GPU.

Up detail views, front and back
(click images to enlarge)

The Up may cost a lot more than a $35 Raspberry Pi 2, but in addition to getting a much faster processor, you get 16GB or 32GB eMMC flash instead of a microSD slot. The Up has a GbE port instead of Fast Ethernet, and in addition to the standard four USB 2.0 ports, it offers a USB 3.0 OTG port on the flipside.

Up board's 40-pin expansion connector
(click image to enlarge)

Like the Raspberry Pi 2, the Up provides an HDMI port with audio, as well as a MIPI DSI interface and a MIPI CSI-2 camera connector supporting up to 4-megapixel shooters. There's no Composite video, audio jack, or JTAG header, but you get the same 40-pin expansion header with the same connector and pin definition.
Unlike with the Raspberry Pi 2, there's a Real Time Clock, and a broader, 0 to 60°C, temperature range. No power consumption figures were supplied, but the Atom x5 itself runs at 2 Watts, or 2 Watts less than the total consumption of the Raspberry Pi 2.

EnOcean Kinetic Kit
(click to enlarge)
The optional EnOcean Kinetic Design Kit can be combined with a 3D printer to create battery-free switches and other devices using energy harvesting wireless technology, which draws power from motion, light, or differences in temperature. The optional EnOcean Smart Home Kit is based on the same technology. It includes a PTM 210-Electrodynamic push-button transmitter, as well as a wireless magnet window contact, wireless temperature sensor module, and a wireless contact switch. It connects to the Up board with a supplied GPIO adapter module.
The following specifications are listed for the Up board:
Processor — Intel Atom x5-Z8300 (4x 14nm Airmont/Cherry Trail cores @ 1.33GHz or 1.84GHz); Intel HD Graphics (12x Gen 8 execution units) @ up to 500MHz with DX 11.1/12, Open GL 4.2, Open CL 1.2 OGL ES3.0, H.264, HEVC (decode), VP8 support; 2W consumption
Memory — 1GB DDR3L-1600 RAM, expandable to 2GB
Storage — 16GB eMMC flash, expandable to 32GB
Networking — Gigabit Ethernet port
Other I/O ports:

USB 3.0 port
4x USB 2.0 ports
USB 2.0 (header)
HDMI port with audio
MIPI DSI connector
MIPI CSI-2 connector

Expansion — Raspberry Pi 2 compatible 40-pin connector for GPIO and serial buses
Other features — RTC; Intel AES New Instructions and Intel Identity Protection Technology support; optional 7- or 10-inch touchscreens; optional EnOcean Kinetic Design Kit and Smart Home Kit.
Power — 5V DC input
Operating temperature — 0 to 60°C
Dimensions — 85.6 x 56.5mm
Operating systems — Linux, Android 5.0, Windows 10

Up SBC with optional display shield
(click image to enlarge)

"We are very proud to support the launch of UP," stated Carlo Parmeggiani, Retail Manager at Intel. "The launch of UP is adding flexibility to the maker community. From processor point of view, this is Ferrari on this kind of solution."

Further information
The Up board is available in Kickstarter packages starting at 89 Euros (about $101) through Nov. 30, with shipments expected by February (or December for the developers version). More information may be found at the Aaeon Europe Up project's Up board Kickstarter page and the Up board website.