May 30, 2013 — by Eric Brown 5,949 views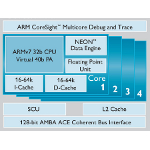 MediaTek announced its first quad-core system-on-chip aimed at "affordable" Android tablets. The MT8125 integrates four 1.5GHz Cortex-A7 cores with Imagination Technologies' PowerVR Series5XT GPU, enabling 1080p video recording, 1920 x 1200 resolution, and a 13 MP camera, and offers integrated 3G HSPA+, 2G EDGE, and WiFi communications options.

Like the recently announced, dual-core MT6572, the MT8125 is a 28nm-fabricated Cortex-A7 SoC aimed at affordable Android devices. However, it's faster with four 1.5GHz cores and a beefier PowerVR Series5XT GPU, and is aimed at tablets.
The MT8125 is should also be faster than its previous tablet SoC, the dual-core 1GHz Cortex-A9 based MT8377. In December, Mediatek announced its first quad-core SoC – the Cortex-A7 based, smartphone-focused MT6589. It offers the same PowerVR Series5XT GPU, but was only clocked at 1GHz compared to 1.5GHz for the new MT8125.
The MediaTek announcement states that "The MediaTek quad core tablet SoC is now being widely adopted by MediaTek's global customers including Lenovo IdeaTab S6000 series." It appears, however that Lenovo's 10-inch, quad-core S6000 Android tablet uses a scaled down, 1.2GHz version of the MT8125 called the MT8389. Indeed, the MT8125 product page is entitled MT8125/8389, although specs are provided only for the 1.5GHz MT8125. The MT8389 also appears to have a lesser PowerVR SGX GPU, according to All-RSS.com. As a result, the Lenovo S6000 has more limited 1280 x 800-pixel resolution and a 5-megapixel camera.

Block diagrams: ARM Cortex-A7 CPU; PowerVR Series5XT GPU
(click images to enlarge)
The MT8125, meanwhile, mixes its quad-core 1.5GHz Cortex-A7 cores with the PowerVR Series5XT GPU, and supports 1920 x 1200-pixel displays. Like the MT6572 and other recent MediaTek SoCs, it offers a 4-in-1 chip that combines WiFi, Bluetooth 4.0, GPS and FM. In addition, it provides a baseband that supports 3G HSPA+, 2G EDGE and Wi-Fi versions, all of which are said to be pin-to-pin compatible, letting vendors easily customize different versions using the same SoC.
The MT8125 supports up to 1080p video playback and recording, as well as 13-megapixel camera with integrated ISP (image signal processing). The SoC also enables "leading picture quality" via its MiraVision technology, and supports its WiFi certified Miracast technology for sharing content between devices.
The MT8125 SoC is available now, says MediaTek. More information may be found at MediaTek's MT8125/8389 SoC product page.