Mar 24, 2016 — by Eric Brown 19,013 views
FriendlyARM's "NanoPi M1" SBC runs Linux on a quad-core, Cortex-A7 Allwinner H3, and offers HDMI, four USB ports, a microSD slot, and 40-pin Pi expansion.

Guangzhou, China based FriendlyARM has further accelerated the race to the bottom in the low-cost, open-spec hacker board market, delivering a NanoPi M1 SBC that costs a mere $11. That's only $1 more than a similar, but less feature-rich Orange Pi One hacker board from Shenzhen Xunlong that launched in January. However, as noted by a CNXSoft report, which alerted us to the announcement, shipping to the U.S. costs another $10, for a total of $21. By comparison, the Orange Pi One asks only $3.77 for shipping, for a total of $13.77.


NanoPi M1, front and back
(click images to enlarge)


Orange Pi One
Despite the hidden shipping cost, the NanoPi M1 appears to be well worth the price, especially since it adds a number of features missing from the Orange Pi One. These include a CVBS A/V output jack, two more USB 2.0 host ports, an IR receiver, and an onboard mic. Both SBCs are equipped with the 1.2GHz quad-core, Cortex-A7 Allwinner H3 SoC paired with a 600MHz Mali-400 MP2 GPU.
Earlier this year, FriendlyARM introduced three similarly open-spec SBCs that instead use the Samsung S5P4418, a quad-core Cortex-A9 modification of the Exynos 4412. See farther below for more on the NanoPi 2 Fire, NanoPC-T2, and NanoPi-M2 boards.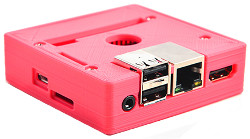 NanoPi M1 (left) and enclosed in optional $3.49 case
(click images to enlarge)

Like the Orange Pi One, the NanoPi M1 ships with 512MB of RAM, but a 1GB RAM option appears to be offered as well, as indicated in the details diagram below. You also get a microSD slot and 10/100 Ethernet port, plus HDMI and CVBS A/V outputs and a DVP camera input. In addition to the three USB host ports, there's a micro-USB OTG port, and unlike the Orange Pi One, it supports power input.

NanoPi M1 detail view
(click image to enlarge)

As on the Orange Pi One, the NanoPi M1 provides a 40-pin GPIO connector said to be Raspberry Pi compatible. Additionally, the SBC's 64 x 50mm dimensions are similar to those of the 69 × 48mm Orange Pi One. On the software side, the NanoPi M1 offers images for Ubuntu MATE and Ubuntu-Core (Snappy), and the board is also said to support Debian and Android.
Specifications listed for the NanoPi M1 include:
Processor — Allwinner H3 (4x Cortex-A7 @ 1.2GHz); ARM Mali-400 MP2 GPU @600MHz; 256KB L1, 1MB L2 cache
Memory – 512MB DDR3 SDRAM
Storage — MicroSD slot (up to 64GB)
Networking — 10/100Mbit Ethernet port
Multimedia:

HDMI 1.4a output
3.5mm CVBS A/V output with composite and stereo audio
DVP camera interface

Other I/O:

3x USB 2.0 Host ports
Micro-USB 2.0 OTG port (with power input)
Debug serial port header
40-pin, Raspberry Pi compatible GPIO connector for UART, SPI, I2C, PWM etc.

Other features – IR receiver; power & status LEDs; optional case (3D printable design)
Power — DC barrel jack; +5V @ 2A (max.); supports micro-USB input
Dimensions — 69 × 48mm
Operating system — Ubuntu MATE, Core; also supports Debian Linux and Android

FriendlyARM's NanoPi 2 Fire, NanoPC-T2, and NanoPi-M2
Last fall, FriendlyARM tapped the quad-core Cortex-A9 Samsung S5P4418 SoC, clocked at up to 1.4GHz, for its NanoPi2 SBC, an upgrade over an earlier, ARM9-based NanoPi board. In January of this year, the company upgraded the board to a $28 NanoPi2 Fire model, and then added two more S5P4418-based SBCs: the NanoPC-T2 and NanoPi-M2.
They are all open source boards with full schematics, and run Linux or Android on the S5P4418 with Mali-400 GPUs. Compared to the similar, but mobile-oriented Samsung Exynos 4412, which was used on the Odroid-U3, the S5P4418 has native USB 2.0 host and Gigabit Ethernet support, and adds LVDS. It also supports up to six UARTs instead of four, and adds 3.3V support, among other changes.
NanoPi2 Fire — The NanoPi2 Fire SBC modifies the earlier NanoPi2 by replacing onboard wireless with a Gigabit Ethernet port and adding a power management IC. The 75 x 40mm SBC is further equipped with 1GB DDR3, a microSD slot, and USB host and micro-USB OTG ports.

NanoPi2 Fire (left) and detail view
(click images to enlarge)
The NanoPi2 Fire offers an HDMI port, an LCD interface, and a DVP camera port. A debug port and a 40-pin, Pi-compatible expansion connector are also provided. The $28 (plus shipping) board is still listed as having "pre-order" availability.

NanoPC-T2 — The NanoPC-T2 SBC updates the circa-2014 NanoPC-T1, which ran on a Samsung Exynos 4412, and sold for $69. The NanoPC-T2, which is now in stock for $59 plus shipping, shifts to the similar S5P4418 SoC.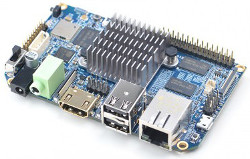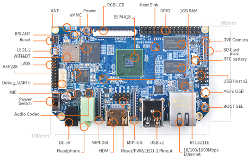 NanoPC-T2 (left) and detail view
(click images to enlarge)
The NanoPC-T2 offers far more interfaces than the NanoPi M1 or NanoPi2 Fire, but lacks their 40-pin Pi connector. The 100 x 60mm board provides 1GB of DDR3, 8GB of eMMC, and an SD slot. The SBC is further equipped with GbE, WiFi, Bluetooth 4.0, four USB host ports, and a micro-USB client port. Media ports include HDMI, LVDS, LCD, MIPI-DSI, MIPI-CSI, and audio. Other features include a 30-pin GPIO connector plus debug, RTC, and various user keys and LEDs. The 5V/2A board also provides a PMIC.

NanoPi-M2 — The NanoPi-M2 SBC was announced in early March, several weeks before the new M1 model detailed farther above, and is currently in stock for $30. The 64 x 56mm SBC uses the Samsung S5P4418 instead of an Allwinner H3, and it doubles RAM to 1GB.

NanoPi-M2 (left) and detail view
(click images to enlarge)
Compared to the M1, the M2 advances from 10/100 to 10/100/1000 Ethernet. There only two coastline USB host ports instead of three, however. Two more host ports are available via headers, and there's a micro-USB client port as well. For displays, you get an HDMI port and LCD interface, and there's also a DVP camera port. The NanoPi-M2 is further equipped with a microSD slot, audio jack, mic interface, PMIC, RTC pins, debug interface, and the 40-pin Pi-compatible expansion interface.

Further information
The NanoPi M1 is available now for $11 plus $10 shipping (unconfirmed) to the U.S. More information may be found at FriendlyARM's NanoPi M1 product page and NanoPi M1 wiki. The three earlier boards are available at FriendlyARM's NanoPi2 Fire, NanoPC-T2, and NanoPi-M2 product pages.