Oct 24, 2013 — by Eric Brown 3,874 views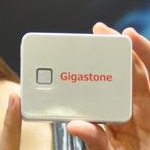 Taiwan-based Gigastone announced the first U.S. release of the SmartBox, a $40 Linux-based mobile accessory that combines an SD card reader, a WiFi content streamer and personal wireless network, and a 2500mAh-strong battery charger. The SmartBox lacks its own internal storage or Internet access, but can wirelessly stream SD card content to up to six mobile devices via WiFi.

The concept behind the SmartBox is that it solves three common problems surrounding smartphones: making sure the phone stays charged; accessing media and data without requiring expensive onboard storage or paying data fees; and easily sharing media content with friends. By combining a backup charger with a simple Linux-based personal wireless server, it manages to do all three on the cheap.

Gigastone SmartBox A2
(click image to enlarge)
The SmartBox has been available in Asia since Aug. 2012, and has now arrived stateside. The SmartBox A2-25B appeared this week, listed at Fry's and B&H for the promised $40. However, at publication time, Amazon was selling it for $50, and the fourth listed retailer, BestBuy, demanded a whopping $120.
BestBuy appears to be the only one to offer the SmartBox A2-50B, which it sells for $130. The A2-50B model is identical to the 3.0 x 2.4 x 0.6-inch, 2.7-ounce A2-25B except that it's a bit larger and heavier in order to make room for its 5000mAh battery. The larger battery delivers up to twice the battery life at 16 hours, compared to the 2500mAh A2-25B.

SmartBox charging an iPhone
(click image to enlarge)
In either case, the battery not only keeps the device running, but assuming it's charged up, can also charge a smartphone or tablet. Up to four hours of battery life can be provided to an attached mobile device, says the company.
A USB port is used for charging the device in and out, and does not appear to be available for storage duty. For that, the SmartBox supplies a 32GB-ready SDHC card slot. (Somewhat confusingly, Gigastone says it supports up to 2TB storage.)

SmartBox A2 features
(click image to enlarge)
The storage is sharable via a WiFi-based Internet Bridge feature for up to six WiFi-enabled mobile users simultaneously, as long as they download the free Android or iOS app, says Gigastone. The users can stream different content, and can also upload data to the card. It should be noted, however, that this is not a mobile hotspot offering Internet access, only access to the contents of the SD card, including streaming audio and video. Also, several reviews on Amazon complained that the feature did not work for them.

Linux within
Internally, the box runs Linux on a Qualcomm Atheros AR9331 (pdf) processor, a Gigastone rep informed us. This part no longer appears to be supported by Qualcomm as one of its 12 XSPAN AR9xxx processors. The AR9331 offers a single MIPS 24k core clocked at 400MHz, and is typically paired with the WiFi-oriented OpenWRT Linux. The device also has 128MB DDR RAM and 32MB SPI flash, says Gigastone.
Specifications listed for the SmartBox A2-25B and A2-50B include:
Processor — Qualcomm Atheros AR9331 (1x MIPs 24K core @ 400MHz)
Memory — 128MB DDR RAM; 32MB SPI flash
Storage — SDHC/SDXC card slot with microSD adapter; up to 32GB
Wireless — 802.11b/g/n (2.4GHz) access point/personal hotspot with AP bridge function (up to 10 meters)
Streaming format support — MP4/MOV/M4V, MP3/WAV, JPG/PNG/BMP
Other I/O — USB port (for charging in and out)
Battery/power:

2500mAh, 8-hour active, 16-hour standby (A2-25B)
5000mAh, 16-hour active, 32 hours standby (A2-50B)
DC 5V/ 1000mA power
Up to 4 hours battery backup for USB-attached mobile device (A2-25B)

Weight — 75g (A2-25B); 140g (A2-50B)
Dimensions — 75 x 60 x 16.1mm (A2-25B); 75 x 60 x 22.5mm (A2-50B)
Operating system — embedded Linux 2.6.31; supports access from free Android or iOS app
The Gigastone SmartBox A2-25B is currently available in the U.S. at Fry's and B&H for $40, and at Amazon.com for $50. It's available at BestBuy.com for $110, and the A2-25B model is available for $120. (Gigastone, however, says it should be available at $40 at all four retailers.) Prices include a microSD adapter and USB cable for charging. More information may be found at Gigastone's SmartBox website. The product also appears to be available from Dane-Elec's website, here.