Feb 16, 2017 — by Rick Lehrbaum 2,022 views
Axiomtek's "PICO312" Pico-ITX SBC offers Intel "Apollo Lake" SoCs and up to 8GB RAM, dual-display support, plus GbE, USB, SATA, and mini-PCIe expansion.

The Intel Apollo Lake-based PICO312 single board computer extends Axiomtek's broad family of Pico-ITX single board computers, which include the Skylake-based PICO500, Bay Trail-based PICO843 and PICO840, and Haswell-based PICO880, among others. As usual for Axiomtek, no OS support is listed; however, both Linux and Windows should run with no problem, thanks to the use of mainstream Intel core components.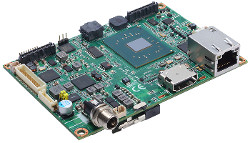 Two views of the PICO312
(click images to enlarge)

The PICO312 can be ordered with either a quad-core Pentium N4200 or a dual-core Celeron N3350 processor. Although Axiomtek does not currently state the board models' CPU clock rates, Intel's Ark pages for the two SoCs list 1.1GHz/2.5GHz and 1.1GHz/2.4GHz base/burst clock rates, respectively, and 6W TDP (thermal design power) in both cases.
The 100 x 72mm SBC provides a single 204-pin SODIMM socket, which supports up to 8GB of DDR3L-1867 of RAM. The board's Intel Gen9 graphics engine offers dual-display HD video output over an LVDS interface along with a choice of either a VGA or HDMI output.


PICO312 port details
(click image to enlarge)

The PICO312 provides coastline connectors for Gigabit Ethernet, HDMI, and +12V DC power. Other interfaces include a full-size mini-PCIe slot with mSATA support, a SATA-600 interface, and an I2C connector. Additionally, a pair of expansion connectors provide signals for 1x PCIe lane, LPC, DDI, SMBus, HD audio, and up to 4x USB 3.0 ports.
According to Axiomtek, the PICO312 can be operated without a cooling fan over the -20 to 60°C temperature range. The board targets "media editing, imaging, graphics, and video intensive" applications including "Industrial IoT," says the company. The company supports the PICO312 SBC with "AXView" remote management software, which communicates over the board's I2C interface and provides functions including battery status monitoring.
Other Apollo Lake based Pico-ITX SBCs we've seen include Aaeon's PICO-APL1, Advantech's MIO-2360, and Congatec's Conga-PA5.
Specifications listed by Axiomtek for the PICO312 include:
Processor — choice of Intel Pentium N4200 or Intel Celeron N3350, with Intel Gen9 Graphics
Memory — up to 8GB DDR3L-1867 via 1x SODIMM
Storage — SATA-600; mSATA via mini-PCIe socket
Display — dual-display support:
Networking — 1x GbE (via Intel i211AT) with Wake-on-LAN, PXE boot
Coastline USB — 1x USB 2.0
Expansion:

2x general expansion connectors — 4x USB 3.0, 1x PCIe, DDI, SMBus, I2C, LPC, HD audio, power and reset control, LED
Mini-PCIe slot — full-size slot with mSATA support

Other features — watchdog, hardware monitoring
Power — 12VDC jack; consumption not specified
Operating temperature — -20 to 60°C
Dimensions — 100 x 72mm ; Pico-ITX form factor

Further Information
The Axiomtek PICO312 appears to be available now, at an unspecified price. Additional information is available at the company's PICO312 product page.