Nov 15, 2016 — by Eric Brown 2,302 views
Congatec's "Conga-PA5" (Pico-ITX) and "Conga-IA5" (Thin Mini-ITX) SBCs feature Apollo Lake SoCs, -40 to 85°C operation, and Linux and Android support.

The list of single board computers supporting Intel's 14nm-fabricated "Apollo Lake" Atom E3900, Pentium N4200, and Celeron N3350 SoCs has grown longer with a pair of Congatec entries. The Conga-PA5 goes up against Advantech's MIO-2360 in the Pico-ITX class while the Conga-IA5 joins Advantech's AIMB-217 and Adlink's AmITX-AL-I in the 170 x 170mm industrial Mini-ITX competition. Congatec's model, however, is the first Thin Mini-ITX Apollo Lake model we've seen, with a height of only two USB ports.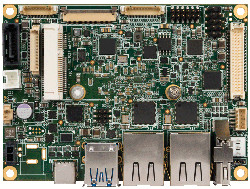 Conga-PA5 (left) and Conga-IA5
(click images to enlarge)

Last month Congatec announced
three COMs
built around Apollo Lake processors. Congatec hails the new chips as offering 30 percent more processing power and 45 percent more graphics performance compared to previous generations while also delivering improved performance per watt, with 6-12W TDP. The company also cites the Apollo Lake Time Coordinated Computing (TCC) technology, which keeps IoT devices in sync. "This is of great importance for connected applications such as digital video surveillance, vision based robotics, industry 4.0 connected devices, traffic control and smart energy grids, as well as various connected computing nodes on ships, planes, trains, automobiles and more," says Congatec.
Both boards support all three dual- and quad-core Atom E3900 models, as well as the quad-core Pentium N4200 and dual-core Celeron N3350. They both run Yocto Linux as well as the Yocto based Wind River Linux, Android, VxWorks, Windows 10, and Windows 10 IoT Core. They are both available in commercial 0 to 60°C and industrial -40 to 85°C versions, and are supported with add-ons including cooling solutions, I/O panels, and cable sets.

Conga-PA5
The Conga-PA5, which updates the Bay Trail Atom based Conga-PA3 Pico-ITX board, supports up to 8GB of speedy, quad-channel LPDDR4 RAM. The 100 x 72mm board is also notable for providing a USB 3.0 Type C port with power delivery (PD) and DP++ support.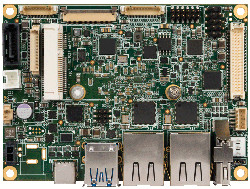 Conga-PA5, front and back
(click images to enlarge)

The Type C port joins other coastline ports including dual GbE ports, dual USB 3.0 ports, and a DisplayPort. There's 4K support, but no triple displays. A dual-channel 24-bit LVDS interface is supported with a backlight power connector.
Other internal connectors include a microSD slot, 2x USB 2.0, and 2x RS232/485/422. There's also a MIPI-CSI camera connector, 3x "feature connectors," plus line-out, mic-in, and S/PDIF audio out interfaces.


Conga-PA5 detail view (left) and block diagram
(click images to enlarge)

You can choose between mini-PCIe and mSATA, and a separate SATA III interface provides a 5V power connector to support a 2.5-inch HDD. The Conga-PA5 is further equipped with a 12V power supply, I2C, GPIO, a watchdog, and an RTC with battery.

Conga-IA5
The Conga-IA5 updates the similarly Thin Mini-ITX Conga-IA4, which supports Intel Braswell SoCs including the Atom x5-E8000. Like the Conga-PA4 it supports 8GB of RAM, but only of the DDR3L-1866 variety.


Conga-IA5 top (left) and angle views
(click images to enlarge)

There's no USB Type C port, but unlike the Conga-PA4, you get an M.2 slot supporting 2242 and 2230 type cards, as well as an optional TPM security chip. Congatec promotes the onboard SIM slot, which is unusual for a Mini-ITX motherboard, and also notes the presence of ccTalk and SPI interfaces, which are "required in many gaming and vending applications."
Coastline ports include 2x GbE, 2x DisplayPort++, and a dual-channel, 24-bit LVDS connector shared with eDP 1.3. Also on the external panel you'll find 2x USB 3.0, 2x USB 2.0, and audio I/O.


Conga-IA5 detail view (left) and block diagram
(click images to enlarge)

Internal connectors include a powered SATA III port (or two if you can live without the M.2), as well as a PCI slot that can alternatively host a mini-PCIe card. There are also a variety of microSD, serial, audio, and other interfaces, as shown in the block diagram and detail view. A watchdog is provided as part of the Congatec Board Controller package, and there's a 12-24V power supply and ACPI power management.

Further information
No pricing or availability information was provided for the Conga-PA5 and Conga-IA5 SBCs. More information may be found in Congatec's Conga-PA5 and Conga-IA5 product pages.