Jul 13, 2017 — by Eric Brown 2,035 views
The Dexter Industries, Raspberry Pi based "GoPiGo3" robot kit has more sensors, better durability and motor control, and new DexterOS and Bloxter software.

The self-proclaimed "world's best selling Raspberry Pi robot" has received a major upgrade that includes a new DexterOS Linux distribution and a Bloxter visual programming environment. Like the Raspberry Pi SBC that drives it, Dexter Industries's open spec GoPiGo3 robot car kit is designed primarily for STEM education in robotics and programming, but has expanded into a general purpose hacking platform.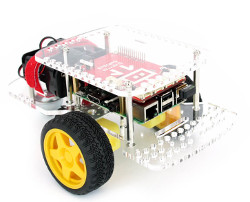 GoPiGo3 (Base Kit) from two angles
(click images to enlarge)

The GoPiGo Base Kit is available for $100, and the $200 Beginner Starter Kit adds a Raspberry Pi 3, a microSD card with the new DexterOS, and other accessories. There's also an almost identical, $200 Advanced Starter Kit that replaces DexterOS with the more advanced Raspbian for Robots distribution.
Designed to work with any Raspberry Pi model, the GoPiGo is aimed at 10+ year olds up to college students. Compared to the previous version, the GoPiGo3 robot is easier to build, more durable, and more versatile, says Dexter Industries.
The robot car's durability has been improved with thick acrylic and stronger metal. The softer rubber tread on the pair of 66.5mm diameter wheels enable more precise movement and better traction, says the company.
The Raspberry Pi is mated with a control board variably called the GoPiGo electronics board, the red board, or the RedBoard. This is not be confused with the Arduino based Sparkfun RedBoard.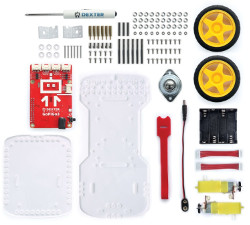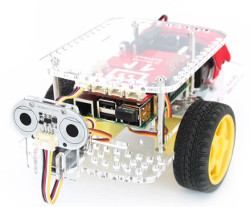 GoPiGo3 Base Kit (left) and assembled model with Starter Kit items including RPi 3, servos, and distance sensor
(click images to enlarge)

The Base Kit GoPiGo3 supports more sensors than the v2 model with the help of 2x analog/digital, 2x I2C, and a single serial interface. There are also 4x LEDs, including battery life and WiFi indicators.
The GoPiGo3 supports over two dozen different sensors and modules, enabling applications such as a mobile weather stations or self-driving cars with object detection, says Dexter Industries. For the first time, with the addition of a few extra components, the GoPiGo can transform from a robot car into a balance bot, says the company.
The robot's dual wheel motors now include dual magnetic encoders with 6x pulse counts per rotation, enabling more precise motor control. A new PMIC improves the life of the 8x user-supplied AA batteries via the 7-12V input.
The design can be extended with the feature set of whatever Raspberry Pi you might add, including WiFi and Bluetooth if you use the RPi 3. With other models, you can add a dongle for WiFi, which is required for communicating with the robot via a web browser interface running on a computer, tablet, or smartphone. There are also tutorials on adding the official Raspberry Pi camera module, and the design supports the addition of Lego Technic parts.
The $200 Beginner and Advanced Starter Kits not only add the RPi 3 and a microSD card, but also a mini WiFi dongle, servo package, distance sensor, 8GB USB drive, and a power supply. The Advanced kit also adds a six-foot Ethernet cable. The robot now supports software and firmware updates via a bootable file on the USB drive.
The new Debian Linux-based DexterOS is optimized for the GoPiGo, which along with a video and detailed instructions, helps ease the setup process. The OS is accessible via a web brower using Flask and NodeJS.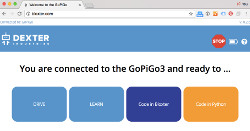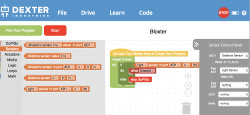 DexterOS main screen (left) and Bloxter's sensor programming interface
(click images to enlarge)

DexterOS's main feature is a new Google Blockly based drag-and-drop language called Bloxter that is similar to Scratch. DexterOS offers built-in lessons for Bloxter, as well as for Python, which is supported with a "clean, simple programming area." The software includes 30 "quick challenges" that teach the fundamentals of programming and engineering.

BrickPi
(click image to enlarge)

More advanced open source robot kits based on the Raspberry Pi include the wheeled, $549 and up
TurteBot3
, as well as Thecorpora's stationary, $399 and up
Q.bo One
social robot. Other Dexter Industries products include a
GrovePi-Zero
IoT expansion board for the Raspberry Pi Zero and an Arduino-based
BrickPi
motor controller board for the Raspberry Pi.

Further information
The GoPiGo3 is available now in a $100 Base Kit, or in a $200 Beginner or Advanced Starter Kit. U.S. educators can apply for a free 45-day teacher trial program. More information may be found on Dexter Industries's GoPiGo announcement, spec page, and shopping page. Schematics and other files are posted on GitHub.