Jun 9, 2016 — by Eric Brown 1,990 views
The $60 Arduino-compatible "Mayfly Data Logger" board has 128KB flash, offers Grove module and XBee wireless expansion, and targets environmental apps.

EnviroDIY.org, an open source spinoff of the Stroud Water Research Center in Pennsylvania, announced the EnviroDIY Mayfly Logger in December, and began selling it on Amazon in mid-May, as reported in this Adafruit blog entry from May 31. Although primarily designed for environmental monitoring — especially for the "citizen science" community water quality monitoring projects encouraged by Stroud and EnviroDIY — the Mayfly Data Logger can be used for any sensor-driven data logging, especially when remote operation is necessary.


Mayfly Data Logger front (left) and back
(click images to enlarge)

Designed with the help of
SODAQ
, the Mayfly Data Logger is available for $60 with a CERN Open Hardware License. The Mayfly is intended as a more powerful alternative to other Arduino-compatible data logger boards such as SeeedStudio's
Seeeduino Stalker
.

Mayfly angled views
(click images to enlarge)

The Mayfly is equipped with a 20MHz Atmel
ATmega1284P
MCU, which enables the board to provide 128KB of flash for loading Arduino IDE compatible sketches. This is four times the amount of the Arduino Uno or SeeedStalker, which use the ATmega328P. The more powerful microcontroller also enables the board to provide 16KB of RAM, compared to just 2KB on the Uno.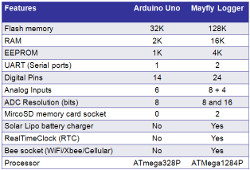 Mayfly details (left) and specs compared to Arduino Uno
(click images to enlarge)

The Mayfly offers two UART interfaces instead of one on the Uno, and twice as many I/O pins for connecting more sensors. Specifically, it supplies 24 digital I/O pins, 8x analog pins, and a 4-channel, 16-bit analog-to-digital converter.

Mayfly schematic
(click image to enlarge)

Several optional add-on shields connect to these interfaces, which are available via dual 20-pin headers. The shields can be customized to provide connectors for different types of sensors or inputs, or for outputs to control equipment or display data on small screens.
The board provides six Grove connectors for SeeedStudio's Grove sensors and I/O modules. Other features include a real-time clock, a microSD slot, and a Grove Bee socket, supporting XBee, WIFI Bee, RF Bee, Bluetooth Bee, and other Xbee wireless modules designed for Arduino. Two LEDs and push button are also onboard
With regard to the board's Arduino compability, "Mayfly can use the same Arduino sketches and libraries that run on the Uno and most other 'Arduino-compatible' boards, but they might have to adjust a couple of the pin numbers in the sketches," explained Steve Hicks, Organic and Isotope Geochemestry Research Engineer, Stroud Water Research Center.
"The main physical thing that makes the Mayfly different from the Uno is that the Mayfly has a lot more pins and some of the pin number designations are different, like the I2C and SPI pins," Hicks continued. "So that's why we don't include sockets with the standard Arduino pinout for connecting shields. It would be possible to use an adapter board to connect standard shields to the Mayfly."
The 94 x 64mm, 3.3V board offers additional 5V boost circuity for external devices. You can charge it via a micro-USB port or an extra-cost 3.7V Lithium battery. There's even a solar charging circuit.
For $30 more you can buy a Starter Kit version that adds a 0.5W solar panel, a waterproof enclosure, and a 4GB microSD card with adapter and connector board. The kit also tosses in a micro-USB cable and dual Grove cables.

Further information
The EnvironDIY Mayfly Data Logger is available for $60, or $90 for the Starter Kit version. More information may be found at EnviroDIY's Mayfly site, which offers tutorials and a forum, as well as the Amazon shopping pages for the Mayfly board and Mayfly Starter Kit.