Mar 8, 2018 — by Eric Brown 3,882 views
SolidRun unveiled a 47 x 30mm "i.MX8 SOM" module that runs Linux or Android on an NXP i.MX8M, and is available as part of a dual-GbE HummingBoard Pulse SBC and 50mm CuBox Pulse mini-PC.

SolidRun has opened pre-orders for an i.MX8 SOM compute module with industrial temperature support, as well a new commercial temperature HummingBoard Pulse SBC and CuBox Pulse mini-PC driven by it. The products update the company's similarly open-spec, but i.MX6-based, MicroSOM modules, which fueled several earlier, sandwich-style HummingBoard SBCs and CuBox mini-PCs.


i.MX8 SOM (left) and mounted on HummingBoard Pulse
(click images to enlarge)

Support for Linux Kernel 4.4x and Android is listed for the i.MX8 SOM (also called the SOM i.MX8), as well as the CuBox Pulse. The HummingBoard Pulse mentions only Linux Kernel 4.4x support.
CuBox Pulse
Presumably the new products will ship with schematics and other open source files, just like the earlier MicroSOM, HummingBoards, and Cuboxes. The currently empty i.MX8 wiki should fill in in the coming months. The products won't ship until 12 weeks after order.

i.MX8 SOM
The 47 x 30mm i.MX8 SOM is the smallest i.MX8M module yet, beating out Variscite's SODIMM-style, 55 x 30mm DART-MX8M, InnoComm's 50 x 50mm WB10, and other contenders. The module is available in Dual ($80), Quad Lite ($90), or Quad ($105) models, with the names reflecting core counts. They all have Cortex-A53 cores clocked from 1.3GHz to 1.5GHz, as well as the i.MX8M's built in Cortex-M4 MCU and Vivante GC7000 Lite GPU.
i.MX8 SOM
The i.MX8M D, i.MX8M L, and i.MX8M Q are all capable of generating [email protected] video with HDR. The i.MX8M supports OpenGL ES1.1/2.0/3.0/3.1, OpenCL 1.2, and the Vulkan GPU API, which was just updated to version 1.1.
The difference between the Quad and Quad Lite has nothing to do with the processor, but rather the default LPDDR4-3200 count. Like the Dual, the Quad Lite ships with 1GB RAM, compared to 2GB for the Quad, but like the Quad, you can expand it to 4GB instead of only 3GB on the Dual.


i.MX8 SOM specs — part one (see below for more)
(click image to enlarge)

Otherwise, all the i.MX8 SOM models are the same. They all offer optional QSPI-NOR and eMMC flash (capacities unstated), as well as optional onboard 802.11 ac/a/b/g/n and Bluetooth 5.0. We saw no pricing for any of these options.

i.MX8 SOM specs — part two and three
(click images to enlarge)

The i.MX8 SOM provides a GbE controller and expresses I/O via Hirose DF40 connectors. In addition to the optional onboard flash, storage interfaces include 2x SD/MMC with support for SD and microSD, as well as NOR-flash. You also get dual PCIe expansion interfaces, at least one of which supports SSDs.
Media interfaces include HDMI 2.0 and MIPI-DSI (with dual display support), as well as dual 4-lane MIPI-CSI2 camera connectors. Reflecting the i.MX8M's exceptional audio support, the module provides a 32-bit, 384KHz digital audio serial interface with 20 channels that supports DSD512, Dolby, HDMI ARC, and SPDIF TX&RX. There are also separate SPDIF in and out interfaces.
The i.MX8 SOM is further equipped with a USB 3.0 connection for a 1+2 Hub, as well as a USB OTG link. Additional I/O includes JTAG, SPI, 3x serial, 2x I2C, 4x PWM, and 75x GPIO. There's also support for RTC. The 5V module provides 3.3V I/O voltage, and can operate at -40 to 85°C.

HummingBoard Pulse
The sandwich-style, i.MX8 SOM based HummingBoard Pulse SBC is larger than the original, Raspberry Pi sized HummingBoard-Pro, which ranked among the earliest open source SBCs on the market. Instead, it mimics the later, 102 x 69mm HummingBoard-Gate and higher-end HummingBoard-Edge.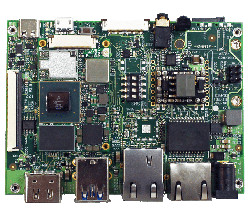 HummingBoard Pulse, front and back
(click images to enlarge)

Pricing breaks down by i.MX8 SOM model, at $160, $170, and $185 for the base-level D, L, and Q models, respectively. This is pricier than the HummingBoard-Pro which ranges from $96 to $226. The HummingBoard-Base is no longer available.
Given the minimalist specs currently posted, it appears that SolidRun has disposed of the HummingBoard-Pro's quasi RPi-compatible 26-pin expansion interface, as well as the Gate and Edge models' 36-pin GPIO, in favor of single mini-PCIe, M.2, and SIM-Card slots. Like the HummingBoard-Gate, it also provides a Mikrobus connector for Mikroelektronika's Click add-on modules.

HummingBoard-Gate
The HummingBoard Pulse is further equipped with 2x USB 3.0 ports and single USB Type-C and HDMI 2.0 ports. You also get dual GbE ports, which is still a rarity on community backed boards, and matched in our recent 2018 Guide to 103 hacker boards only by the Intel Atom-based UP Squared. The specs also indicate "PoE sink support," which suggests that at least one of the ports will support Power-over-Ethernet.
Other features include reset and user buttons, an RTC, an IR receiver, and LEDs. There's a wide-range, 7-36V power input, a standard heatsink, and an optional metal enclosure. Despite the i.MX8 SOM's industrial temperature support, the Pulse is limited to 0 to 70°C.
The only other open source, community-backed i.MX8M SBC announced to date is Technexion's Wandboard.org backed Wand-Pi-8M, which will ship around the same time in May or June. There's also a more commercial armStone MX8M from F&S, as well as some carrier boards that support i.MX8M modules such as CompuLab's SBC-iMX8 Evaluation Kit, which is equipped with its CL-SOM-iMX8 module.
The Wand-Pi-8M is cheaper than the Hummingboard-Pulse, ranging from $89 to $119 for basic dual- and quad-core models. However, the Wand-Pi-8M lacks Pulse features like MIPI-DSI, mini-PCIe, M.2, or the second GbE port, and RAM tops out at 2GB. On the other hand, the higher-end Wand-Pi-8M models offer WiFi and Bluetooth, and the SBC has Raspberry Pi-like dimensions and a similar 40-pin expansion connector.

CuBox Pulse
The CuBox Pulse mini-PC has the same 50 x 50mm x 50mm dimensions as earlier, CuBox mini-PCs, including the CuBoxTV. The fanless device supports home entertainment, digital signage, and "audio and visual centric Internet of Things solutions," says SolidRun.


CuBox Pulse
(click image to enlarge)

The cube-shaped plastic enclosure integrates a microSD slot, 2x USB 3.0 ports, an HDMI 2.0 port, and a GbE port with PoE sink support. There's also a 12V DC input, an RTC, and an IT receiver. The temperature range is 0 to 70°C.
You can choose from the 1GB RAM Dual or 2GB Quad models of the i.MX8 SOM, both with 8GB eMMC and WiFi/Bluetooth, starting at $170 and $190, respectively. The only listed options on the shopping page are a power adapter and a blank 16GB microSD card, which together add $20 to the prices.
It's unclear if you can order the devices with additional RAM or flash, although the Quad model is said to support up to 4GB RAM. The announcement says: "CuBox Pulse is currently offered in a single variation with more to follow."

Further information
The i.MX8 SOM and the related Pulse products are available for pre-order, with shipments due 12 weeks after order. The i.MX8 SOM Dual ($80, 1GB RAM), Quad Lite ($90, 1GB RAM), or Quad ($105, 2GB RAM), can be ordered with additional RAM, as well as flash and wireless options. The Hummingboard Pulse starts at $160, $170, and $185 for the base-level D, L, and Q models, respectively, with flash and wireless options costing extra. The CuBox Pulse starts at $170 (see more pricing details above).
More information may be found in SolidRun's i.MX8 SOM, Hummingboard Pulse, and CuBox Pulse product pages, all of which link to shopping pages.