May 12, 2017 — by Eric Brown 31,404 views
On Kickstarter, an open source, 4-bay "Helios4" NAS SBC runs Armbian on a Marvell Armada 388 SoC, and sells for $125, or $139 for the full case kit with fans.

A Singapore-based startup called Kobol has gone to Kickstarter to pitch an open source network attached storage (NAS) SBC that supports up to 40TB of onboard storage, as well as media streaming and file sharing. The Helios4 Personal Cloud also comes with an optional enclosure kit with bays and dual fans for the board's four SATA ports. Two USB 3.0 ports are also available.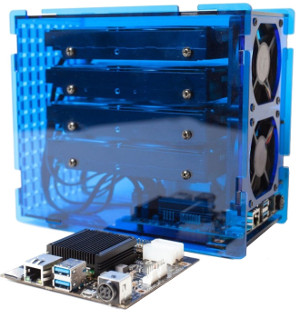 Helios4 Personal Cloud SBC and case
(click image to enlarge)

The Helios4 ships with optimized versions of the Debian/Ubuntu based
Armbian
Linux distro, as well as the Debian-based
OpenMediaVault
NAS stack, which offers services like SSH, (S)FTP, SMB/CIFS, DAAP media server, RSync, and BitTorrent . You also get the Debian-based
Syncloud
personal app server with file, email, and social networking servers.

Additional views of the Helios4 case
(click images to enlarge)

Early bird pricing for the Helios4 is $125 for the board and $139 for the full case kit, both with 1GB RAM, but no HDDs. A 2GB RAM option appears to be available only with the full kit for $165. The campaign has until June 19 to make its $106,290 funding goal, and shipments are due in September.
Singapore-based Kobol calls the Helios the world's first open source NAS. Last week we covered a GnuBee Personal Cloud 1, which similarly offers open source hardware as well as software, and which is also expected to ship in September. Available on Crowd Supply, the $168-and-up device has 6x SATA ports instead of 4x for the Helios4.
We have also seen numerous NAS-ready personal cloud server products with open source software, if not hardware, such as the Raspberry Pi based Nextcloud Box. These systems depend on USB-connected storage for NAS duty, however.
Commercial quad-bay NAS systems tend to cost considerably more. Kobol invites a head-to-head comparison with 4-bay systems like the $285 and up Synology DiskStation DS416j and $349-and-up Western Digital EX4100. Even a dual-bay Qnap TAS-268 goes for $254. No dimensions were supplied for the enclosure, but Kobol claims it is half the size of typical 4-bay NAS competitors.

Inside the Helios4
Like many NAS systems, the Helios4 runs Linux on a Marvell SoC, in this case a dual Cortex-A9, 1.8GHz Marvell Armada 388. The SoC integrates cryptographic and XOR DMA engines for greater security.


Helios4 block diagram
(click image to enlarge)

The Helios4's mainboard is a two-board sandwich, consisting of a 100 x 100mm carrier board along with a 50 x 35mm, Armada 388-based
MicroSoM A388
computer-on-module from Israeli-based SolidRun, whom Kobol lists as a hardware partner in the Helios4 project. The MicroSoM 388 also drives SolidRun's ClearFog Base and
ClearFog Pro
networking SBCs. The MicroSoM A388, which was originally announced as the
38x-MicroSoM
, similarly offers a choice of 1GB or 2GB RAM.

Helios4 mainboard detail
(click image to enlarge)

Kobol claims the Helios4 mainboard is the only ARM-based SBC on the market with 4x SATA 3.0 ports and 2x USB 3.0 ports. That sounds about right considering that there are still relatively few ARM boards that offer both interfaces even in single helpings.

Helios4 mainboard (left) and SolidRun's MicroSoM 388
(click images to enlarge)

The Helios4 board is further equipped with a GbE port, a microSD slot, and a mini-USB-to-serial port for console. Other features include I2C, GPIO, control panel, and PWM fan headers. A DC jack is available along with HDD power connectors and a reset button.
The basic board kit includes 4x SATA cables and 2x Molex interfaces "to dual SATA power cable," says Kobol. There's also a 12V/8A adapter. The full case kit adds a black or blue, translucent case, an assembly kit, and 2x 70mm PWM ball bearing fans.


Helios4 full kit contents
(click image to enlarge)

The kit can be assembled in less than 10 minutes, says Kobol. No licensing details were provided, but the system will ship with full schematics, and software will be posted on GitHub, claims the company. A community project is in the making.

Further information
The Helios4 Personal Cloud is available on Kickstarter through June 19, with shipments due in September. Early bird pricing includes $125 for the board kit and $139 for the full case kit, both with 1GB RAM, and $165 for the case kit with 2GB RAM. Retail pricing will be $149, $169, and $185, respectively. More information may be found on the Helios4 Kickstarter page and the Kobol.io Helios4 website.